Watermelon is high in water content, full of vitamins and minerals, and low in calories. Our staff loves to freeze watermelon in ice cube trays for their dogs! And some people cut it up into slices as a snack during the day - there are so many benefits to feeding watermelon and other types of fruit to your dogs. Grapes and raisins are a red flag, though.
Don't forget to remove the seeds of watermelons first, or you can simply buy a seedless watermelon which makes life a lot easier. And of course, check with your vet if your dog has any diet concerns.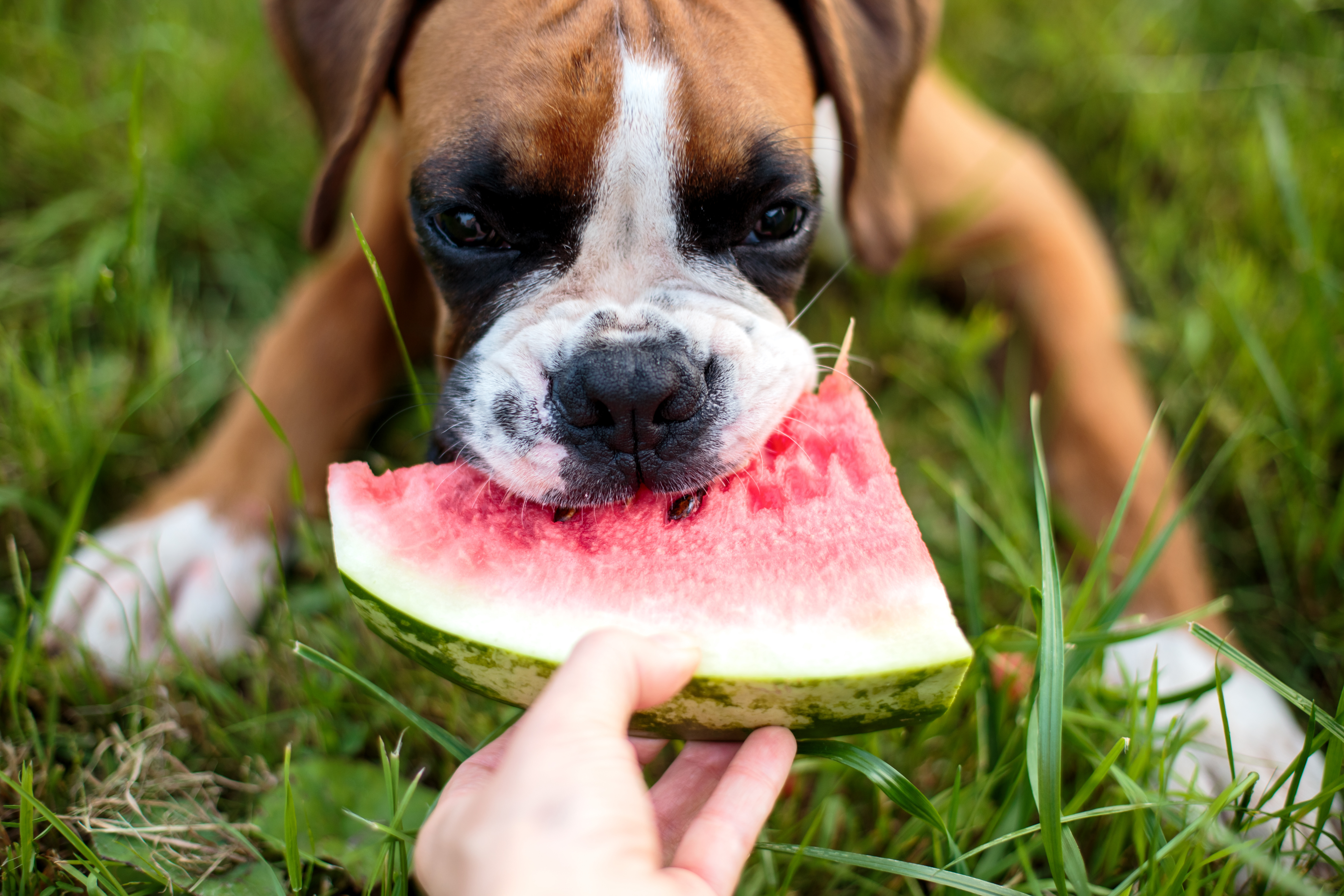 Yes! Even better, watermelons are 92 percent water. So if you think your dog is dehydrated and needs a little boost, grab a watermelon. Some dogs don't love to hydrate while on the road at events so watermelon snacks may be a nice alternative.
Are Watermelons Healthy?
According to WebMD, the benefits include:
It is r

ich in an amino acid called citrulline that may help move blood through your body and can lower your blood pressure.

Watermelon has a natural pigment called beta-cryptoxanthin that may protect your joints from inflammation.

Just one serving of watermelon gives you more than 30% of the vitamin A you need each day.
Can My Dog Eat the Watermelon Rind?
The rind may be a choking hazard so don't feed the rind to your dogs. Intestinal blockage can also be a concern. Side note: if you have chickens, save those rinds for them to peck at!
What Other Fruit & Veggies Can My Dogs Eat?
Dog owners should consider most fruit as healthy snacks. This snack should always supplement their dog's diet and perhaps be added as a topper to dog food. Feed this in moderation of course, as fruit can cause some gastrointestinal upset. Here's a list:
Apples

(without the core or seeds)
Bananas
Blueberries
Cantaloupe
Carrots
Pumpkin
Cucumbers
Green Beans
According to the National Watermelon Promotion Board, watermelon is a great healthy snack. It helps keep blood pressure low, is high in vitamin C and vitamin B6, has high water content and is also high in vitamin A. Dog owners can also use watermelon as a dog training tool. Just don't feed them too much in one sitting as it may cause some abdominal pain. All dog breeds will love this "human snack".
This is the perfect healthy treat! Are you looking for recipes that include fruit and veggies?
We have some great pumpkin recipes, too.
Does your dog love watermelon? Tell us in the comments below.
WATCH NOW: How to Make PB&J Dog Freezies
Enjoy the outdoors?
Sign up for daily stories delivered straight to your inbox.