We don't have leftovers, so you'll have to try this recipe for yourself.
Courtesy of the grilling fanatics at Napoleon Grills, this venison steak recipe uses the reverse sear technique to get a more tender steak without sacrificing flavor. The trick is to cook the meat over indirect heat before giving it a high heat sear. This is a great recipe to keep in your back pocket for when you need to "convert" someone who doesn't usually eat venison. Then again, seasoned venison veterans might like it even more.
These instructions are specifically written for the Napoleon TravelQ™ PRO, Napoleon's compact gas grill, but can be altered to work with any gas grill. The TravelQ™ PRO is one of the few portable grills that succeeds in performing much like a full-size one. It features a 285-square-inch cooking area, dual stainless steel burners that heat up to 12,000 BTUs, porcelainized cast iron grids, and a windproof lid that's high enough to fit whole birds and roasts.
Check out the takedown and setup:
As you salivate over this recipe, remember... the guy who brings the grill is automatically the most popular person at the party (or deer camp).
Recipe (Serves Two)
Click here for a printable copy of this recipe.
Prep Time: 5 min
Grill Time: 45 mins
Total Time: 50 mins
Ingredients:
2 venison steaks
Salt to taste
Freshly ground pepper to taste
12 Brussels sprouts, cleaned and halved
¼ cup of butter, melted
+/- ¼ cup of water
Step by Step:
1. Preheat the TravelQ™ to 300°F by lighting one burner and turning it to low.
2. Rub the venison steaks with a generous amount of Lemon & Herb Seasoning, salt, and pepper to taste.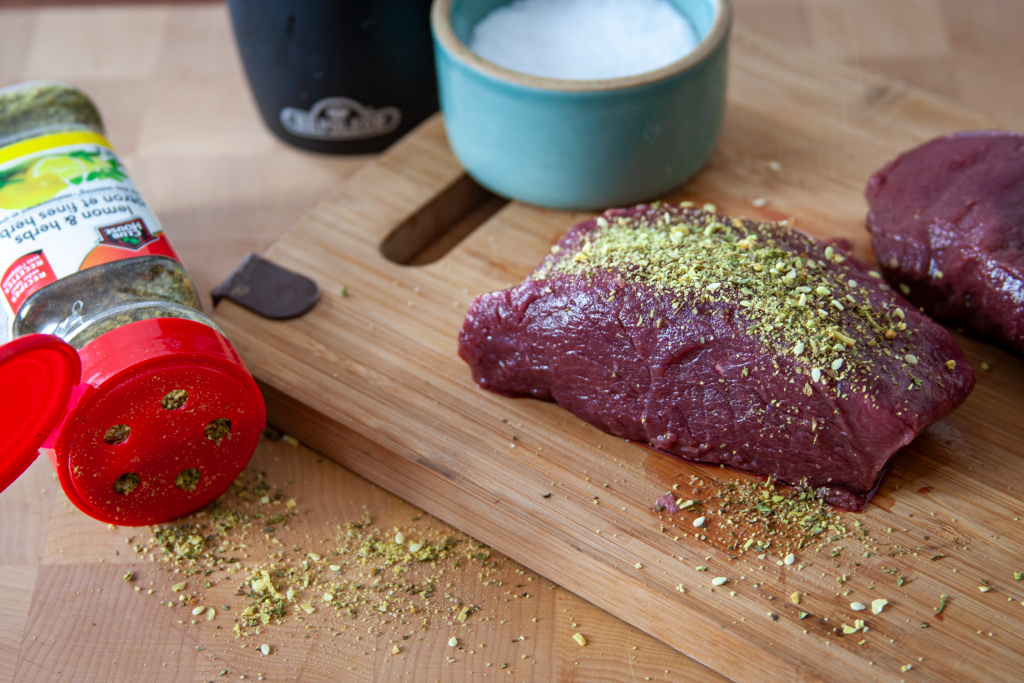 3. Create a baking sheet by folding a piece of tinfoil in half, then turning up the sides to create a lip. Add the butter to the foil to melt. Once melted, add the sprouts, cut side down, seasoning to taste with salt and pepper. Pour the water into the makeshift baking sheet until the bottom of the foil is just covered.
4. Place the venison steaks onto the grill over the unlit burner (indirect heat) and close the grill lid. Cook for approximately 35 to 40 minutes, or until the venison has reached 140°F. Remove the venison from the grill and turn the lit burner up to high. If the Brussels sprouts are cooked through and slightly caramelized on the cut side, remove them from the BBQ. If not, wait until the venison is finished searing before removing them from the grill, giving the sprouts a little longer to cook.
5. Sear the steaks over direct heat for 1 to 2 minutes per side, until grill marks have formed.
6. Rest the venison steaks for at least 5 minutes before serving with the Brussels sprouts and your favorite side dishes.
When Napoleon sets out to build a portable grill, they do it right. Backed by a 10-year warranty, for $399 you get:
Dual stainless steel burners
An extra large 285 sq. in. cooking area with cast iron cooking grids
An intelligent, windproof design that holds the heat in and features a high-top lid for cooking roasts and other large cuts of meat
A great transportation and storage mechanism: when in use, the legs lock into upright position; when folded, the they double as a wall hanger
You can get all the details about this portable on Napoleon's website. For more recipes and grilling tips, follow them on Facebook!
NEXT: 7 CLASSY FOOD PICS OF VENISON COOKED TO PERFECTION
Enjoy the outdoors?
Sign up for daily stories delivered straight to your inbox.