Two men are charged with harassing an alligator by pouring beer down its throat.
The pictures went viral on social media throughout the state of South Carolina. The South Carolina Department of Natural Resources announced that the two men are being faced with charges of harassment of an alligator. This after a picture shows them pouring beer down a juvenile alligator's throat.
Joseph Andrew Floyd Jr., 20, of Ridgeland and Zachary Lloyd Brown, 21, of Ridgeland are seen in the picture below "shotgunning" a beer down the alligator's throat.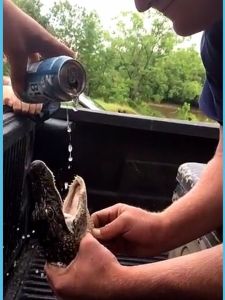 According to officials, the incident occurred on Wednesday, May 24, 2017 on a public dirt road between the cities of Hardeeville and Tillman in Jasper County. Officers say the two admitted they caught the alligator after spotting it on the dirt road.
SCDNR says they then proceeded to pour beer down the alligator's mouth. The two men then posted pictures to social media. Floyd Jr., said the gator was released, however, where they watched it swim away.
The two men are facing a misdemeanor with a maximum fine of $300. Fortunately, people who witness harassment of wildlife are asked to contact officials at 1-800-922-5431.
Like what you see here? You can read more awesome hunting articles by Nathan Unger at the Bulldawg Outdoors blog. Follow him on Twitter @Bulldawgoutdoor, Instagram @Bulldawgoutdoors and subscribe on YouTube @Bulldawgoutdoors.
NEXT:800-Pound Florida Gator Caught for Snacking on Cows
https://rumble.com/embed/u7gve.v3totb/
Enjoy the outdoors?
Sign up for daily stories delivered straight to your inbox.