A full review of Exodus Trail Cameras' second generation camera, the Lift Mark II.
About two years ago, I had the chance to lay my hands on a camera from a brand new, direct to consumer company. They offered a five-year warranty and theft coverage, something completely unheard of in the trail camera industry.
Two years later, they're sticking to their guns and putting customer service above everything.
Push the clock forward and the Exodus Team has launched the Exodus Lift Mark II. The camera started shipping in early July. From a quick glance at their social pages and Instagram hashtag, the camera looks like it takes phenomenal videos and colorful rich pictures.
My original Lift had already earned a role as a main workhorse for my trail camera arsenal, so I had to pick up the Lift II. But before we dive into everything, let's take a look at some of the improvements from the Lift II over its predecessor.
What's New
Full Frame HD Video (30 frames/second)
Sub .04 Trigger Speed
Improved Battery Life
Brighter Screen LCD Screen (Much Easier to See in Sunlight)
New Exodus Escape Camo

UV Protection (With the Lift I saw some fading after soaking in the sun for two years).

Standard and Military Time Option
Takes SD Cards Up to 64GB
Quicker Processor
Writes Video Files as .MP4s (works better iPhones/Macs)
What's the Same
5 Year No B.S. Warranty and Theft Coverage
Customizable Settings

Burst Count
Trigger Delay
Video Length

Aluminum Reinforced Outer Shell
First Impressions of the Exodus Lift II
After receiving the Lift II in the mail, the first thing I noticed was the new Exodus Escape camouflage. The camera looked sleek and is a big improvement from the original Lift. The variation and texture of the Escape camouflage appears to be versatile and should blend nicely in almost any environment.
When turning on the camera, I noticed it responded quicker and the menu system saw a simple redesign, which makes it easier to use in the field. The brighter screen doesn't hurt either.
New Settings
Something I loved about the original Exodus Lift was the ease of use and the ability to tailor settings for different set ups.
The new camera takes it to the next level with flash intensity options and PIR sensitivity. It might be easy to glance over these two improvements, but both options can be instrumental in taking clear photos from field edges to high-density forage locations.
Battery Life
Based on the specs of the camera, it's a top performer for power consumption. That means your batteries will work even longer.
According to their website, a set of 8 AA lithium batteries should withstand +25,000 photos. In my experience, this would easily last a year. I'll be testing this more carefully as the season progresses and the usage increases.
Video Improvements
When using video on the Lift II, I was simply blown away. It's a major improvement from the original Lift and could rival any current camera on the market. The crisp and smooth video is nicely accompanied by an improved microphone.
See video examples below:
Photo Improvements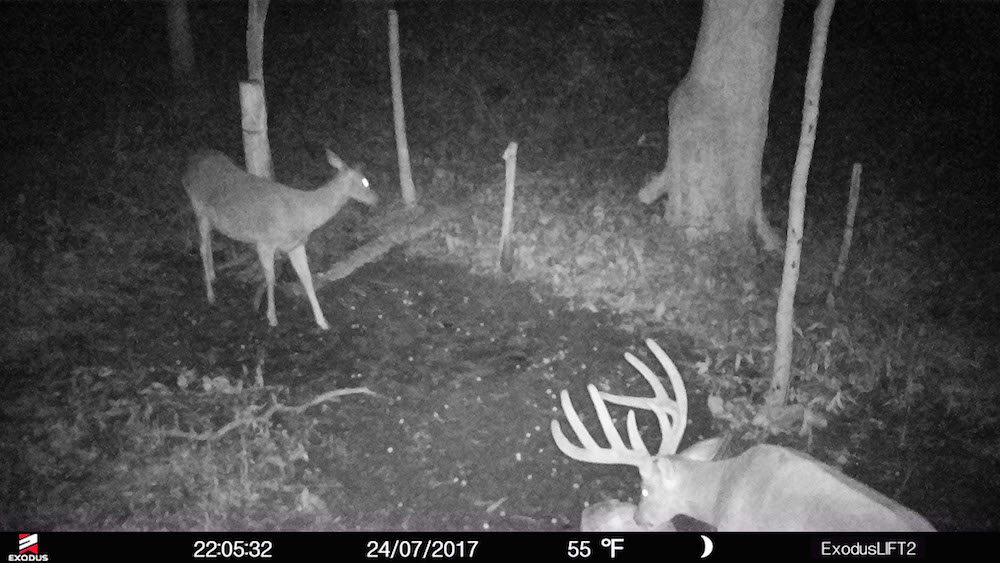 Bottom Line
The Lift II's retails for $229 and comes with the 5 Year No B.S. Warranty/50% Off Theft and Damage Replacement.
The Lift II is a strong improvement from its predecessor and I plan on adding more to my collection.
Plain and simple, Exodus gives customers more value and protection with their already great products and stellar warranty.
I would rate this as a strong buy for anyone who is looking for a dependable camera at an affordable price.
For more information and to view all the specs of the Lift II visit Exodus Trail Cameras or Amazon.
NEXT: 8 CRAFTY WAYS TO SAVE MONEY ON HUNTING GEAR
WATCH
https://rumble.com/embed/u7gve.v3tohd/