Bowhunting turkeys is the ultimate challenge. Bowhunters are tasked with convincing a mature Tom to go against its natural breeding style and come within range, and then they have to make a clean and ethical shot while remaining undetected. Every single piece of equipment for a turkey hunter matters—especially the broadheads.
Turkey hunting is incredibly tough to start with. The birds have keen eyesight and a relatively small kill zone compared to common big-game animals pursued with compound bows, such as whitetail or elk.
Thus, the small game is going to require a deadly-sharp broadhead and ideally an impressive cutting diameter.
Our list is a mix of fixed blade broadheads and expanding mechanical broadheads, so there are options for beginners or different preferences on turkey hunting.
Be sure to check out our other turkey hunting tips to help nab a big gobbler this season. But for our top six picks for the best turkey broadheads that will get the job done, read on.
1. Rage XTreme Turkey Broadhead
Rage's dedication to broadhead design is clearly evident in the X-Treme. The Meat Hook cut-on-contact tip makes this broadhead extremely lethal, and the patented Shock Collar is a familiar and effective design.
Specs and Features:
2.125" cutting diameter
Ferrule Alignment Technology
Meat Hook cut-on-contact tip
.035" Thick stainless steel blades
Rage Xtreme Turkey Mechanical Broadhead
---
2. NAP Gobbler Getter
newarchery.com
The Gobbler Getter by NAP has been around longer than most turkey broadheads on the current market and earned its reputation as "Ol' Faithful." The innovative blunted tip is what makes it stand out from most other broadheads. The trauma from that tip, which allows the broadhead to crush bones and stay in the kill zone as the expandable blades to do their job, is what makes these broadheads so effective on turkeys.
Specs and Features:
1.5" cutting diameter
Blunted "turkey tip"
Diamize blades
NAP Gobbler Getter 100 gr.
---
3. Magnus Bullhead
While some broadheads are designed for more reliable and risk avoidant body shots, the Magnus Bullhead fixed blade broadheads opt for the more deadly head and neck shots, while mitigating some of that risk through their large and large cutting diameter. With incredibly durable .048" thick razor blades, as well as a 2 ¾" cutting diameter, it's easy to see why these broadheads are turkey slayers.
Specs and Features:
2 ¾" cutting diameter
.048" thick, replaceable stainless steel blades
Straw and shield free
Replacement blades iIncluded
Magnus Bullhead Turkey Fixed Blade Broadhead
---
4. Xecutioner Turkey Necker
With a similar design to the Bullhead by Magnus, the Turkey Necker was designed for hunters that are looking for those meat saving neck shots. The four massive, razor-sharp blades ensure hunters can execute those shots ethically with peace of mind. Those thunder chickens don't stand a chance.
Specs and Features:
4" cutting diameter (160 grain head)
.060" thick blades
4 heads per pack
Ferrule 7570 aluminum construction
Xecutioner Turkey Necker
---
5. Solid Turkey D-Cap
Relatively new to the scene, the turkey D-Cap broadhead is making a name for itself as one of the most dependable and deadly turkey hunting broadheads on the market today. This one is 200 grains, so it can be tricky to get used to for most archery hunters. It packs a powerful punch! The kinetic energy is unmatched, and with a 4" cutting diameter, this thing is deadly in the spring woods.
Specs and Features:
4" cutting diameter (200 grain head)
.060" thick blades
Field point accuracy up to 50 yards
3 blade design
Solid Turkey D-Cap
---
6. G5 Deadmeat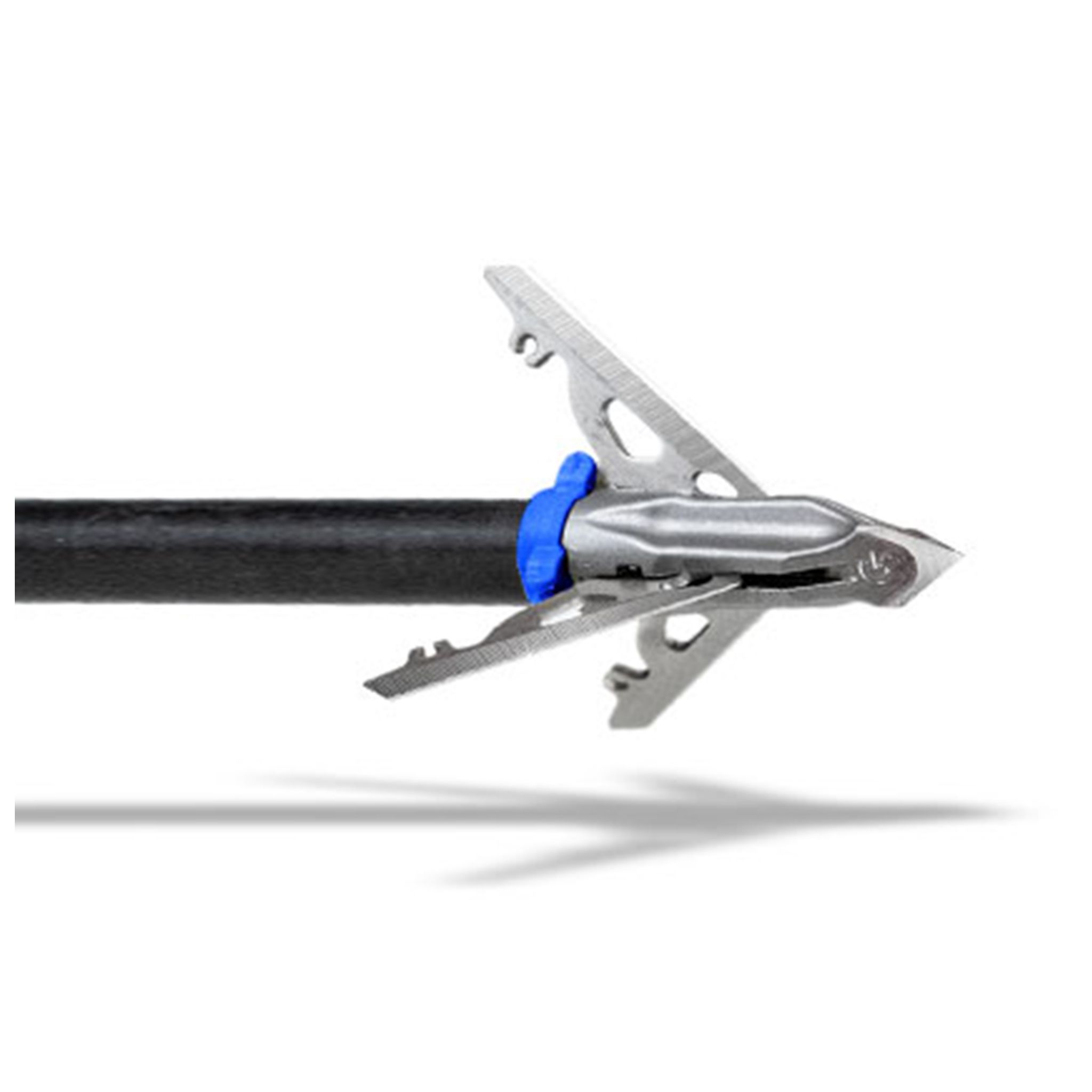 The Deadmeat by G5 Outdoors doesn't typically standout as the ideal turkey broadhead, but initial looks can be deceiving. The SnapLock retention system is one of the most reliable systems on the broadhead market, and the .044" thick blades are insanely sharp, while still producing a 1 ½" cutting diameter, which is somewhat conservative for these tough birds, but the results speak for themselves.
Specs and Features:
1 ½" cutting diameter
.044" thick razor blades
SnapLock retention system
Practice head included
G5 Outdoors Deadmeat Mechanical Broadhead
---