Few things will ever honor venison like a good, hot, hearty bowl of chili. Sure, stews are versatile and delicious, but chili packs a punch that no other soup-like dish can match. Venison chili may be one of the greatest ways to eat wild game. Check out some of our favorite venison chili recipes below. Try them one by one, checklist style, and let us know which is your favorite.
1. Crockpot Venison Chili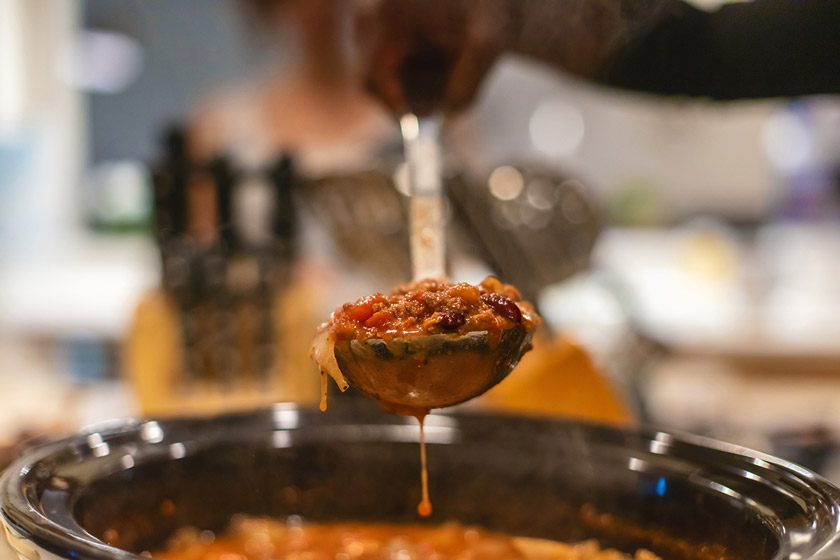 All the benefits of a delicious chili dinner plus the hands-off ease of a crockpot? Sign us up. It is the brainchild of outdoorswoman Christi Holmes, who came up with it as an easy dinner after a long day ice fishing.

"This chili is something you can just throw together for when you come home and you're exhausted," Holmes said.
This crockpot venison chili recipe will probably quickly become one of your go-tos.
Recipe via: Down East
2 pounds venison burger

3 28-ounce cans crushed tomatoes

1 15-ounce can kidney beans, drained and rinsed

1 15-ounce can black beans, drained and rinsed

3 stalks celery

1 green pepper, chopped

1 jalapeño pepper, chopped (leave the seeds in if you like it spicy)

1?2 onion, chopped

2 tablespoons oregano

1 tablespoon salt

1 tablespoon pepper

1?4 cup chili powder

1 15-ounce can corn, drained
2. Venison Chili Con Carne
Something about bacon makes it the perfect addition to everything. No, seriously, everything—even chocolate. This chili recipe includes some of my favorite pepper (chipotle), a little dose of jalapeno, and a hearty portion of bacon to add fat to the lean venison meat. If you only have ground venison available, this recipe is still possible, though we do recommend using the stew meat to get the correct texture.
Recipe via: Buckmasters.com
Ingredients:
1 16-ounce can tomatoes, diced

3 teaspoons minced canned chipotle chile in adobe sauce

5 slices bacon, finely chopped

4 pounds venison stew meat, cut into 1/2-inch cubes

Kosher salt and pepper

2 tablespoons olive oil

1 large onion, chopped

1 jalapeno chile, seeded and chopped

1 can kidney beans

3 tablespoons chili powder

1 1/2 teaspoons ground cumin

1 1/2 teaspoon oregano

4 garlic cloves, minced

4 cups beef broth

1 tablespoon packed brown sugar

2 tablespoons yellow corn mix
3. Hearty Chunk Venison Chili
A unique chili recipe that combines two staple wild game meats: venison and turkey. This dish is super cozy and could easily be doubled or tripled to feed a crowd.
Recipe via: Mama Hen's Kitchen
Ingredients:
1 lb. ground turkey

1 lb. ground venison

14.5 oz. diced tomatoes

30 oz. tomato sauce

1/2 cup water

1 Tbsp. chili powder

1 Tbsp. seasoning (Zatarain's, Cajun seasoning)

2 Tbsp. worcestershire sauce

1 Tbsp. sugar

2 Tbsp. brown sugar
4. No Beans, Tex-Mex Style Venison Chili
If you like a little zest to your chili, here's a good one. Tex-Mex is one of the great benefits of living down South, where finding things like Mexican Oregano isn't that difficult. If you're up north, though, check out your local organic supermarket or make a visit to a specialty spice shop. They're likely to carry it, as well as all of the other tasty spices you'll need to complete this recipe.
Recipe via: Food Network
Ingredients:
1/4 cup vegetable oil
1 1/2 pounds boneless venison rump, cut into 1/2-inch cubes
1/2 pound ground venison, or ground pork
1 tablespoon Essence, recipe
2 cups chopped yellow onions
2 tablespoons minced garlic
2 to 3 large jalapenos, seeded and minced, to taste
3 tablespoons chili powder
1 tablespoon red pepper flakes
1 tablespoon paprika
1 tablespoon ground cumin
2 teaspoons dried Mexican oregano
1 teaspoon salt
1 (15 1/2-ounce) can crushed tomatoes and their juices
1 (12-ounce) bottle beer
1 1/2 cups beef stock
2 tablespoons masa harina
1/4 cup water
1/4 cup chopped fresh cilantro leaves
Grated cheddar cheese, garnish (Longhorn: recommended)
Minced yellow onions, garnish
Cornbread, corn muffins or garlic bread, optional accompaniment
5. The Chile-Lover's Venison Chili
We're huge fans of Hank Shaw over at Hunter, Angler, Gardener, Cook, and this recipe stands as witness to his mastery of wild game meats and traditional cooking methods. Like Hank mentions in his recipe, this can be tweaked to serve your own chili preferences, but what we like so much about it is the dried chiles he purees with coffee to serve as the "backbone" of this dish. If you're serious about making a chili that would rival any state cook-off, this is the one.
Recipe via: Hunter, Angler, Gardener, Cook
Ingredients:
1 pound pinto beans or kidney beans
4 each, dried ancho, guajillo, pasilla, cascabel, mirasol or mulato chiles
1/2 pound bacon
1 large onion, diced
6-8 cloves garlic, chopped
1 habanero, fresh, if they're in season
2 pounds ground venison or ground beef
1 pound sausage, taken out of skin and broken up (venison or pork is fine)
2 tablespoons paprika
2 tablespoons cumin
1 tablespoon ground coriander
2 tablespoons tomato paste
2 large tomatoes, peeled, seeded and chopped or one small can
1 cup of weak coffee
3 tablespoons molasses
Beef or venison broth (have a quart ready)
At least 2 tablespoons salt
Cilantro and shredded cheese to garnish
6. No Frills, No Heat Venison Chili
Being from Texas, I personally think it's a crime to make chili without chilies, but to each his or her own. This simple recipe is easy enough to whip up and will make for an all-around crowd pleaser for those who like to be able to season things on their own. This recipe calls for ground pork to add fat to the very lean venison meat, but you could also use 80/20 beef if you so desired.
Recipe via: Sugarcrafter
Ingredients:
1 lb ground venison

1 lb ground pork

1 tsp salt

1 tsp freshly ground black pepper

1 tsp crushed red pepper

1 tsp hot sauce (I like Frank's)

2 tsp Italian seasoning

1 tsp chili powder

1 tsp cumin

1 tsp nutmeg

1/2 medium onion, chopped

3 cloves minced garlic

3 tomatoes, diced

1 can (24 ounces) tomato sauce

1 large can (40.5 ounces) dark red kidney beans

Cheddar cheese, for topping