It hardly takes a trip around the block to know Spyderco knives as some of the most reliable tools out there.
Spyderco's craftsmen and engineers are also true masters of bringing utility and beauty together. It's no surprise their knives are consistent top sellers: the question is, which Spyderco do you get?
Here are our top 10 picks of the most rugged and resilient Spyderco knives for the Great Outdoors, whether for hunting, fishing, wilderness or survival use. You can get almost all of these with a plain or SpyderEdge™ serrated edge.
Best for: Prolonged tasks, breaking down game, DIY projects.
Why we picked it: With the oversized Spyderco round hole and lightweight G-10 handle, this knife is one of the most comfortable folders to open as well as cut with, perfectly designed to be easily maneuverable in a larger hand. If any knife on this list is truly "the everyman's EDC," this minimalist but mighty leaf-shaped blade is it.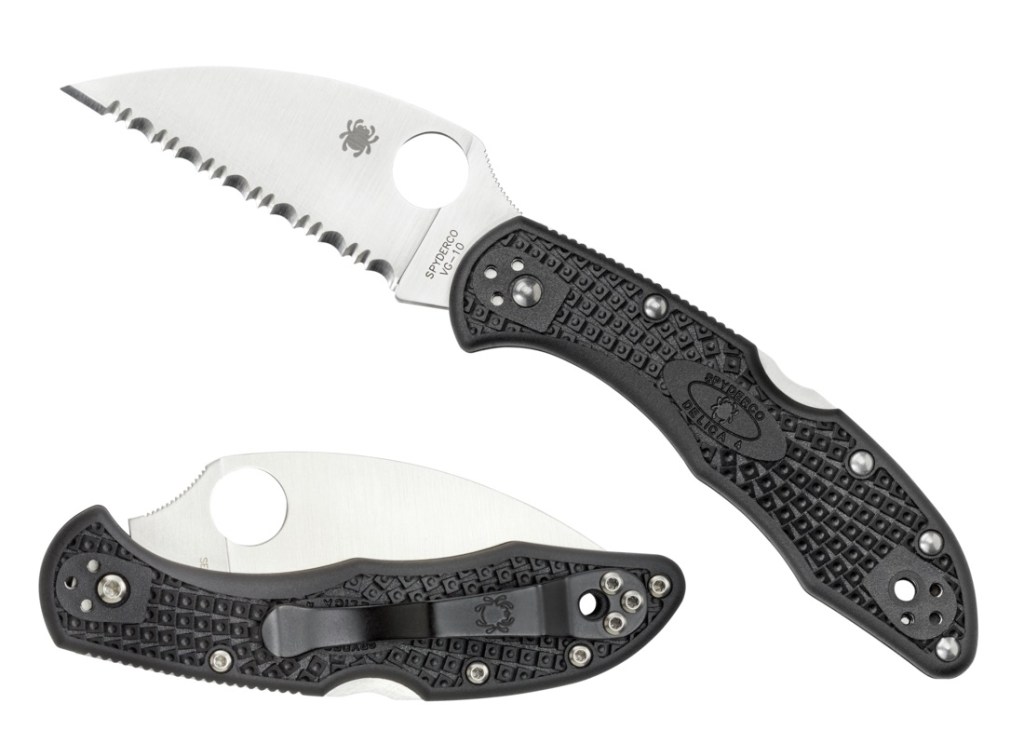 Best for: Detail work requiring maximum tip control, stubborn materials.
Why we picked it: The Spyderco Delica has a legacy that speaks for itself. By popular demand, Spyderco released this Wharncliffe blade edition, and the combination is a good one. That tip really feels like an extension of your hand.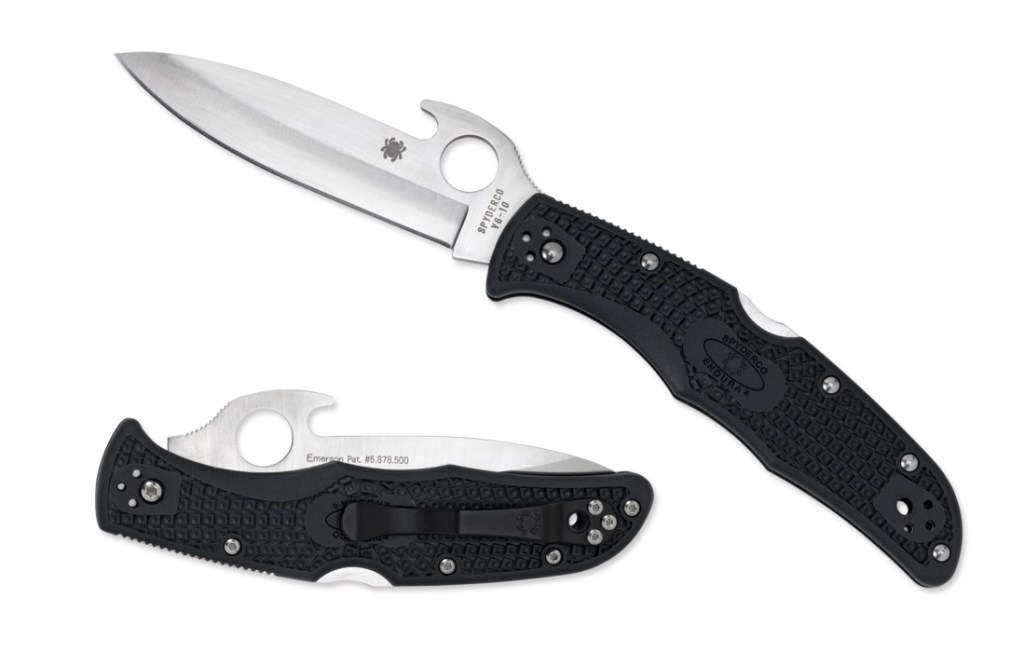 Best for: Tactical, self defense, all-weather use.
Why we picked it: The insanely popular Endura has been around since 1990, and for good reason. The VG-10 steel makes this thing a real workhorse when it comes to keeping an edge. The knife deploys really smoothly with the Emerson patented spine hook, which catches on your pocket for a lightning fast one-handed open.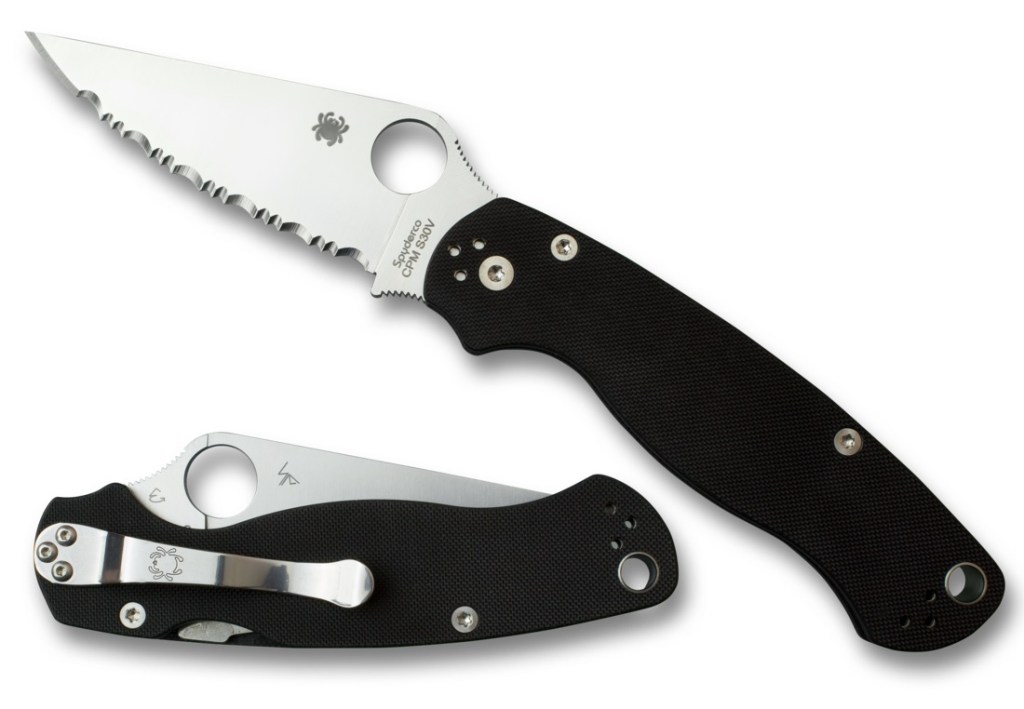 Best for: Tactical, self defense, maneuverability.
Why we picked it: When you need a truly self-defense-compatible EDC, you can't do much better than the Para Military 2, meticulously designed to give you the most secure grip. Seriously, once you have this knife in your hand, it's almost impossible to let it go (and yes, we tried).
Best for: Precision tasks, DIY projects, wilderness.
Why we picked it: The Para 3 is what it looks like: a more compact version of the Para Military 2, and we love it just as much. Using the same tough CPM S30V steel, textured G-10 scales and compression lock, it's the EDC that has it all. Easy to control, maintain, and sharpen, your search for the perfect high-end EDC ends right here. It stands up to heavy use in style.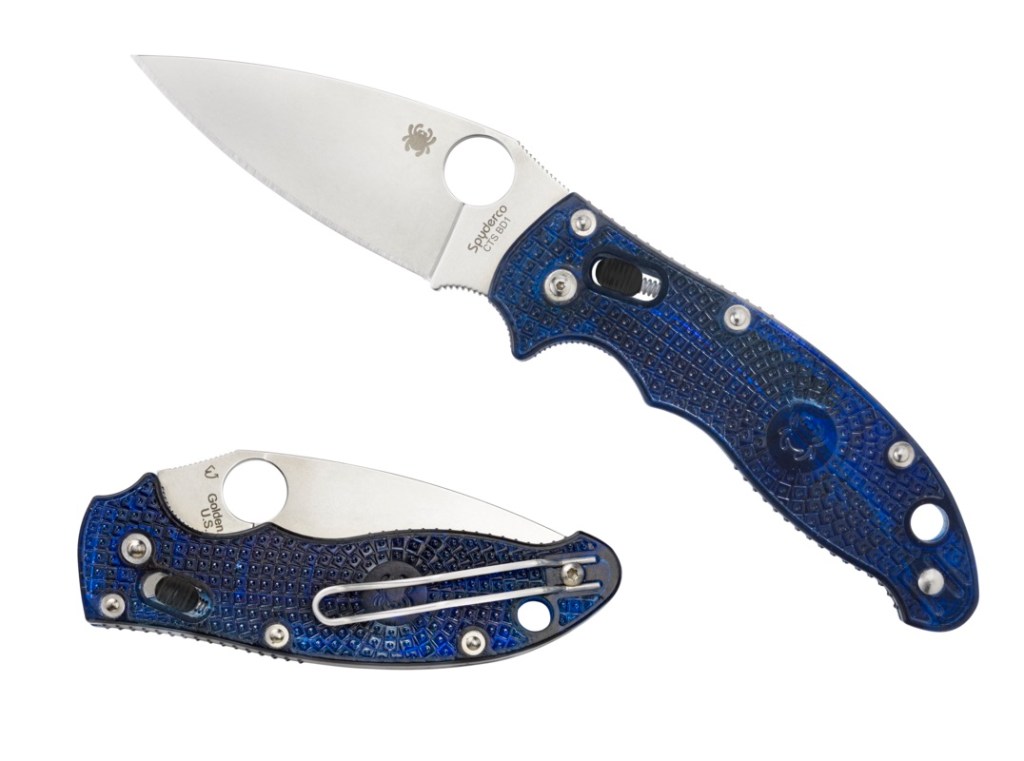 Best for: Wilderness, survival.
Why we picked it: We simply couldn't exclude this knife: not only did it win Blade magazine's award for Most Innovative American Design in 2010, but Spyderco's high-strength Ball Bearing Lock guarantees absolutely zero instability under pressure. Though ridiculously lightweight at only three ounces, this thing is a tank. If you could only get one folding knife, it would be a strong candidate.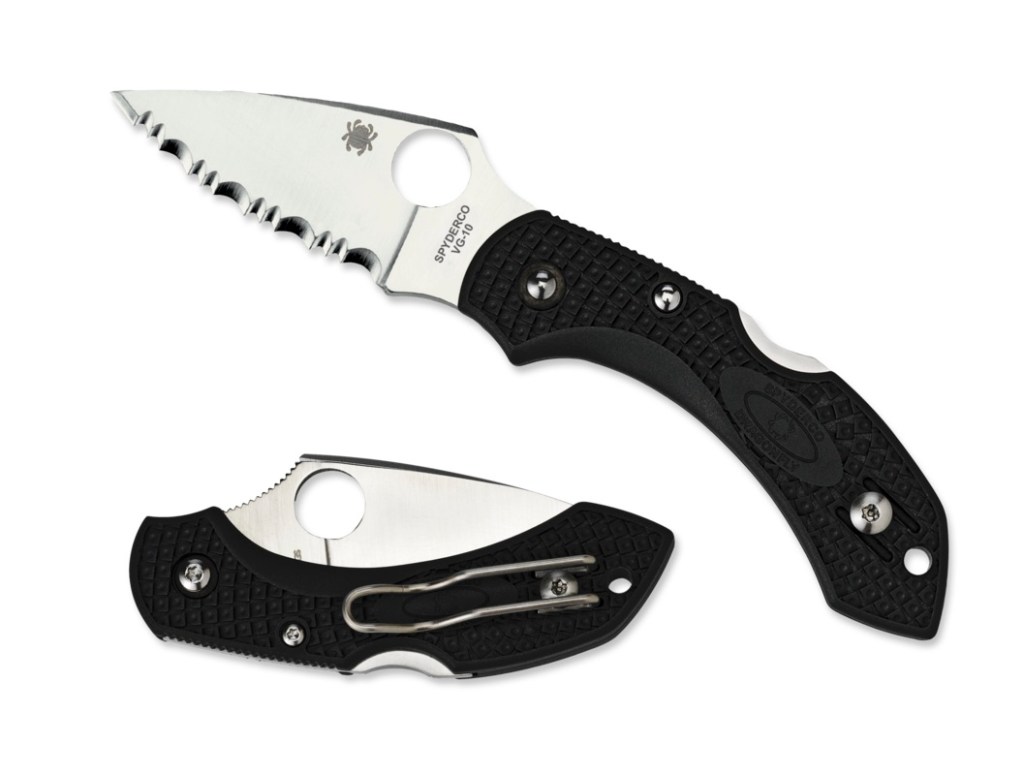 Best for: Getting leverage in tight spaces.
Why we picked it: The Dragonfly design is tried and true. Lovers of Japanese steel will be happy to see a quality VG-10 blade at a great price, while those looking for a powerful knife in a more discreet shape and size will find this fits the bill. This is a classic that deserves a place in any collection. It also makes a great gift for your adventurous nephew or recent college graduate (if you're not one of those people who's superstitious about giving a knife as a gift).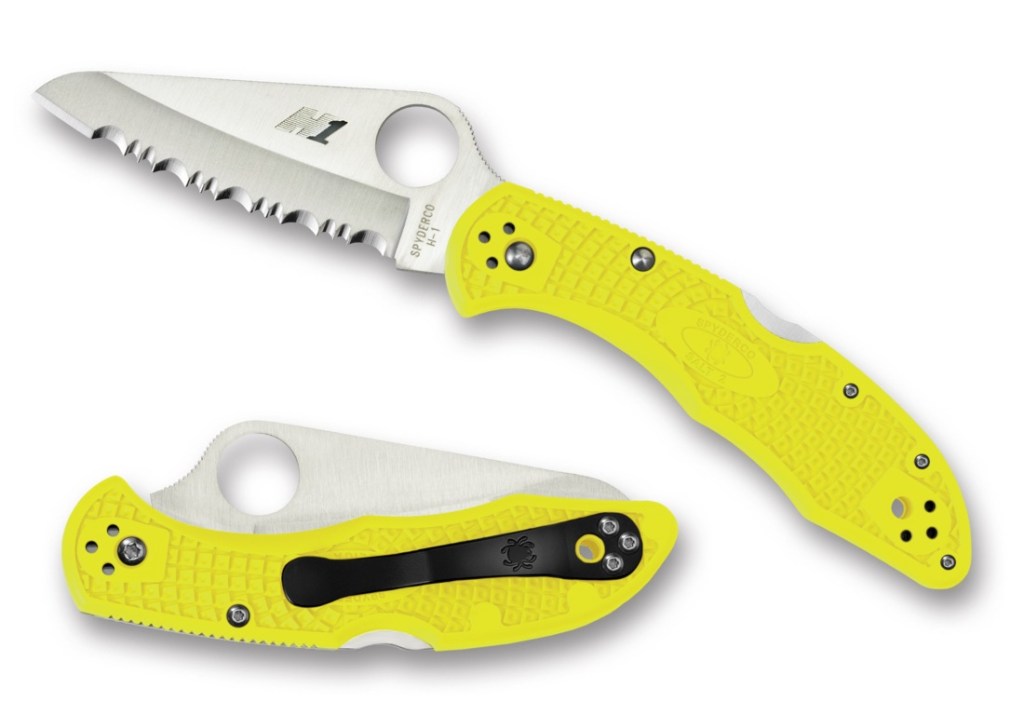 Best for: Fishing, hunting, outdoors, all-weather use.
Why we picked it: Before you go and buy a Delica or any other variant of it (which would be a good decision nonetheless), you need to consider this knife. Weighing in at just 2.1 ounces (yes, really), the Salt 2 really shines for outdoorsmen because it uses a special steel called H-1, which is, no joke, 100% rust-proof. The ergonomics are perfect; you can use this high-traction handle in snow, mud, water, you name it, and still be completely in control. Among folding knives for an outdoorsman's EDC, this is pretty much as good as it gets.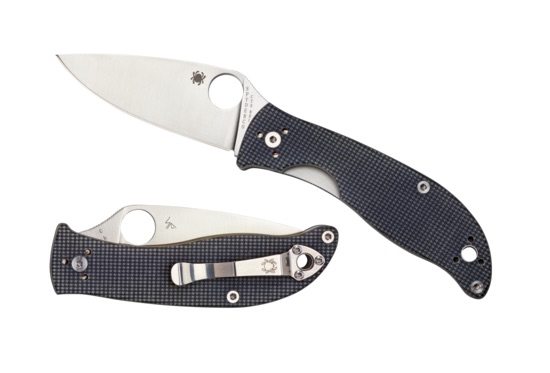 Best for: Hunting, carpentry, EDC.
Why we picked it: Really, this ties for second place with the Salt 2. The Polestar excels in the way it feels a lot like using a fixed blade, thanks to the Walker Linerlock with full, skeletonized steel liners. It's a handsome knife with solid construction you can feel and see immediately. You will really find yourself looking for excuses to use this one.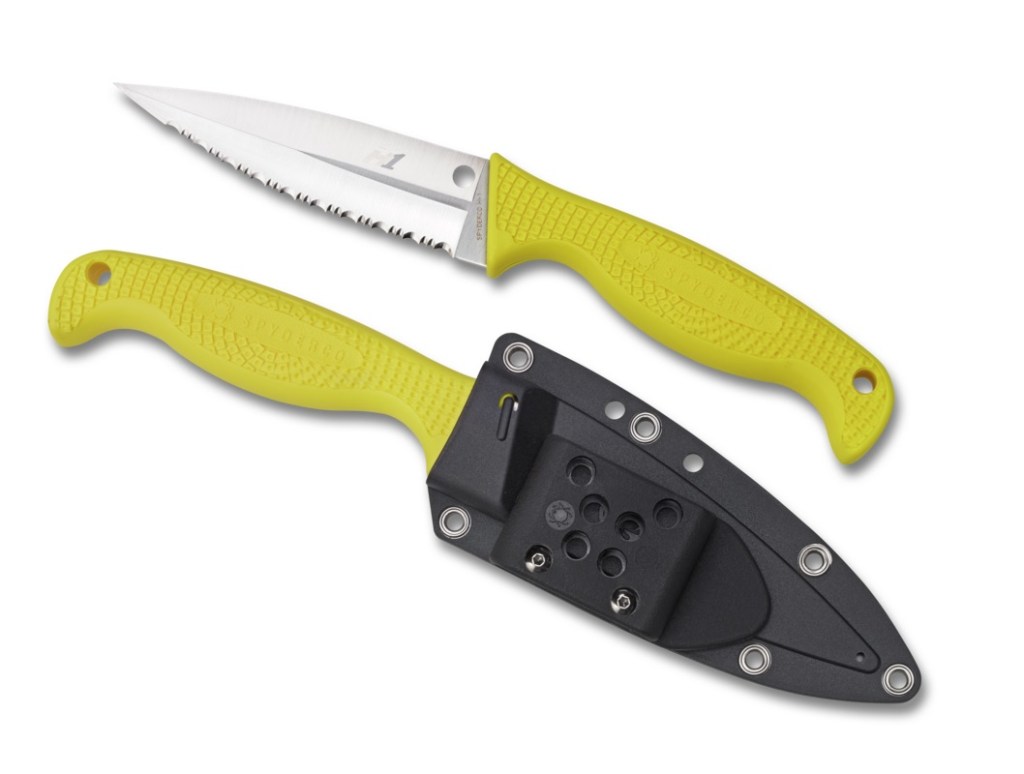 Best for: Fishing, hunting, outdoors, bushcraft, survival.
Why we picked it: Although you might know Spyderco best for folding knives, they've been making some fantastic fixed blades in recent years. They designed this new one specially for outdoorsmen (free divers and spearfishermen, in fact), and they nailed it. With its insanely rust-phobic H-1 steel and no-frills, aggressive blade shape, the knife almost dares you: just TRY to find my limits. If you're looking for a fixed blade knife that won't let you down, Spyderco might not be the first place you look, but now that they make the Fish Hunter, it should be the last. Other companies are charging twice the price for a knife of this quality.
Hopefully, this gave you a solid place to start looking for an outdoors Spyderco. You can buy any of their knives on Spyderco.com, and many of them are also available on Amazon.