Thomas McGuane: the introspective author, director, and fisherman who entertained the hell out of us.
Thomas McGuane is an interesting outdoor nut to try and crack, but we're going to try. He is all at once part humorist, storyteller, writer, and even film director, but one thing he is not is boring.
For our purposes we'll discuss some of his fishing and hunting exploits that stretched from the American northwest to the southeast, and everywhere in between.
McGuane was a daring, witty man who viewed the outdoor world with a knack for writing about it that surpassed almost every author or journalist that came before him. And he knew it.
His work is summed up in ten novels, including the National Book Award-nominated Ninety-Two in the Shade, as well as six nonfiction essay collections and two short-story collections. His stories and writing are as much about the experience of fishing and hunting as they are about how to keep the argument going. You know what we mean: debates over who caught the first, the most, and the biggest. No one could say it quite like McGuane.
Former television journalist Tom Brokaw, a good friend of McGuane's who lives near him in Montana's Boulder Valley, said, "In our circle of friends, Tom is always at the center of attention." That was from an interview with the Big Sky Journal. It sort of sums up the life of McGuane, in more ways than one.
He recently updated his famed book The Longest Silence—a 1999 collection of essays on trout, tarpon, and bonefish—with some 15 new essays. The additions included one called, interestingly enough, Shrink to Fit: Fly Fishing While Old.
It's been reported that McGuane had a tough upbringing, but it didn't stopped him from becoming what fishermen refer to as "the one that got away."
Thomas McGuane
McGuane was born December 11, 1939 in Wyandotte, Michigan and struggled through a childhood greatly affected by his alcoholic father. There are frequent times readers of his writing can pick up on the influence this period had on his life.
His early education years brought him to the Detroit area. While gleaning some of his schooling at the Cranbrook Boarding School, his young life included work on a ranch in Wyoming, fishing and hunting. McGuane graduated from Michigan State University with a B.A. in English in 1962 and famously met his lifelong friend, the poet, novelist, and fellow "literary lunatic" Jim Harrison.
McGuane gives great credit to Wallace Stegner, an already an established icon of American literature, for giving his work new life. Stegner's ease of acceptance towards new writers garnered motivation to continue with a fellowship to Stanford University in 1966.
After the conclusion of his fellowship in 1968, McGuane's first novel, The Sporting Club, was published in 1969, followed soon after by 1971's The Bushwhacked Piano, and in 1973 by the hit Ninety-two in the Shade. It was this book that has gone down in history, some calling it the greatest literary fishing work of that generation.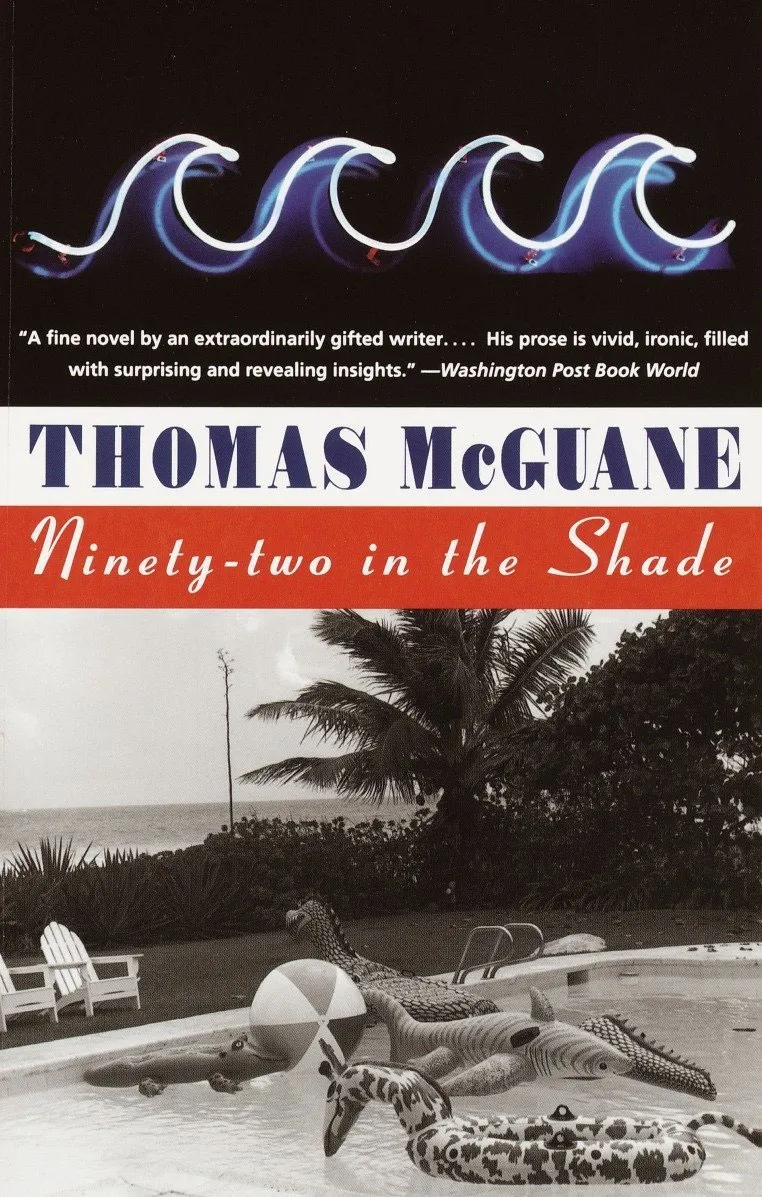 McGuane also attended the Yale School of Drama, where he obtained a Master of Fine Arts (M.F.A.) in 1965 and began his march towards becoming what critics called his "Captain Berserk" period, writing screenplays for the films Rancho Deluxe and The Missouri Breaks in the early 70s.
McGuane has lived and fished all over the world, but has spent most of his life either in Key West, Florida or Montana's Boulder Valley, with various stints in Hollywood, California along the way.
List of Thomas McGuane Books and Other Writings
McGuane wrote many pieces of literature including novels, essays, and screenplays. Here are a selected few that have stood the test of time that outdoorsmen everywhere should get their hands on at some point in their lives.
Fiction
The Sporting Club
The Bushwacked Piano
The Missouri Breaks (screenplay)
Panama
Nothing But Blue Skies
Gallatin Canyon (short stories)
Driving on the Rim
Cloudbursts (short stories)
Crow Fair (short stories)
Non-Fiction Essays
Best American Sports Writing
Live Water
Some Horses
Upstream: Flyfishing in the American Northwest
As said, these are not all of McGuane's writings, but the most popular and influential from an outdoor perspective, even though all of his writing can be considered of that nature, so to speak.
Thomas McGuane and the Great Outdoors
Thomas McGuane made Montana's Big Sky Country his permanent home in 1978, after spending years living in Hollywood and considerable time "playing hard" in Key West, Florida. Both places are famous for their angling opportunities, but significantly different in many other ways.
McGuane has been oft-quoted as saying that while fishing, "You feel like you're part of the processes of the natural world. You think about mortality and the bigger questions — and you have a lot of time to think."
As fishermen and outdoorsmen we've felt that way for our entire lives, but sometimes it takes great writing to open our eyes as to how to communicate it.
Fishing trips have taken McGuane from the southern tip of Argentina to Montana's Bitterroot and Big Hole Rivers, and from British Columbia to Key West, and he did it all while on the same pursuit as the next guy. He did it to wet a line, bend a rod, and fulfill the need.
He spent time down south quail hunting and saltwater flyfishing, and even fished with the likes of rocker Huey Lewis, news anchor Tom Brokaw, actor Michael Keaton, and the late flyfishing legend Lefty Kreh.
You may have seen them all fishing the Bahamas for bonefish on the television series Pirates of the Flats.
Lewis is quoted about McGuane saying, "He's a mature fisherman. The more you fish, the more you end up on the fish's side of things — and that's his deal." He is described by prominent Key West permit guide Gil Drake as "an excellent fisherman, with good eyes. He stays focused and gets the fly to the fish when it comes along, and he knows how to bring it along — and everything else you need to know to be a good shallow-water fisherman."
Whether he is fishing, hunting, or writing down his thoughts on those subjects, McGuane has helped lay the foundation for a generation of literature fans and their appreciation for the natural world. McGuane and his books have shown how much the outdoor world means to us, and how important it is to stay still and relax with our own thoughts.
Every generation seems to have its own model of outdoorsman, one that knows just how to say what it is that we're all thinking. They can do so without over simplifying it, while simultaneously preventing it from getting too complicated.
Thomas McGuane has captivated fishing fans for years and certainly claimed his place among the literary giants of the outdoor genre. And it seems all he wants to do, now that he's accomplished so much, is fish.
He's earned the right.
Looking for a little more or even hot lunch for your hunting blind? Follow my webpage, or on Facebook and Twitter.
NEXT: 10 GREAT HUNTING BOOKS (PLUS 1 MORE YOU'LL HOPEFULLY THINK IS GREAT!)
WATCH