It's inflatable fishing gear that won't succumb to your hook.
Yes, there are plenty of water floats out there that probably can't withstand much besides a guy and a cooler of beer. However, this heavy-duty inflatable water gear is not like the rest. Each is built with durability and longevity in mind, ensuring that you have the best system to enhance your fishing adventures. Check out some of the water travel gear from Sea Eagle before you hit the waters for your next fishing trip!

This is the Rolls Royce of travel canoes. The Sea Eagle Inflatable Travel Canoe 16 is the world's first patented high-pressure all drop stitch travel canoe, and right now it's only $1,999.00. This canoe deflates to fit in your trunk or stores well in tight spaces, and sets up in under ten minutes. This unsinkable canoe is perfect for reducing drag and increasing stability.

The Sea Eagle FastTrack is extremely durable and tough as nails. It is designed to resist sharp hooks and it is customized with built-in rod, tool, hook and lure holders. The non-slip padding makes navigating around it super easy while the built-in fish ruler assures quick measuring to make sure your catch is legal. A must while fishing. Snag this handy angling kayak for just $1,149.00.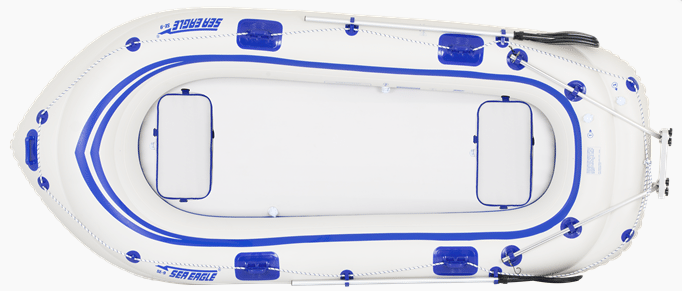 The Sea Eagle 9 is brand new and equipped with a higher-pressure inflatable floor and seats that are removable, with improved and superior high strength fabric sheath. This fishing boat seats up to four people. works awesome with small gas or electric motors, and is only $449.00!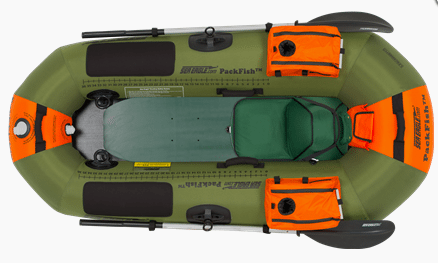 The PackFish7 is an ultralight and incredibly portable one-man fishing boat. It can be used to fish for hours while sitting on the fishing seat, or you can stand on the wooden floorboard. Either way, each provides a stable position for successful fishing and casting. This boat comes with a floorboard and oars and sets up in a matter of minutes. You can even wear it on your back. How's that for easy transportation? Get fishing with this boat for just $399.00.
This Sea Eagle fishing and water travel gear is going to improve your fishing trips by providing maximum comfort without having to worry about lugging around a massive canoe, kayak, or boat. Get one of these and transform your entire fishing experience!
Enjoy the outdoors?
Sign up for daily stories delivered straight to your inbox.