Yes, this venison skillet lasagna recipe is truly that simple.
Who doesn't love lasagna? The meat sauce alone makes me crave it, but adding in ground venison with some spices and ricotta cheese just makes an Italian masterpiece. The only problem most people have with making this is the time required to do it properly. Well, thanks to this venison skillet lasagna recipe, you can get it all done in 30 minutes or less. The best part is it'll taste like it took hours to bake.
Most hunters already have their favorite ground-venison recipes. It's common to whip up a meatloaf, spaghetti or even stuffed peppers. However, getting a venison lasagna done in 30 minutes for a weeknight meal sounds like no easy task. You can also make this as easy or as complicated as you like. For example, if you have your favorite tomato sauce that's store-bought, you should use it. If you want to make your own rich tomato sauce, do that, too. One thing to keep in mind, though, the 30 minutes-or-less part of this recipe would go out the window. The prep time would also dramatically increase.
Before we get into this wild game recipe, you can make plenty of variations. For example, I went very light on the mozzarella cheese and instead opted for more parmesan cheese. Feel free to use whatever cheese mixture you would like, though. Instead of the ricotta cheese, cottage cheese could be an easy substitute.
Venison Skillet Lasagna
Ingredients
1 pound of ground venison (or ground beef)
Diced/chopped onions
Whole garlic cloves, diced
2 jars tomato sauce (store-bought pasta sauce)
Oregano or other Italian seasoning to taste
Lasagna noodles
Ricotta cheese
Cheese mixtures
To start this recipe, you don't need a cast-iron skillet or a baking dish. Simply find any large skillet with a lid and cook the ground venison with the diced onions. I used one whole large white onion, but that's just me. Once the onions begin to run clear, add in multiple cloves of diced garlic to your taste.
The Sauce
From here, just add in the two jars of pasta sauce and bring all this to medium heat until the sauce starts to bubble. As for the pasta sauce, I used two jars of organic tomato and basil sauce, which you can find in any pasta section of a grocery store. If you want to make your own pasta sauce, again, feel free.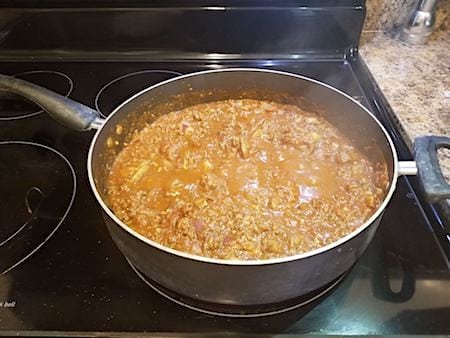 Next, add in your Italian seasoning. I used fresh oregano as well as a spice bottle Italian seasoning mixture from my kitchen cabinet. Now, here comes the lasagna noodles. Add some water to the meat mixture, up to about a half cup. Surprisingly, there isn't any layering process here. Simply break the noodles in half and submerge them in the pasta. Make sure you cover the entire skillet in the lasagna noodles.
When you think you have them all, use a spoon and feel around in there to make sure there's good coverage. Spoon more meat mixture on top, then put the lid on the skillet and allow all this to cook for about 10-15 minutes.
Finally, once the noodles are soft, spoon ricotta cheese and your other favorite cheese mixtures on top and put the lid back on for a few more minutes to melt. Once that's done, allow all of this to cool for a few minutes and dig in. The overall time from start to finish for me was about 30 minutes. However, this is all adjustable to your cooking styles.
For a venison skillet lasagna, this recipe sure comes together easy. It's so easy in fact, you could make it just about any night of the week in time for family dinner. Hopefully you enjoy this as much as our family did.
Also, this entree goes great with a glass of red wine!
NEXT: IT WILL TASTE LIKE FALL WITH THIS SLOW COOKER APPLE VENISON TENDERLOIN RECIPE
WATCH
https://rumble.com/embed/u7gve.cc4f1l/