As deer seasons close nationwide, bowhunters are left with a feeling of helplessness and lack of direction. There is a quite large gap in the outdoor calendar to fill before we chase turkey, trout, or any other spring quarry.
With "honey do" lists hanging over most of our heads, I say push them off for now; finish your outdoor chores first so you're ready come deer season. I begin my chores the weekend after the season closes. Since I am already in a routine of waking up and heading into the woods, there is no adjustment to my schedule.
This also provides an easier transition for my mental state to deal with life after hunting, a.k.a deerpression.
Cameras
Some people like to leave their cameras out year round. I prefer to pull most of mine, leaving one or two out on highly beaten-down travel corridors only. Then I clean them up, replace the straps if necessary, and remove any batteries and storage cards before packing them up.
Lastly, I will transfer any remaining pictures to my hard drive so all of the SD cards are empty, and toss in a few unopened packs of batteries. That way when summer rolls around and it is time to deploy my cameras, I know I just grab my pack and go. All the prep work is already complete.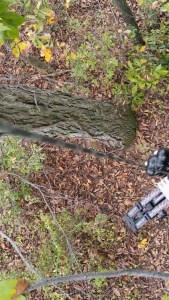 Treestands
This one is very important, and unfortunately, often overlooked. I remove all of my hang-on treestands and ladder sticks every year as well as go over every screw, washer, and cable, to ensure they are in perfect working order.
I discard or replace any parts that do not meet my standards. Check over all straps thoroughly. I remove any bow hooks, as well as hoist ropes from my sets. I learned that lesson the hard way a few seasons ago when a weathered hoist string gave way, sending my bow tumbling to the ground below. Do not gamble with your equipment, and never gamble with your life.
When it's time to hang stands, the excitement of the upcoming season has a tendency to distract us from maintenance. Do it now; you will thank yourself in July.
Ground Blinds
Ever sit in a ground blind that has been out for six straight seasons? I have, and it does not make for an enjoyable hunt. Pop-up and portable blinds are not meant to be permanent structures. When exposed to the elements year round, they will become discolored and deteriorate.
This will allow your scent to flow more freely out of the blind. It will also allow the elements to enter the blind with ease. In addition to that, a weathered blind is a noisy blind. They crunch and creek with the slightest movement. Nobody wants to brush in a crunchy blind. Pull them after the season to get the longest life out of your equipment.
I can close the door on the previous deer season when all of my outdoor chores are completed. I know my gear will be ready for action when when I get the itch mid summer to begin scouting. It is easier to get everything done while you are still in a hunting rhythm. That is why I suggest you not put these things off.
Besides, you have at least four to six weeks to clean the gutters, swap out the ceiling fan, and paint the bathroom before turkey season, right?
NEXT: HOW TO CHOOSE THE RIGHT OUTFITTER FOR AN OUT-OF-STATE HUNTING TRIP
https://rumble.com/embed/u7gve.v3trxt/
Enjoy the outdoors?
Sign up for daily stories delivered straight to your inbox.