Autumn's like living in a postcard. These are the best places to drive through it.
The vibrant fall colors, the ashen skies, the crisp air... It's a wonderful time of the year which some call their favorite.
And if you are one of them, then you'll want to take to the road> to find the most scenic drives through the coolest autumn places. Leaf peeping in America is amongst the best things to do, and though state parks and national parks are great, some of these are even better.
1. Hocking Hills, Ohio
The Hocking Hills area is home to beautiful wooded areas, breathtaking waterfalls, and some of the best fall foliage in the state. Take the parkway to be whisked away into a fall stupor, with the richness of colors.
Best of all, it is far less-traveled than many of the more popular destinations so you can take your time to enjoy fall at its finest. The autumn color show is an amazing one in this neck of the woods.
2. Great Smoky Mountains (North Carolina and Tennessee)
The Great Smoky Mountains are magnificent any time of the year but if you happen to encounter them in the fall, you're in for a treat. Picture vibrant reds and orange trees dotting the horizon as far as you can see.
One place to check out on your adventures is Asheville, North Carolina. This artistic town bustles with local stores, some outstanding eateries, and sits on the backdrop of this gorgeous mountains.
3. Catskill Mountains (New York)
At peak foliage, the Catskill Mountains have fall's richest, most vibrant colors set on the backdrop of country living. The serenity of these views takes your breath away while the rural areas give you ample opportunities to stop and gaze at autumn's radiance.
4. North Conway (New Hampshire)
There's a reason why many flock to the Northeast to see fall at its finest. And if you are among the trove of those doing this, be sure to visit North Conway, as it's the quintessential New England town, located next to the White Mountain National Forest.
The area has many activities such as hiking and fishing, and the inns along the way make it a destination worth stopping for a day or two.
5. Aspen (Colorado)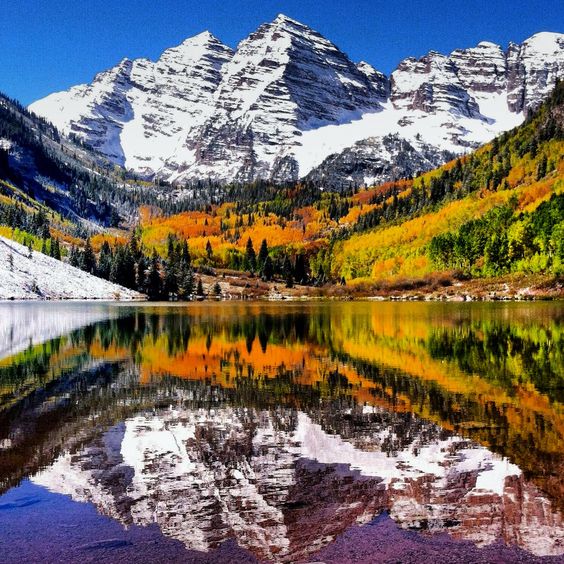 The Rocky Mountains, pristine rivers, pine trees, and vibrant fields of yellow are the perfect mix for this autumn wonderland.
Of course, Aspen has many activities to do including a cozy town, making this the perfect destination for all members of your traveling party.
Along with these five places, here are some other suggestions for your fall adventures:
6. Bar Harbor, Maine
7. Wisconsin Dells, Wisconsin
8. Green Mountain Byway, Vermont
9. Enchanted Circle Scenic Byway, New Mexico
10. Central Park, NYC
Hop in your ride, turn the engine, and head for some beautiful fall colors this season!
Read More: WHAT SHOULD YOU KEEP IN YOUR BUG OUT CAR? THIS VIDEO WILL HELP