Whether you're a lifelong Texan like myself or find yourself in the Lone Star State for the summer, it only takes about five minutes to realize that Texas summers are pretty brutal. How do Texans keep cool when temps cross the 100-degree threshold consistently? Easy. We go swimmin'. If we don't have access to swimming pools, we seek out natural swimming areas or swimming holes.
Austin's Deep Eddy Pool and Barton Springs Pool often dominate these lists, but they're not the only options available to summer-time Texans. There are easily hundreds of swimming holes sprinkled throughout the great state of Texas, making them a sweet respite from the heat no matter where you are.
If this sounds like something that's right up your alley, keep reading for a few of my personal favorite low-key Texas swimming holes. While there are easily hundreds in the state, the following are some of my favorite overlooked destinations.
Top 3 Swim Holes In Texas
Lake Meredith - Fritch, Texas
Located in the Texas panhandle, Lake Meredith is an unexpected gem of a place. The Canadian River feeds this artificial reservoir, one of the best swimming holes and campsites I've ever visited. The town of Fritch is quaint and adorable, and the lake is a beautiful secluded getaway from the hustle and bustle of the city. As a bonus, the strong and constant winds in the area provide a consistent breeze that takes the edge off even the hottest days. You can also hop in and go scuba diving or recruit a diving instructor from nearby Amarillo.
The clear waters of Lake Meredith are breathtaking, and the cliffs and sheer breaks add an element of drama that is nothing short of awe-inspiring. The area is quiet, and the lake is large, meaning there's always an element of seclusion to be found if that's the thing you're after. Given the popularity of lakes and swimming holes in Texas, secluded or private-feeling places are often hard to come by, and Lake Meredith has it as a built-in feature. That makes taking a lake day here refreshing in so many ways.
Lake Meredith is one of a handful of Texas areas operated by the National Park Service (NPS), so it's free to enter and enjoy, and camping is allowed for up to fourteen days. Rentals for stand-up paddle boards and boats are available inside the Wright-On Tackle Store inside the recreational area. I find that the availability to rent water-crafts and the relatively tranquil waters set Lake Meredith apart from other spots that are generally B.Y.O.G. (Bring Your Own Gear) in that there is a lot of flexibility to try new skills and activities.
Chalk Bluff River Resort - Uvalde, Texas
Growing up, none of my fellow Texans had heard of Chalk Bluff. When all my cousins went to Concan, my mom and I would pack a tent, load our car, and spend a weekend at Chalk Bluff. As a kid, a giant playground and miles of trails to wander were the only things in the world that mattered to me on those weekends. I genuinely believed I'd singlehandedly discovered the state's best swimming spot at the ripe old age of seven. The fluffy animals in the on-site petting zoo didn't hurt either.
Since then, Chalk Bluff has become an increasingly popular spot. Its clear waters are spring-fed by the Nueces River, located approximately fifteen minutes outside Uvalde, heading towards West Texas. The waters make for excellent wading, swimming, tubing, and kayaking. There are tube rentals available on-site and more than a few rope swings suspended throughout the trees and cliffs that overlook the swimming area for the more adrenaline-driven in your group. Water shoes are a must here, as there isn't a sandy beach. Rocks make up the river and its banks, and while the water smoothes most, some are sharp and present a hazard to bare feet.
If the kids need a break from swimming, stop by the on-site petting zoo. Or better yet book a safari hayride to explore the grounds and the animals that are being held at the on-site sanctuary. Chalk Bluff is open year-round and has cabins available for those who may need more space (or want a little more luxury) than a traditional tent or RV camping setup.
Blue Hole Regional Park in Wimberley, Texas
Blue Hole Regional Park is probably one of the most popular spots on this list, but it's a good one and worth visiting if you're in the Austin or Wimberley area. Located forty-five minutes south of Austin, Texas, the natural beauty of Blue Hole Regional Park alone is enough to deem a visit necessary, but I may be biased.
Cypress trees shade Blue Hole, helping keep the water in the swimming area a perfect 75 degrees year-round. The water here is a breathtaking blue, and while inflatables like kayaks and paddle boards are not allowed at Blue Hole, you can use the rope swings hung throughout the trees. Soft grass, perfect for sunbathing, surrounds the swimming hole.
Despite the consistent water temperature, there is an enforced swimming season. Travelers should check availability and book a reservation before making the trek to Wimberley. However, I should note that the park only accepts reservations in four-hour increments, so if you plan to stay a full day, you'll need to book two separate reservations. If you're a Texas Hill Country local, you'll be pleased to know that Blue Hole offers season passes that allow practically unlimited access to the swimming area during swim season for a highly reasonable price. Think of it as an investment in your summer joy.
As I said, there are hundreds of locations to get your feet wet and take a load off in Texas. State parks, natural swimming holes, and riverfront hangouts are plentiful. It depends on the region and your willingness to go out and explore (hope you like road trips; it's a big state, remember). Whether you're in West Texas, Hill Country, the High Plains, or the Deep South, there's somewhere to beat the heat.
Beating the crowds, however? That's a different game entirely. Let us know if you have a spot you'd add to the list, and maybe it'll make the next round-up!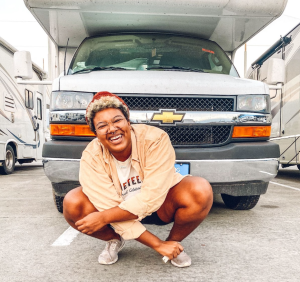 Jupiter (they/them) is a twenty-something wanderer who has traveled the United States full-time in a Class C RV since 2019. They are accompanied by their two dogs and spend their time hiking, writing, reading, seeking out the best food on the road, and finding new Black & LGBTQ+ friendly places to explore. Instagram: @doesthiscountasvanlife
Share your favorite watering holes on Wide Open Roads on Facebook!
Enjoy the outdoors?
Sign up for daily stories delivered straight to your inbox.