At least one gunmaker has taken offense to the retailer's anti-Second-Amendment stance.
Springfield Armory, an Illinois-based manufacturer of handguns and rifles, announced April 3 it was severing all ties with Dick's Sporting Goods.
In a press release posted to their Facebook page, Springfield Armory had this to say in regards to their decision: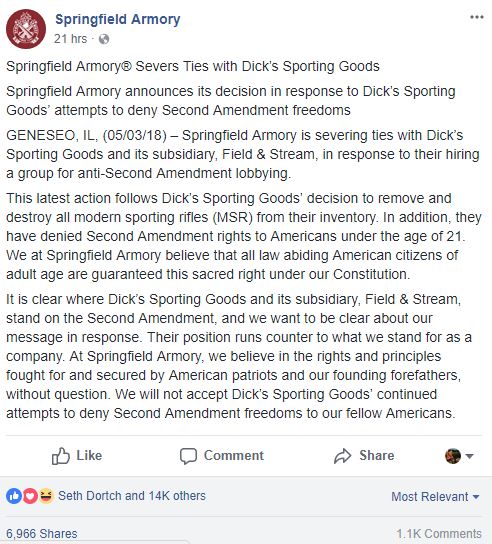 Within 24 hours, the post had been shared 7,000 times, garnered 14,000 likes and had over 1,000 comments, almost all in support of the gunmaker.
Springfield Armory is the first major gun manufacturer to sever ties with Dick's Sporting Goods publicly, and the decision comes on the heels of resounding backlash against Yeti Coolers.
Did you enjoy this post? CLICK HERE to view more article by Justin Hoffman. You can also check out his Photography Site Justin Hoffman Outdoors, as well as follow him on Facebook Justin Hoffman Outdoors, Instagram hoffmanoutdoors, Twitter @HoffmanOutdoors, or subscribe to his YouTube channel Justin Hoffman.
NEXT: FLETCHERS OUTDOORS DRAWS A FIRM LINE IN THE SAND WITH YETI COOLERS