Here is our tiered spring turkey gear guide, with varying budgets in mind.
It's time again to head into the turkey woods, and try your chances against ol' Tom, one of the craziest, most unpredictable, yet irresistible game birds known to man.
Spring turkey season is like a reawakening for many of us. If you're an all-around hunter, you likely spent the better part of fall and winter in the field, and after those seasons came to an end, you were stuck inside. Now the sun's (hopefully) shining, the weather's warming, and you're able to exclusively dedicate your attention to the gobbling and yelping heard through the timber or from across the meadow.
As you're finalizing your gear for the new season, give these things some consideration. It's never too late to add some things to your arsenal, and tip the scales in your favor as you venture out for gobblers.
For clarification, we tried to offer a few tiers of options, depending on what kind of budget you've given yourself for new equipment and supplies dedicated to turkey hunting. If you're looking at a higher-priced item on the list, you can make up for it by going with a lower tiered item from another category.
We'll go over suggestions for shotguns, ammo, calls, apparel, and vests/packs for turkey hunters.
The bottom line is that these are all respectable options no matter what tier you pick from, and you'll be ready to go with any choice you make.
There's a lot to like about these straight tungsten or blended turkey loads from Federal Premium. At the top of the tiers is the Heavyweight Tungsten Super Shot, which has a 22% heavier density than heavyweight shot and a 56% heavier density than traditional lead shot.
It puts the maximum amount of pellets possible in a 10-inch circle at 40 yds. They're also helping the .410 rise in turkey hunting use, and a must if you're using the new Stevens 301 Turkey.
One step down in price is the Winchester Longbeard XR turkey load, which is available in 12 and 20 gauge at Cabelas.com. It claims 10% greater penetration over standard lead loads beyond 50 yards, and though we haven't shot them at that distance, they've performed well just under.
At the lowest-priced tier is Federal Premium's Grand Slam, which isn't necessarily a new turkey load, but an old reliable one. The FliteControl Flex wad gives you the versatility to shoot them through any choke tube.
Woodhaven Custom Calls have been cranking out quality turkey summoners for a while, and though it's costly, The Vision Crystal Friction Call is said to be one of the best you can buy. It delivers high front ends and kees with powerful back ends and strong mid range yelps.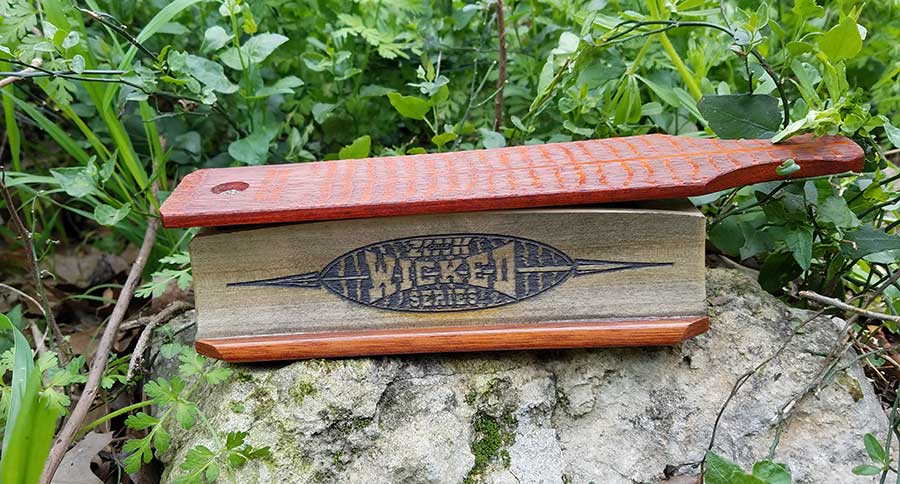 While we just aren't well-versed enough to make legitimate recommendations for diaphragm or mouth calls, we've got pot and box call categories under control.
I've been fans of this Zink Series of turkey calls since they came out, mainly because of their ease of use. The Wicked Series Box Call sounds great and looks pretty nice too. It's a little on the higher end of calls, but well worth it in my eyes.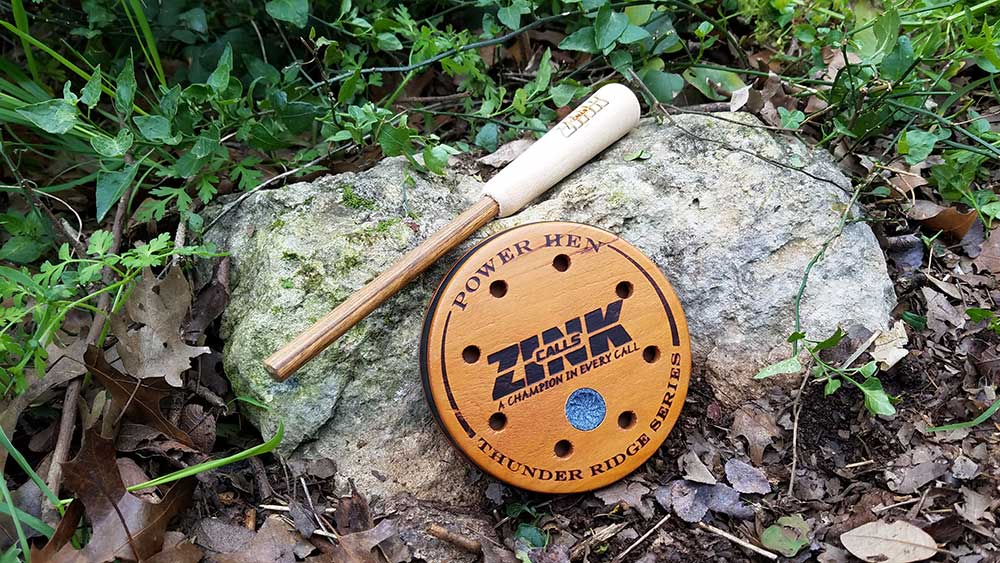 The Thunder Ridge Series Power Hen Crystal Pot Call is a winner too, and a little lower in price. There isn't much to finding the sweet spot, and it's proven effective on a variety of hunts.
One extra benefit is the Power Hen's sandpaper grit conditioning surface to keep your striker in tip-top shape.
Turkey Hunting Apparel from Sitka
Though they don't make it specifically for the pursuit, Sitka's big game hunting apparel has made its way into the turkey woods for good reason. The Optifade Subalpine camo pattern is great concealment for springtime, and the time and effort put into the designs will be beneficial to anyone hunting turkeys.
The Thunderhead Jacket and Pant could qualify as the greatest rain gear a turkey hunter could ask for. It's made of polyester brushed material that uses GORE-TEX to keep things ultra soft, super-quiet, and durably rainproof.
The Apex Hoody is great for when it isn't raining. It's made of a merino-nylon blend that is durable, comfortable, flexible, and quiet. There's an integrated mesh facemask making it ideal for turkey hunting. Add in the DWR finish and removable elbow pads, and you're wearing the ultimate turkey hunting hoody.
And if you're hunting in warm weather, the Sitka Ascent Pant has four-way stretch, Polygiene scent control, knee pads, and a few other features turkey hunters will love.
NOMAD NWTF Apparel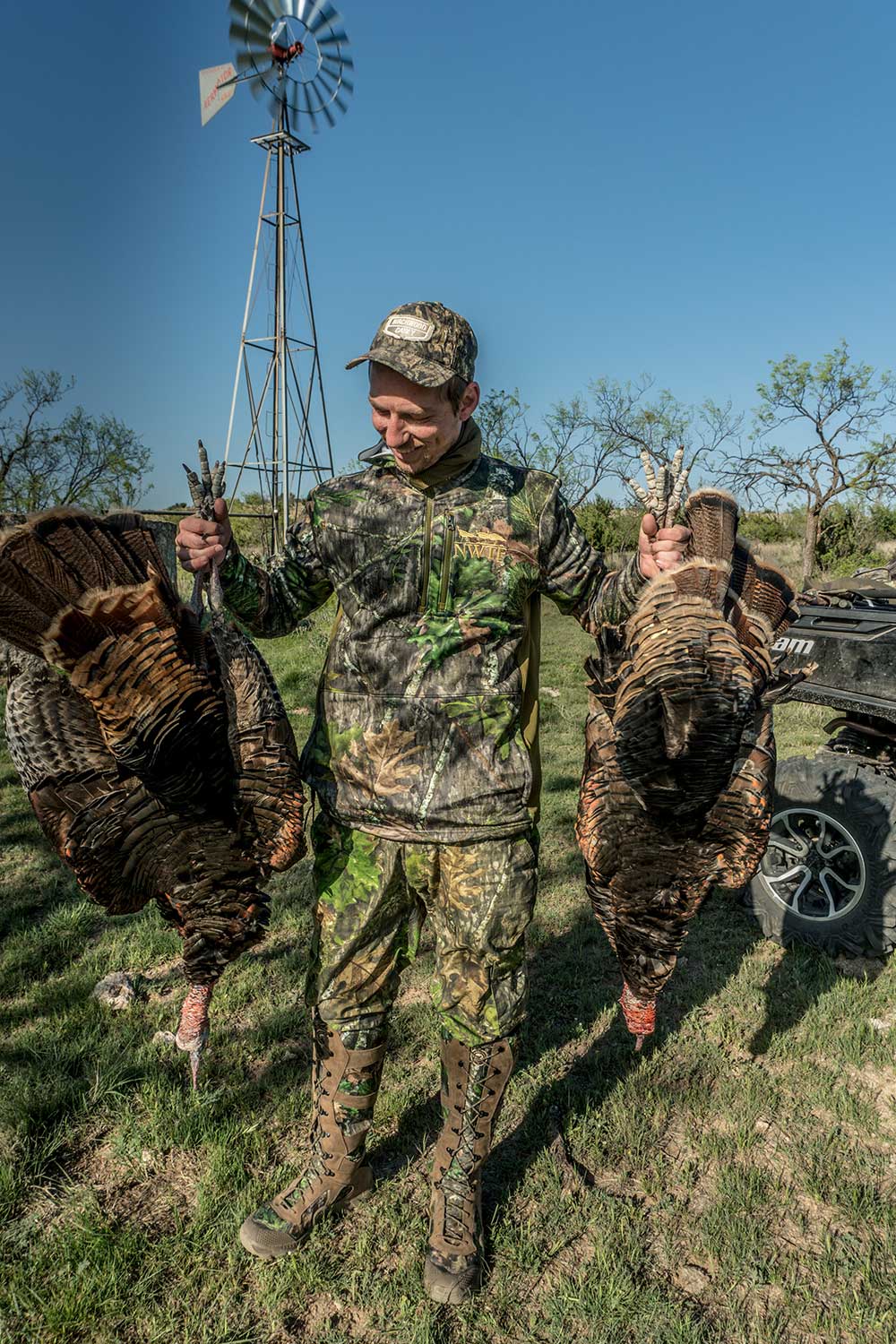 Take things one tier down in price, and the NOMAD NWTF Turkey Collection is where it's at. We've used the pants, the quarter-zip jacket, and the fleece vest.
They're all comfortable and perfectly concealed with the recommended Mossy Oak Obsession camo, an awesome match for the entire spring season. It just so happens to be the NWTF's official pattern, so you know it's good.
Leupold Optics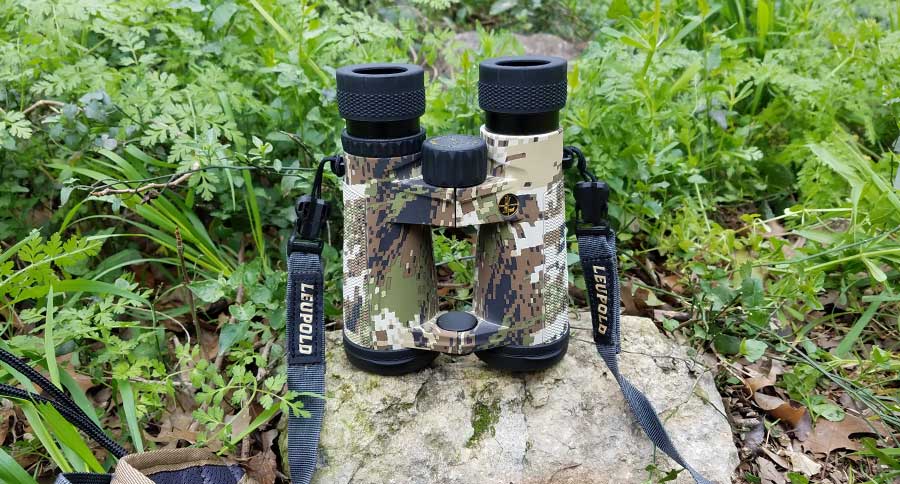 When it comes to turkey hunting, a good pair of binoculars should be a given. If you want a great pair, look at Leupold's BX-5 Santiam HD with its huge field of view. When you're peering into cramped, thickly vegetated areas, that's a major boon.
The BX-5 Santiam HD binos have top notch glare management, clarity, and resolution, plus there's far less eye-strain for those ultra-long glassing sessions. They're more expensive than others, but carry a nice warranty.
Maven Optics
The direct-to-consumer model has worked out great for optics company Maven, and there are plenty of reasons why they've made our spring turkey hunting gear list.
The Maven B.1 10x42 binos are on the lower end of the price spectrum, but don't let that startle you. They will give you unparalleled performance in low-light conditions, and tack sharp edge-to-edge clarity.
If you want to move down a tier or two in price, consider the Maven C.1 12x42 or C.2 7x28, both good options for turkeys within a more narrow budget.

Irish Setter VaprTrek Snake Boots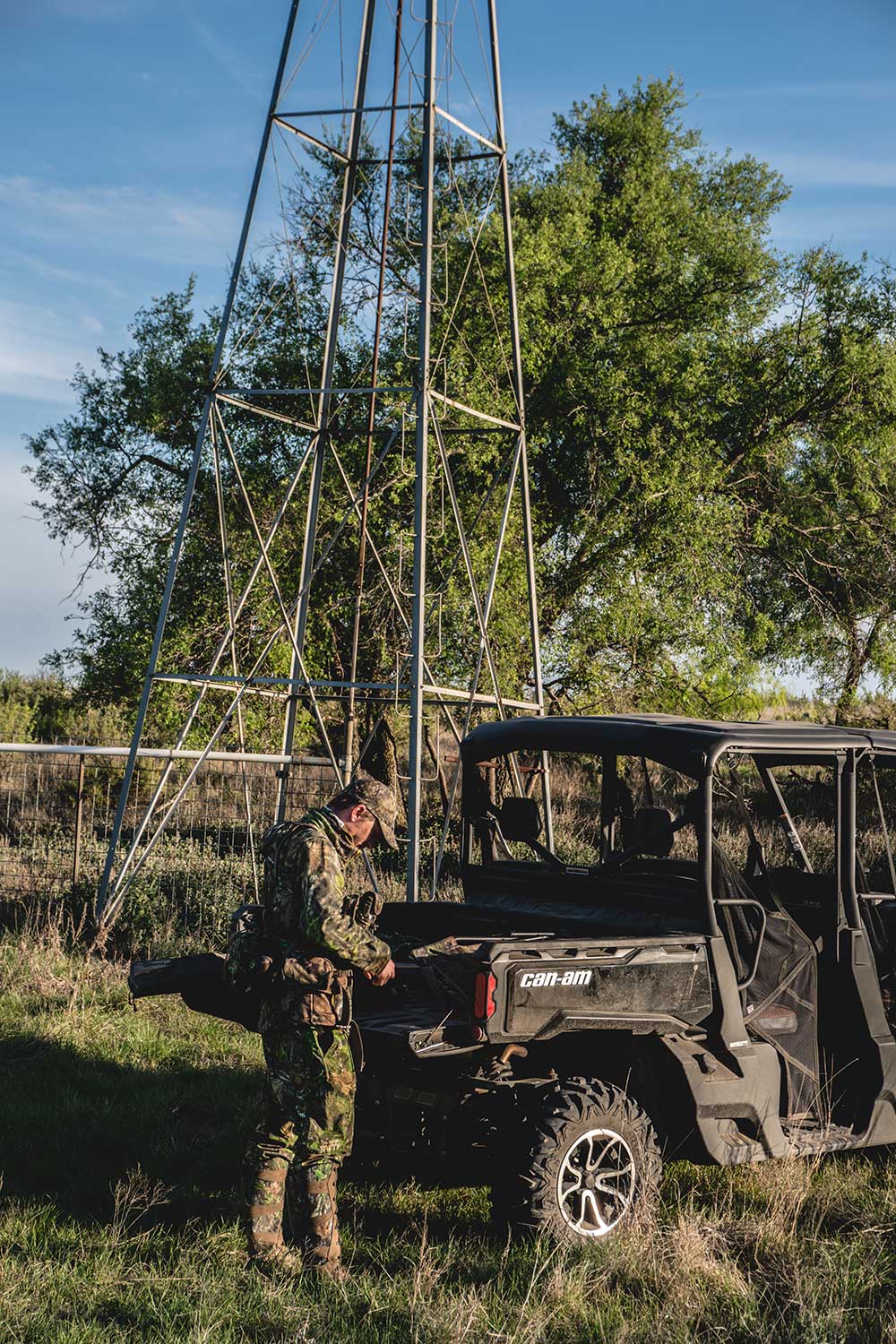 Good turkey hunting boots mean different things for different people, but they've usually got to be waterproof, quiet, and comfortable.
These Irish Setter VaprTrek Snake Boots are more comfortable than most boots you'll ever put on, and do the work a snake boot should. Trust me, you won't be worrying about cozying up to a tree in the thick woods with these on.

Muck Boots Pursuit Shadow Pull Ons
A good pair of rubber boots can be a turkey hunter's best friend. Personally, the Pursuit Shadow Pull Ons from Muck Boots lack a little in comfort, but that's probably because of a little abnormalities in my feet and stride. A pair of thick socks take care of anything too out of line, and they're wonderfully waterproof (as they should be).
Alps Outdoorz Long Spur Turkey Vest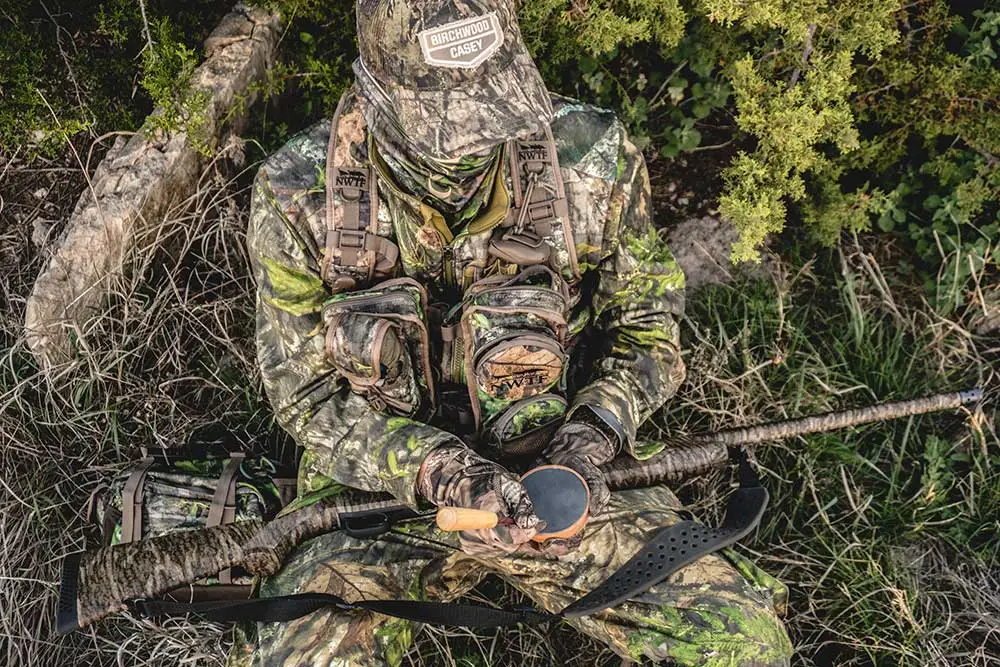 The Alps Outdoorz Long Spur Turkey Vest has been my go-to since I got it a year ago, and I don't see needing to replace it any time soon.
This might be the best vest ever made for on-the-move, run-and-gun turkey hunters. It's streamlined and not bulky in the least, but still manages to store everything you need and still have a little extra room.
Alps Outdoorz NWTF Super Elite 4.0 Turkey Vest
If you want something a little more traditional, go with the Alps Outdoorz NWTF Super Elite 4.0 Turkey Vest, a do-it-all piece of gear that Alps put extra care and detail into creating. The seat is comfy and the pockets are massive.
Hunters Specialties Undertaker Chest Pack
If you want to go extra lean and lower priced, the Hunters Specialties Undertaker Chest Pack makes a lot of sense. Strapped around your upper body, it's got enough room to hold essentials, and employs nice, quiet magnetic closures.

Mossberg 930 Shotgun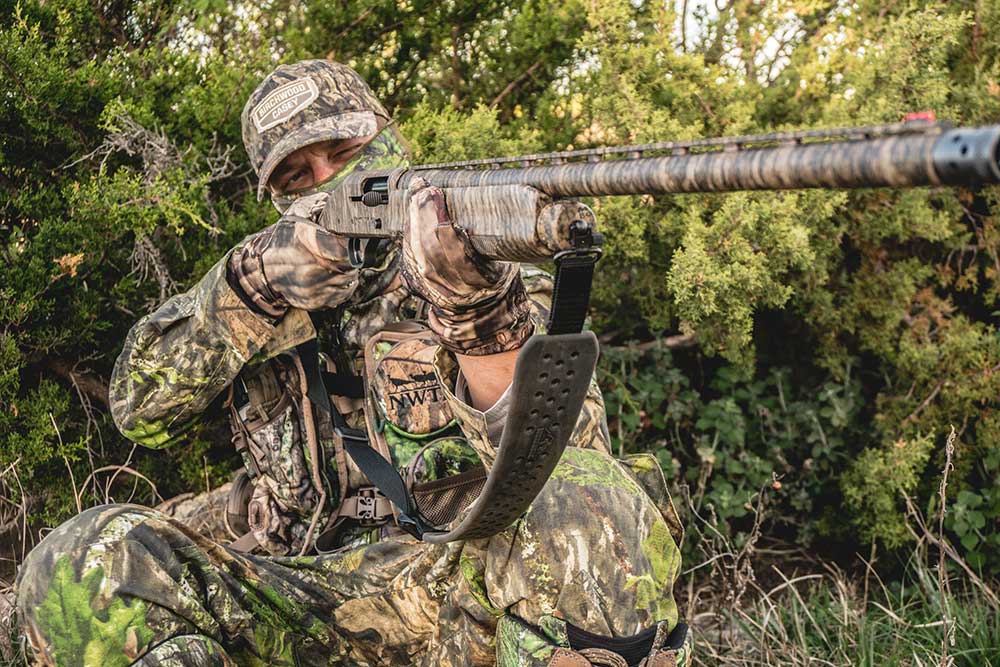 The 930 from Mossberg has proven itself as a trusty turkey hunting shotgun, and the fact that the Turkey/Field version is available in Mossy Oak Bottomland is even more reason to be giddy. We were when we got to take this gun for a test drive.
The Mossberg 930 does come in a turkey-specific version, but our editor tested out the All-Purpose Field in Mossy Oak Bottomland. At $640 MSRP, it's a great value for what you're getting. The gun's versatile, but with a proper choke tube (which it comes with), it's an awesome turkey gun.
Stoeger P3000 Pump Shotgun
If you want to get away with an ultra-inexpensive turkey gun, there's no shame whatsoever in choosing the value-driven Stoeger P3000. It comes in black or Realtree Max-5, which might technically be a waterfowl pattern, but you're making due.
We've had some fun with this gun over the years, and there's no reason it wouldn't serve well in the turkey woods.
There are always going to be opinions about what equipment works best for whom, but these are all suggestions we can make in confidence. It's gear we've either used extensively, tried out a few times, or are familiar enough to recommend.
All of it will do its part to help you put a gobbler on the ground, and that's the whole point.
NEXT: HOW TO AGE A TURKEY BY ITS SPURS
WATCH
Enjoy the outdoors?
Sign up for daily stories delivered straight to your inbox.