The Savage B22 G makes your first 22 rimfire seem like a relic.
Lots of times, a 22LR rimfire rifle is the ideal first gun used by a young shooter. It makes perfect sense: there's less noise and recoil, they are great for target practice and small game, and there's plenty of reasonably priced ammo to go around.
In fact, those are good enough reasons for anyone, regardless of age, to view a 22 as something they'd enjoy and get some use out of.
But a new rimfire can get lost in the sea of firearms that hit the market in today's high-tech world of gun innovation. I'm doing my best to make sure you don't completely miss what Savage Arms is doing with their 22 rimfire rifles, specifically the B22 G, one of their relatively new additions to the B-Series lineup.
I first shot a B22 a few years ago at a Mossy Oak-sponsored licensee event, and it was one of the first times I'd used a Savage gun at all. Though it seemed small and simple, I learned about the inspiration it took from the original B.MAG, the ground-breaker that created a whole new class of bolt-action rimfire rifle. It had centerfire features and could boast record-breaking velocity, long-range accuracy, and downrange devastation on small game.
Fast forward, and I got a chance to check out one of the new models, the B22 G, which features a beautiful walnut-stained hardwood stock alongside the same 10-round rotary magazine and adjustable Accutrigger that have helped Savage push forward with their tech-driven ideas already found in the B-Series.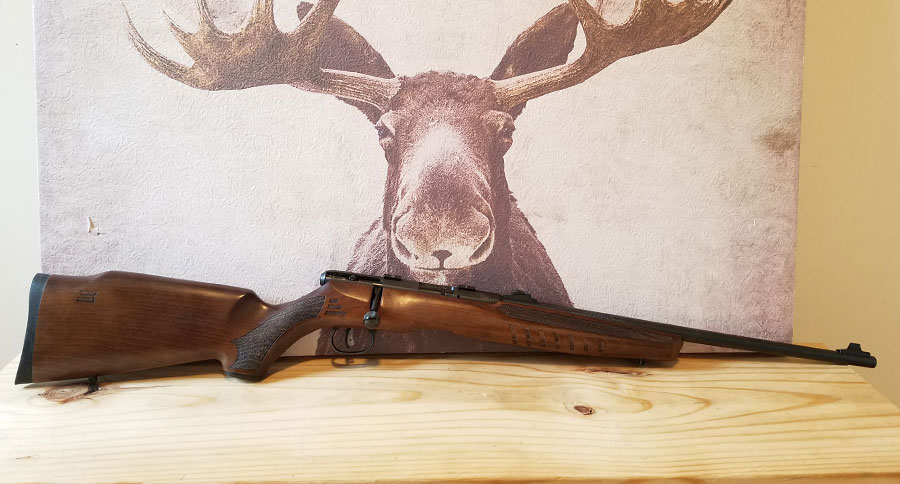 Design enhancements
First and foremost, the thing that stands out to me most about this rifle is the updated ergonomic shape and design of the stock. The comb is raised a bit, and the modern checkering helps maintain a firm hold. Truthfully, it's the target-style, vertical pistol grip that really makes it feel more natural than just about any rimfire I've held in my hands.
The barrel length is 21 inches of matte black, and the gun has an overall length of 39 inches. The butt pad adds a little extra cushion to an already low recoil rifle, but it doesn't take anything away from the overall look. That's a plus in my book.
The Accutrigger has been written about on this site and elsewhere, and it's a marvel in itself. It's quick and easy to adjust, meaning you're going to be able to find the sweet spot in regards to pull weight. And of course, the added safety benefit can't go unmentioned. Since the trigger includes the small silver Accurelease, which has to be depressed before the trigger can be fully engaged, it helps avoid accidental discharges from drops or bumps. That's priceless.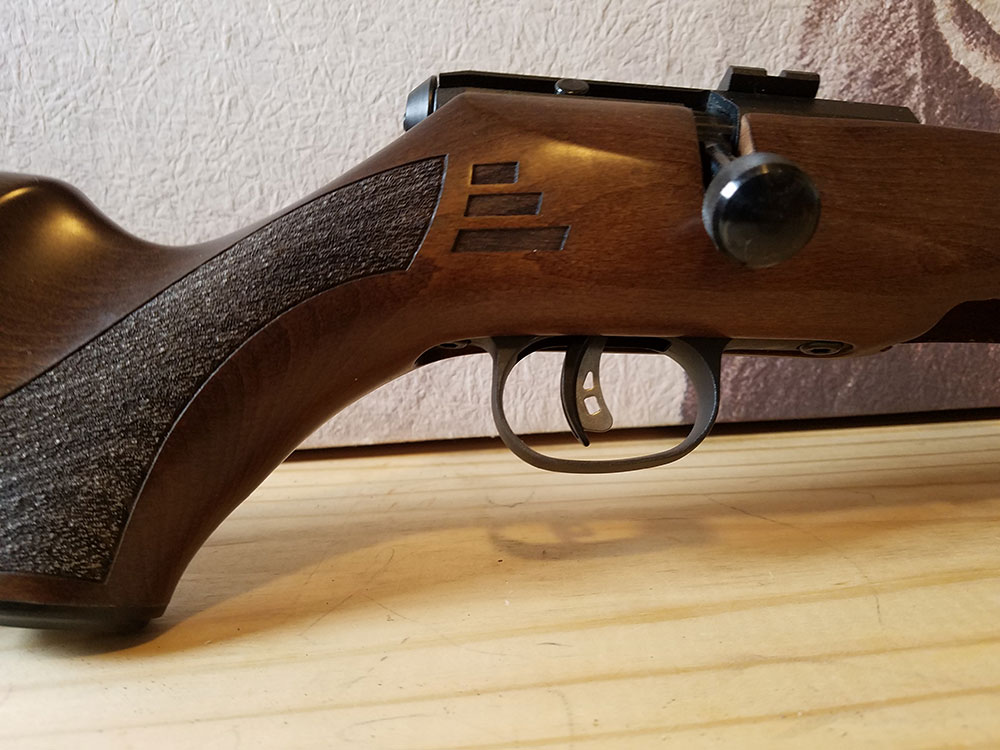 There's no better way to avoid having to add a purchase of a new trigger, and that goes for any of the Savage gun equipped with the Accutrigger.
The B22 G has a carbon steel receiver and a top tang safety. It's drilled and tapped for scope mounts, but the adjustable iron sights work nicely too. For testing, I equipped it with a Simmons AETEC riflescope, but was sure to use the iron sights equally as much. It comes in at a price point of $439.
At the range
For the first round of general testing, I got my hands on a few kinds of CCI Ammunition and headed out to the range for a day of plinking.
Out of the box, the gun shot great. It didn't take too much to sight in, and once I did, there was little chance of missing what I aimed at. I didn't reach out too far, as I hadn't equipped the rifle with a scope, but the reasonable distance was handled almost perfectly.
I mixed a little steel in with my paper targets, and wrapped up my first experience shooting the B22 G with a smile on my face.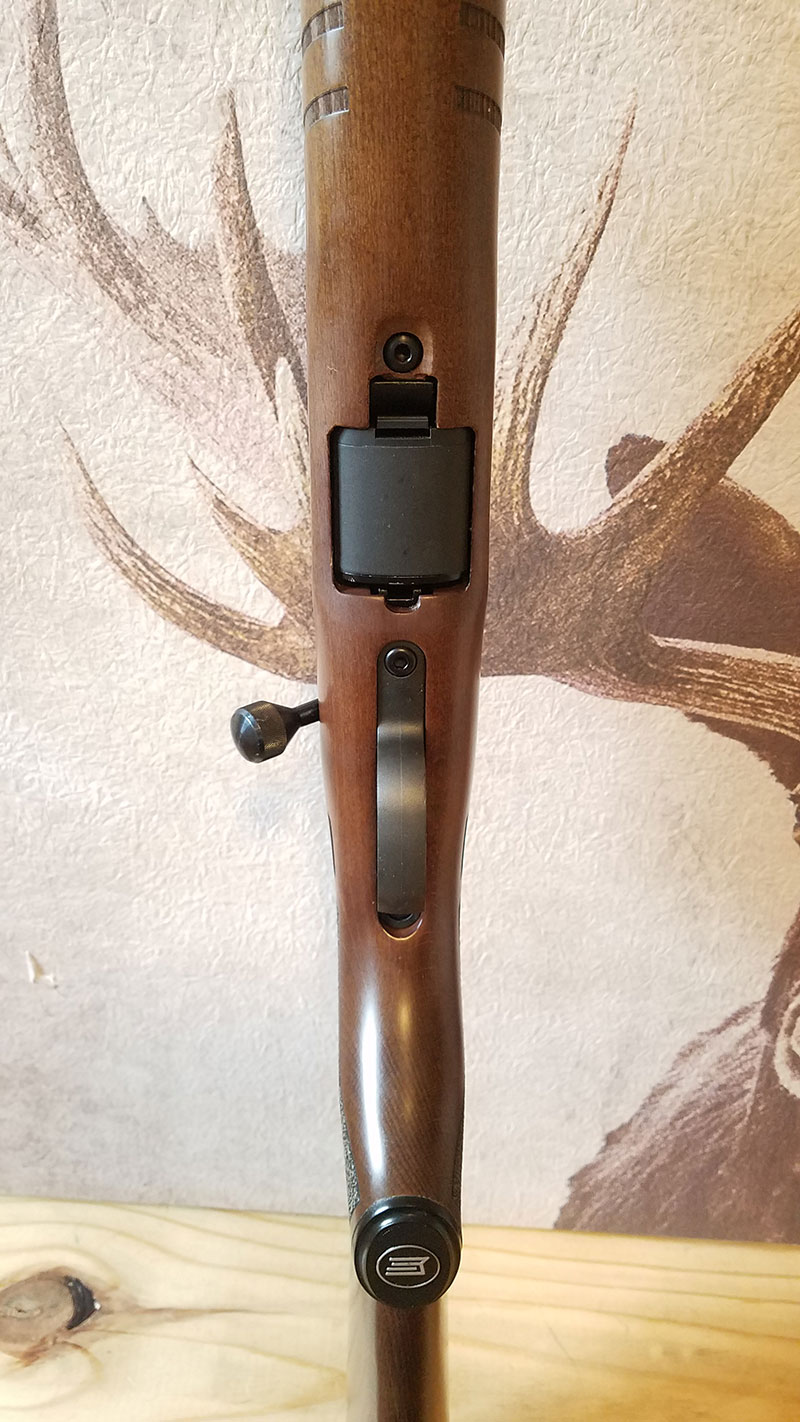 Though I had reasonable expectations, the B22 G scored extra points for being fun to shoot, plain and simple. It's a gun I know I'll feel comfortable handing over to my kids when they're old enough, thanks to a lot of smart features and education-based opportunities. If this is the first gun used by a new shooter, I think they'd be setting themselves up for a love of the hobby for years to come.
That's not to say someone my age or older can't get some enjoyment out of it, too. I've taken the B22 G into the squirrel woods twice, both short and unsuccessful excursions, but I'm maintaining trust that if and when I do have the chance to aim at a bushy-tailed rodent, I've got the gun for the job.
The AECTEC scope from Simmons did its job, and its clarity was especially noteworthy considering the fact that it's meant for a 22.
A note on the 10-round magazine: The proprietary design is pretty darn intuitive, and I haven't experienced any problems feeding the gun a steady supply of ammo. The magazine fits nice and flush, which is an advantage in the thick woods over a detachable box mag. You aren't getting snagged or caught up in branches or brush.
More than just a rimfire
Add all the features and performance standards together, and I can't come up with a better looking, sharper shooting rimfire than the B22 G. The hardwood stock, above all else, gives it the classic style; the smart innovations round out the rest.
There's little doubt in my mind that the Savage B22 G is a darn good rimfire, and like I said, envisioning a handoff to my oldest son in just a few years makes the gun even more special.
Until then, I'm going to use it all I can. Once he starts shooting it, I might not get it back!
NEXT: VIDEO GUN REVIEW: STEVENS 555 ENHANCED O/U SHOTGUN
WATCH
Enjoy the outdoors?
Sign up for daily stories delivered straight to your inbox.