Visiting Ricketts Glen State Park in Benton, Pennsylvania, can make a person feel small in the best way.
I felt small standing at the foot of a roaring waterfall, craning my neck to watch Kitchen Creek pour over the rock shelf 94-feet above and knowing that there are 21 more waterfalls on the Falls Trail.
I felt small hiking through pines, hemlocks, and oaks that looked like they were from the forest of some storybook giant. Many towered over 100 feet high, with trunks 4-feet in diameter. I tried to wrap my head around the fact that when the American colonies declared independence from Britain, many of these trees had already grown in the glen for over 50 years.
I felt small when I realized this incredible state park was surrounded by an additional 45 thousand acres of public land that saw few hikers.
All of it also made me feel grateful and excited. Grateful this incredible place has been preserved for all of us to enjoy and always happy to explore it.
Into the Glens
There is a lot to love about Ricketts Glen State Park, but the draw for most folks is the almost absurd number of beautiful waterfalls. The Falls Trail runs through three glens and along two forks of Kitchen Creek and takes you to an incredible 22 named waterfalls. This almost continuous run of falls starts only a mile from the parking lot at the trailhead. The first one you come upon is Mohawk, a powerful 37-footer. Many of the falls take names from the Native American tribes who lived here for thousands of years: the Mohawk, Oneida, Cayuga, Seneca, Onondaga, and Susquehannock.
If you make the entire 7.2-mile loop of Falls Trail, you'll see waterfalls of all shapes, sizes, and configurations. Some are "wedding cake" waterfalls, which tumble down sandstone ledges like steps. Others are "bridal veil" falls, where the creek shoots out over a rock ledge and plunges straight down into a deep, dark pool. Goonoga, the highest fall, is a wedding cake cascading 94-feet down the rocks. (The men who named it mistakenly thought the word was Seneca for "water on the mountain," but it's actually a Cayuga word meaning "place of floating oil.")
The falls complex is in the Glens Natural Area, a designated National Natural Landmark. It's a series of steep, narrow valleys, heavily timbered with old growth.
The trees might be even more impressive than the falls, considering nearly all of Pennsylvania (and the East) was logged at some point. I mean that literally: This 2,000-acre stand of hemlocks, eastern white pine, and oaks is one of only a handful of patches of "virgin forest" left in the state and one of the largest. Sadly, over the last 20 years an invasive insect, the wooly adelgid, has taken a toll on the hemlocks. This aphid-like bug feeds on the hemlock's sap. It is kept in check in its native range in Asia by its natural predators. But here, it has none, and so has decimated hemlock forests up and down the East Coast. The usual depressing story when nonnative plants and animals are introduced to an ecosystem.
Many of the oaks, white pines, and the hemlocks that remain are over 300 years old. Several years ago, a ring count of a fallen hemlock revealed that the tree was over 500 years old. Think about that for a while.
The Falls Trail is well maintained but steep, rocky, and slippery. Thankfully, the park has kept its wild nature and has not added safety railings, platforms, and other things that get in the way. Still, visitors should be prepared for strenuous, possibly technical, hiking depending on conditions. Because it's so outrageously beautiful, Ricketts Glen attracts a lot of admirers, sometimes less experienced hikers who show up in flip flops or other silly shoes. Don't be that person.
I learned this firsthand when I was younger and dumber. One early spring day, my college roommates and I took advantage of the beautiful weather and went to Ricketts. We were surprised to find snow still in the glens and ice coating the falls and the trail. Our sneakers were not up to the task of the treacherous conditions, and even then we realized we got away with one.
There have been so many accidents at the falls over the years that now that area of the park is closed in the winter, except for registered ice climbers with crampons, rope, and an ice ax.
Camping, Boating, Fishing, and More Fun
The falls area is the main draw, but there is more to do in Ricketts Glen State Park. Lake Jean is a great place to spend a summer day. There is a sand beach for lake swimming without rocks or slime under your feet. You can rent canoes, kayaks, paddleboats, and stand-up paddleboards. A concession stand sells food and drinks. There's good fishing in the lake, too, so bring your tackle. (And if you like ice fishing, you should come back to Lake Jean in the winter).
The park has one campground, with 154 sites, flush toilets, showers, and other amenities. They fill up, so reserve as early as possible. Make sure you practice bear-safe camping; the one time I mistakenly left a bit of food out while camping here, I was woken up in the middle of the night by a black bear nosing through my stuff.
There are some great hiking trails outside of glens area as well. You'll want to check out the Highland trail and Evergreen trail. The 13,000-acre park is part of an extensive wild area and a thriving ecosystem, so it's a great place to see wildlife like deer, bears, and many bird species.
Ricketts Glen State Park's Best-Kept Secret
People can't resist waterfalls, so don't expect to have the place to yourself. If you're worried about crowds, go early or during the off-season. You'll probably still see people. But if you're looking for some spectacular hiking that's off-the-beaten-path, literally, look no further than the park's rugged neighbor, State Game Lands 57.
This state-owned property is enormous at 45,000 acres, and it's wild, with few roads and almost no trails other than one single track for mountain biking. Pennsylvania manages its Game Lands for game animals and recreational hunting. These places get busy during fall hunting seasons, but they see few visitors for much of the year. State Game Lands 57 is one of the most interesting, with steep mountains and high, rocky plateaus.
There are dramatic rock formations hidden throughout the place—cliffs, ledges, slot canyons, caves, and more waterfalls. Hiking here means bush-whacking. There are no trails to follow, so only backpackers and hikers who feel confident in navigation and backcountry skills should explore it.
Those who do will be rewarded with a sense of solitude and discovery that is hard to find.
If You Go
Ricketts Glen State Park is about 30 miles north of the town of Bloomsburg, on PA 487. The section of 487 to Lake Jean is very steep, so if you're towing a trailer, come from the North. Snow and ice close the trail for much of the winter, but the park office can tell you how to get a permit if you're an ice climber. In Pennsylvania, most campsites are released for reservations 11 months before the target date. There is no camping on State Game Lands.
Anthony Licata is the editor-in-chief of Wide Open Roads. He's been traveling and writing through the U.S. for many years. He lives with his wife and two children in Bozeman, Montana.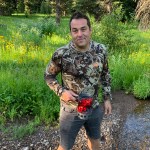 Enjoy the outdoors?
Sign up for daily stories delivered straight to your inbox.