Petrified Forest National Park in Arizona may only receive a fraction of the visitors that other national parks get such as Yosemite, but I'd argue this hidden gem deserves to be added to the top of your adventure bucket list.
Since 2021, I've had the incredible opportunity to visit 18 national parks on my mission to explore all 63 national parks in the U.S. As somewhat of a park aficionado, I can safely say Petrified Forest National Park is one that cannot be missed.
The beautiful and unique destination in northeastern Arizona is a must-see for anyone interested in geology, paleontology, and the natural beauty of the American Southwest. As the name suggests, the park is home to an incredible array of petrified wood (more a bit later on what that actually means), colorful badlands, and other geological wonders. Seriously, just give this place a Google Image search if you haven't already.
After visiting so many parks in the last two years, I've definitely learned a thing or two about the ins and outs of how to get the most out of a visit to our public open spaces. Here are my top tips and recommendations when visiting Petrified Forest National Park, including the best time to go, the most scenic hikes and drives, and more.
What Is So Special About Petrified Forest National Park?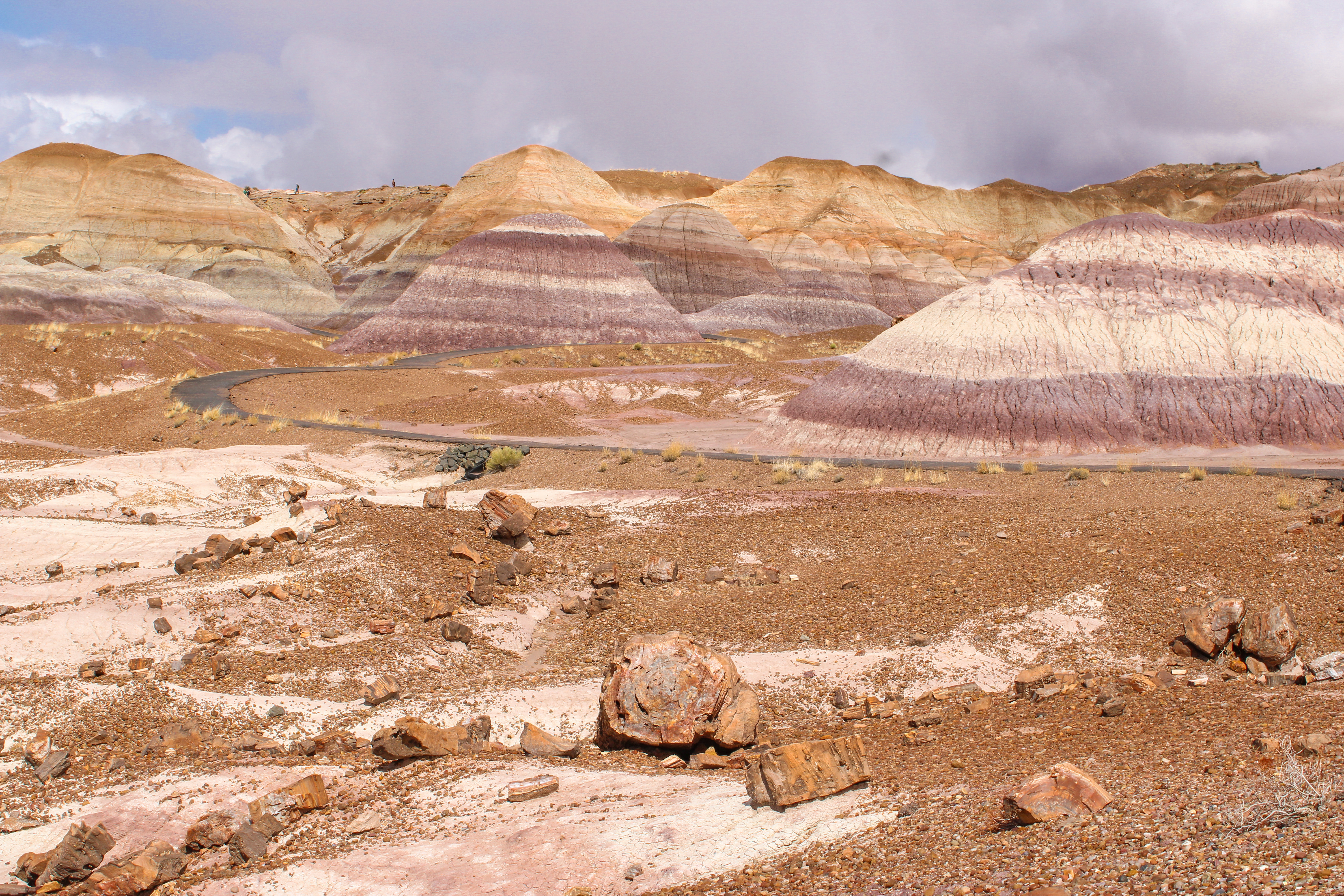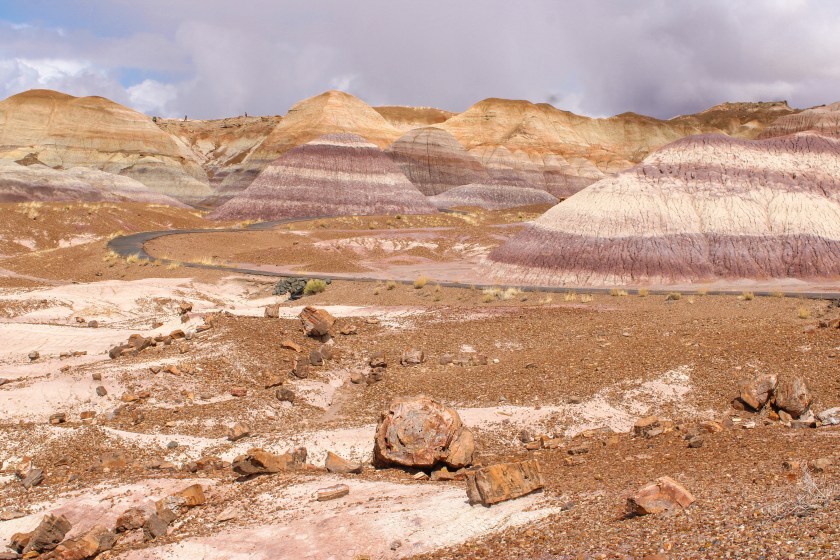 Petrified Forest National Park is a huge, beautiful landscape that is home to multi-colored badlands, petroglyphs, and (as you probably guessed) a whole bunch of petrified wood. This park also dates back millions of years, so a visit there today offers a truly unique opportunity to see the ancient world.
Erosion has played an enormous part in shaping this park, creating beautiful formations of color in the desert that show just how beautiful the land was. Prepare to step back in time to see evidence of humans living on the land and a part of Old Route 66.
Another bonus: It's one of the few parks you can see in a half day — yep, the entire thing!
How the Petrified Forest Was Formed
Here's a little bit more about the main character of Petrified Forest National Park — the petrified wood, which was formed over 200 million (!!) years ago.
The trees that were once in Petrified Forest National Park fell and were most likely washed into a river during floods and then buried by sediment and volcanic ash. This eventually led to the formation of the park's stunning petrified wood.
After the trees in the forest fell, certain minerals absorbed into the wood over hundreds of thousands of years, until the cellular structure of the wood became crystalized. During this process, as cracks formed in the wood due to decay, large jewels such as quartz, purple amethyst, and smoky quartz began to form. Much of the wood in the park is made up of solid quartz
Where Is Petrified Forest National Park Located?
Petrified Forest National Park is in the northeastern region of Arizona. The closest airports are in Flagstaff and Albuquerque, both about two hours away by car. The park is located off Interstate 40, about 30 miles east of Holbrook, Arizona.
Map of Park
Reservations and Entry Park Fees
More and more, national parks have required reservations for entry, and the majority of those are timed. Luckily, this park isn't one of them, so you can avoid the crazy-long entry lines that you would find at Yosemite or the Grand Canyon. Fewer people equals less stress plus more fun!
Entry fees are still required to go into the park. The fee for standard vehicles is $25 (or $20 for motorcycles) and is valid for seven days. If you want to enter the park on a bicycle or by just walking in, the cost is $15 per person.
If you're a local Arizonian and like to visit this park often, an annual pass can be purchased for $45. The most popular pass is the America the Beautiful - The National Parks and Federal Recreational Lands Pass ($80), which gives you access to all of the national parks in the U.S. (If you visit three parks in one year, the pass pays for itself!)
Don't forget — there are certain days throughout the year when you can visit any national park for free.
The park is open from 8 a.m. to 5 p.m. Mountain Standard Time. (FYI, Arizona does not observe Daylight Saving Time.)
Where to Stay
Bad news, bears: There are no lodging or campground services inside this park. Nada. Zip. The good news is that there is some lodging about 20 minutes south of the park. In the small town of Holbrook, you can find a few hotels and motels such as Best Western, La Quinta Inn & Suites and more.
Camping options are available in the Petrified Forest National Wilderness Area. However, the only way to do so is by obtaining a permit (which is free), then you have to backpack/hike to the campsites.
If you are more of an Airbnb/Vrbo person like myself, there are a few options near the park. A heads-up: Most of the Airbnbs are campsites in Holbrook and Adamana. They run anywhere from $30-$70 per night, or you can even snag a cool starlight glamping experience for around $100 per night.
When Is the Best Time to Visit Petrified Forest National Park?
The park is open year-round, but the best time to visit is during the spring and fall months — March to May and September to November — when the weather is mild. Summers can reach over 100 degrees Fahrenheit, and winter temperatures can drop below freezing. The park can also be busy during peak tourist season — June to August — so if you prefer quieter trails, plan your visit during the off-season to avoid the crowds and take advantage of more comfortable temps.
Things to Do in Petrified Forest National Park
The great thing about this park is that there's something for everyone. There are scenic drives, beautiful pit stops, hiking and more. Here are some of my favorite main activities. Fun fact: This park also allows you to bring your furry friends! (More on that at the end of the article.)
Where to Go Hiking
The main activity in Petrified Forest National Park is hiking. There is a great variety of hiking trails for every hiking skill level, offering different views of the park. Here are some of the best hiking spots, starting from the northern part of the park all the way to the southern part and ending at the Rainbow Forest Museum.
Tawa Point
Tawa Point is just a few minutes past the Painted Desert Visitor Center. This is the first point along the scenic route that provides your first glimpse at just how beautiful this park is. This 1-mile hike is very easy and short. If you're not up for hiking here, no problem: There is a great viewing point to hang out at and enjoy the breathtaking red colors of the badlands.
Blue Mesa
The Blue Mesa Trail was highly recommended when I was researching the park, and it did not disappoint. This hike was by far my favorite in the park, providing an opportunity to get up close and personal with the purple-colored badlands and see some petrified wood (before seeing more of the wood at the southern side of the park). This 1-mile hike loop starts at the top of the badlands. The hike is rated easy, but be aware of the steep grade to get to the bottom, as you will have to make that same climb back out. If you only have time to do one hike, make sure you do this one — it is so worth it.
Agate Bridge
I would consider this more of a pit stop than a hike. There's a small parking lot, then you'll walk a few hundred feet to find a bridge made purely out of petrified wood. At one point in time, the wood was about to collapse in on itself, but a concrete block was installed underneath to keep it from falling and preserve its current state.
Crystal Forest
One of the most popular — if not the most popular — hike in the park is Crystal Forest. This is the perfect spot to really get an up-close look at all of the petrified wood. This is an easy, quarter- mile hike that is suitable for all hiking abilities. Another plus: There are plenty of opportunities for a good photo op.
Additional Hikes to Check Out:
Long Logs & Agate house: Easy to Moderate, 2.6 miles
Painted Desert Rim Trail: Easy, 1.2 miles
Giant Logs: Easy, 0.6-mile loop
Puerco Pueblo: Easy, 0.3-mile loop
Where to Take a Scenic Drive
If you're wondering, "Can I drive through Petrified Forest National Park?" the answer is: absolutely. There are a few scenic options that have several easy pit stops where you can get out of your car, stretch your legs, and take in the views.
The Painted Desert Drive: The Painted Desert Drive, the first one as you enter the park on the north side, offers some amazing viewpoints:
Tiponi Point
Tawa Point
Painted Desert Inn
Pintado Point
Nizhoni Point
Whipple Point
Lacey Point
Route 66, which showcases an old vehicle and part of the historic Route 66.
The Teepees
Blue Mesa Scenic Drive: This is a 3.5-mile loop that offers a spectacular view of the Blue Mesa and Painted Desert. At the end of the road, you will find the Blue Mesa Trailhead.
Newspaper Rock: This is a pit stop between the northern and southern parts of the park that showcases over 650 petroglyphs. They are kind of hard to see, so the park offers binoculars so you can get a close-up.
Alternate Activities in Petrified Forest National Park
This park houses has two visitors centers — one on the northern side and one on the southern side. The Painted Desert Visitor Center, on the northern side, has a café, a gift shop, additional information about the park, and a gas station — the only one in the park.
The southern visitor center, the Rainbow Forest Museum, also offers additional information, souvenirs and more. (I'm on a mission to see all of the national parks in America, so stopping by the visitor center to pick up an official national park sticker for my collection is a must for me!)
Can You Take Rocks from Petrified Forest National Park?
Sadly, no — you'll need to check out the gift shop if you're looking for a souvenir. Do not collect or remove any petrified wood or other natural features from the park!
What Should You Bring with You to Visit Petrified Forest National Park?
Be sure to bring plenty of water, snacks, and sunscreen, because the park can be hot and dry. Wear comfortable walking shoes and dress in layers, as temperatures can vary throughout the day.
And do not forget your camera — the scenery in the park is breathtaking! Remember to stay on designated trails and roads, and be sure to leave no trace.
Can I Bring My Dog into Petrified Forest National Park?
Yes, dogs are allowed in the park! Just remember that animals must be on a leash at all times. And, of course, be sure to pick up after your pet.
Is a Trip to the Petrified Forest Worth It?
The answer to this one is a resounding yes!
From the petrified wood to the beautiful badlands, the landscape is one of a kind and truly a sight to see (and Instagram). Bring the whole family, just yourselves, your dog — I can't recommend it enough to everyone! With these tips in mind, you should be well-prepared for an unforgettable visit to Petrified Forest National Park.