When the girls and I decided to get out of town for a few days, we packed the car and headed to the Ozark Mountains. My youngest is obsessed with mountains, and the Ozarks, with their rugged ridges, famous spring caves, and wild rivers, were calling to us. I knew they were about a 9-hour drive from our home in Louisiana, but not much else.
I made the mistake of relying only on Google to figure out where to go and failed to ask my friends and acquaintances for any intel to add to my research. Branson, Missouri, came up again and again online as the most popular destination for an Ozarks trip.
I knew it was a little touristy for my taste, but I thought, how bad can it be? We'll be in the Missouri Ozarks, camping, hiking, swimming, and exploring nature, so having a large town nearby might be nice. In fact, it can be a trip saver when you're traveling and camping with kids.
Bummer in Branson
When we pulled into town, I quickly realized I greatly underestimated Branson. It's not "kind of a tourist town." It is a full-blown, spend-your-money-on-stupid gimmick and mall outlet kind of town. The type of town where your kids are constantly exclaiming, "Ooh, look at that," and you feel the money draining from your wallet.
I'm talking about life-size King Kong statues hanging off buildings and saltwater taffy. (Why is saltwater taffy the choice of all tourist towns? When have you ever seen it anywhere else?). You better buckle in for Branson if you are easily overstimulated like me.
Don't get me wrong. I'm sure there are fun things to do in Branson. Clearly, many people love the place, but I found everything a little crowded for a mountain region trip and too expensive for my single mom's budget.
After an embarrassing public meltdown—me, not the kids—we split and headed out to find the Ozark Mountains that fit us the best.
The Coolest Towns in the Ozarks
We didn't have to go far. We headed east on State Highway 86, through heavily forested mountains, and across the state line into Arkansas. In an hour we pulled into our first stop, Eureka Springs.
We all sighed and smiled. Eureka Springs was a cute small town, the type that everyone calls quaint, full of book shops, small cafes, and art galleries. You won't find any big box stores here. Do you know those towns in rom-coms where the single woman moves to restart her life surrounded by idyllic scenery and quirky small-town folk? Eureka Springs is that town.
Once we found a town to suit our tastes, our attention turned to outdoor fun.
We were surrounded by mountains and national forest land and close to Beaver Lake, a 32,000-acre impoundment on the White River. You have options, no matter how you like to play outside. Beaver Lake is the place to go if you want to fish or boat. Do you love finding secluded swimming holes? Try Hogscald Hollow off Arkansas State Highway 23, a few miles south of Eureka Springs.
There are miles of excellent hiking trails, including some very close to town. Check out Leatherwood City Park, which has 25 miles of hiking and biking trails. Harmon Park Loop is just on the outer edge of Eureka Springs downtown and has a leisurely 1.4-mile route, great for an after-dinner stroll.
The area's unique limestone geology and abundance of springs have made the Ozark Mountains one of the best places in the country to explore caves. Cosmic Cavern, about 20 minutes out of town in Eureka Springs, is full of otherworldly rock formations and two underground lakes. Onyx Cave Park is closer to town, and War Eagle Cavern is on Beaver Lake. Trust me; if you are a nerd for caverns and caves, this place is for you.
When it was time to move on, we were sad to leave Eureka Springs, but the drive on Highway 23 out of town softened the blow. This road is a small part of the Pigtail Scenic Byway, twisted and corkscrewed as a hog's tail. The road twists and snakes through the mountains, passing beautiful forests and breathtaking mountain views.
On your way, you should stop at the Turpentine Creek Refuge and get your own Tiger King moment. Just kidding. This is a reputable wildlife refuge that takes in neglected and abused animals. Their primary focus is on large cats, and this makes an unforgettable stop for animal lovers.
You can keep going on the Pig Trail Scenic Byway for more spectacular driving. Still, we headed down Route 45 to our next destination, Fayetteville. It's Arkansas' second-largest city, on the outskirts of the Boston mountains, and a great destination if you are looking for a town with amenities surrounded by endless things to do in nature.
Dragons Den State Park is a 30-minute drive from town, and it's where you can find some of the locals' favorite hiking trails, including the Fossil Trail. The Fossil Flat Trail is just what you think it is-a trail known for fossil hunting. Even too-cool-for-school older kids have to admit it's fun to find treasure.
There are more caves, of course, and the usual Ozark Mountain mix of dense forest, unique rock formations, waterfalls, lakes, and creeks. Oh, and I forgot to mention that all of this is free unless you want to camp. Free paradise is the best paradise. If you're going to stay in town, Fayetteville is full of city parks. Still, I think the coolest is the Botanical Garden of the Ozarks.
Leaving the Ozark Mountains
After a couple of days of camping and exploring the area, the girls and I were ready to get back to polite society. There were plenty of places to get tasty food, a craft cocktail, good pizza, and cold beer. Want to trade those hiking boots for heels and treat yourself? The culinary scene allows that too. I don't know about other ladies, but I love to spend all day in the dirt and then put on my fancy clothes and live the life of champagne wishes and caviar dreams.
Fayetteville is the entertainment hub in this part of the Ozarks. Dickson Street is famous for its restaurants, bars, lounges, music venues, and the Wilson art center. After dinner, head out and have those talks that can only happen in a small dark bar where you only see the person across from you or put on your dancing shoes and head to a music lounge.
When we finally headed home, there was no doubt that we found the Ozarks that we were looking for: beautiful drives, amazing landscapes, and excellent small towns to explore.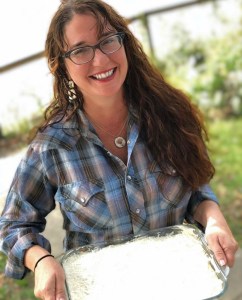 Jolie Meaux is a writer, cook, and proud cajun. She lives in Lafayette, Louisiana, with her three daughters when she's not family road tripping. You can follow her adventures at porchwineandgravy.com.
Share your family adventures on our Wide Open Roads Facebook!
Enjoy the outdoors?
Sign up for daily stories delivered straight to your inbox.