Editor's Note: Products featured on Wide Open Spaces are independently selected by our editors. However, when you buy something through our links, we may earn a commission.
When shopping for people who love hiking, camping, and everything in between, you might notice how expensive some of the most popular products and gear are — and if you're working with a budget but still want to give someone something they'll love, this can be a problem. Luckily, not all outdoorsy gifts have to be prohibitively expensive! From socks to food to handy gadgets, here's a round-up of stocking stuffers, small items, and gift swap ideas to finish out your holiday shopping. These outdoor gifts under $25 are all readily available and will make thoughtful gifts that any outdoor lover will be thrilled to open. I've included gifts for camping, running, cycling, nutrition, apparel, and general outdoor-oriented gear, so there's something for everyone on your list. Check out my top picks below:
1. For the Friend Who Loves a Good Camp Meal
Good To-Go Backpacking Meal, Herbed Mushroom Risotto - REI, $8+

Good To-Go meals are made with ingredients you can pronounce, are packed full of delicious flavors inspired from recipes from around the world, and are made right in Maine by a team of professional chefs. My favorite meals are Pad Thai, Mushroom Risotto, and Chicken Pho, but you can't go wrong with any variety.
2. For the Friend Who Does Yoga

This wide headband from prAna is made with recycled materials and is perfect for holding hair back during a hot yoga class or out of your face on a long run. I wear these folded in half to fit better on my head, but they can be packed down for a narrow look or worn wide to hold back more hair.
3. For the Friend Always Losing Their Lip Balm

Once you start using this lip balm, you'll never go back — and neither will the lucky recipient. Made from all-natural products with a non-sticky feel, a set of this lip balm lives in every jacket pocket, my wallet, and in my car. I use it throughout the winter to prevent chapped lips and in the summer as sun protection.
4. An Outdoor Gift Under $25 That Organizes All The Gear
Sea to Summit Ultra-Sil Stuff Sack - REI, $15.95

You can never have too many stuff sacks. This durable, lightweight 9-liter version Sea to Summit is a great size for stashing camp clothes or small items you want to prevent from getting lost in your pack. I keep a variety of these in different sizes and colors on hand, making it easy to see how my pack is organized and prevent small items from falling into the abyss.
5. For the Environmentally-Conscious Friend
Bee's Wrap Reusable Food Wraps (3-Pack) - Amazon, $18.00

These adorable, reusable food wraps can replace single-use plastic bags, tin foil, and plastic wraps for someone's next trail snack or lift-line sandwich. This is a thoughtful gift that keeps on giving in the form of less plastic in the landfill. These come in multiple sizes, and are perfect for everything from half an onion to covering a mixing box.
6. For the Friend Who's Always Running Out of Water
LifeStraw Peak Straw - REI, $19.95

This compact water filter can be thrown in a bag, pocket, or stashed in the car for emergencies. It weighs just over two ounces and is a great backup or ultralight option for backpackers or long-distance runners — and it also fits onto standard water bottles and can be attached to gravity hoses. This is a great outdoor gift under $25 — it certainly feels much more expensive.
7. A Gift For Someone Who Loves National Parks

Does your friend have a favorite national park? Send them a technical pair of socks with a design from their most special national park woven right into the material. Choose from over a dozen national parks, including Olympic, Yellowstone, the Grand Canyon, and Yosemite. I like these crew socks best for cycling, but they can be used for hiking and running as well.
8. For the Winter Runner
Nathan Convertible Reflective Glove/Mittens - Amazon, $19.99

This set of compact, convertible gloves have a flip-top that turns them into mittens for more protection, and a high-visibility reflective pattern for nighttime runs. These gloves wick sweat so your hands don't feel clammy, and they're low-profile enough to tuck into a pocket when things heat up and you don't want to wear them anymore.
9. An Outdoor Gift Under $25 For Your Favorite Cyclist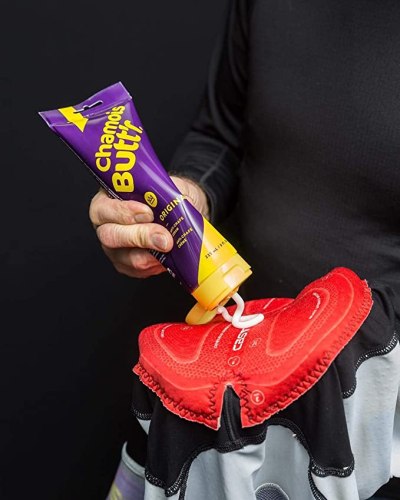 Chamois Butt'r Anti-Chafe Cream - Amazon, $19.99

A must-have for the cyclist on your list, anti-chafe cream isn't the sexiest stocking stuffer, but it sure is necessary during a long day in the saddle. Chamois Butt'r isn't greasy, and washes out of clothes and off skin easily. This 8-ounce tube can be split into smaller containers for frame bags, but a little goes a long way, meaning they'll think of you every time they don't chafe during a ride.
10. For the Person Who Hates Drinking Plain Water
Ultima Replenisher Electrolyte Hydration Powder - Amazon, $19.99

This is the best tasting hydration powder I tried this year, and it's reasonably priced with a variety of flavor packs. This set comes with 20 single-serving sticks, and is packed with six electrolytes and minerals to enhance hydration — and they're made from plant extracts without sugar and carbs.
11. Honestly, This Gift Works For Everyone

The ultimate do-it-all accessory, the Buff is a stalwart for runners, hikers, hunters, fisherman, cyclists... you name it. This is the Original Buff, which works as a head warmer, ear warmer, neck gaiter, sweat rag, and more. I like to cut this size in half and use them as two different headbands or ear warmers, too. Buffs come in a huge range of patterns, colors, and materials, so pick the option best tailored to the recipient and watch them wear it every single day.
12. For The Alpine Lake Swimmer
PackTowl Hand Towel - REI, $22.95

This compact, quick-dry, super absorbent towel is perfect for car camping or trailheads. Heck, it's small enough you can even throw it in your hunting or backpacking pack to clean off hands and feet at camp, or to dry off parts of your body after a jump in an alpine lake. PackTowls come in four sizes, from a small face towel to a luxurious beach-towel size option.
13. For the Micro-Brew Lover
BrüMate Insulated Bottle Cooler - Amazon, $19.99

Keep their bottles cold at the next basecamp or tailgate with this sleek-yet-techy bottle cooler. This fits standard 12-ounce bottles, and is built for travel with a simple design and durable materials. It has a non-slip base and a push-lock gasket to fit the bottle into the holder (trust me on this). It comes in a variety of colors and is made with triple-insulated stainless steel to keep beers cold for hours and hours, no matter how hot it gets outside.
14. For the Friend Who Breaks Expensive Sunglasses
Goodr OG Sunglasses - REI, $25.00

Get a pair for everyone on your list! These classically styled sunglasses are lightweight and comfortable for all-day wear, don't slide down your nose or off your temples, and are polarized... yet somehow they're still $25. I don't know how, but I'm not questioning it, since I have them in 10 colors and I am always keen to pick up another pair.
15. For the Friend Who Is Always Cold
Smartwool NTS Merino 150 Beanie - REI, $25

This slim-fit beanie fits under a bike or ski helmet, and is plenty warm enough to wear on its own. The soft merino is odor-resistant and sweat-wicking, and durable enough to be thrown in the wash without concern for holes or unraveling. Like the gloves I listed above, I love that this is small enough to fit into a pocket when my body temperature heats up.
Enjoy the outdoors?
Sign up for daily stories delivered straight to your inbox.