Old Town Canoe channels more than a century's worth of genuine watercraft legacy with the new Sportsman Fishing Kayaks.
If you're going to make the ideal fishing kayak, this is pretty much how you pull it off.
Old Town Canoe officially debuted the Old Town Sportsman Fishing Kayak Series at the inaugural event of the Huk B.A.S.S. Nation Kayak Series at Logan Martin Lake in Pell, Alabama on March 5, 2020, the day before the Bassmaster Classic was set to kick off.
During the proverbial "Super Bowl of bass fishing" and within earshot of the biggest fishing fan gathering of the season, their new seven-boat line raised the eyebrows of everyone, from the casually interested kayaker to the dedicated tournament angler.
We got an exclusive opportunity to fish from every new kayak in the Old Town Sportsman Series at a Ft. Lauderdale media event featuring prominent online and print publishers, YouTubers, and content producers from the echelon of the fishing world. To add to that, we'll be spending time on the water with one of the models extensively during the rest of the season (Stay tuned to Wide Open Spaces for a thorough review soon).
It didn't take long for the three categories of new kayaks to win us over, each one more feature-filled and capable than we'd ever seen.
Extending the Legacy
Old Town Canoe has been at it for a long time, dating back to 1898 and spurring iconic brands like Ocean Kayak and Carlisle Paddles along the way. These new fishing kayaks reflect the trust Old Town has earned; they're built in their Old Town, Maine facility and are covered by a lifetime hull warranty.
The Sportsman line comes in powered, pedal, and paddle models, giving fishermen and women the choice between a range of prices, sizes, and ways to travel.
Most notably, the flagship models of the new series are the Autopilot 120 and 136, which include seamlessly integrated Minn Kota trolling motors. The motors, mounting equipment, and Bluetooth iPilot remote control come with the kayak as part of a groundbreaking system we'd simply never seen in a fishing kayak before.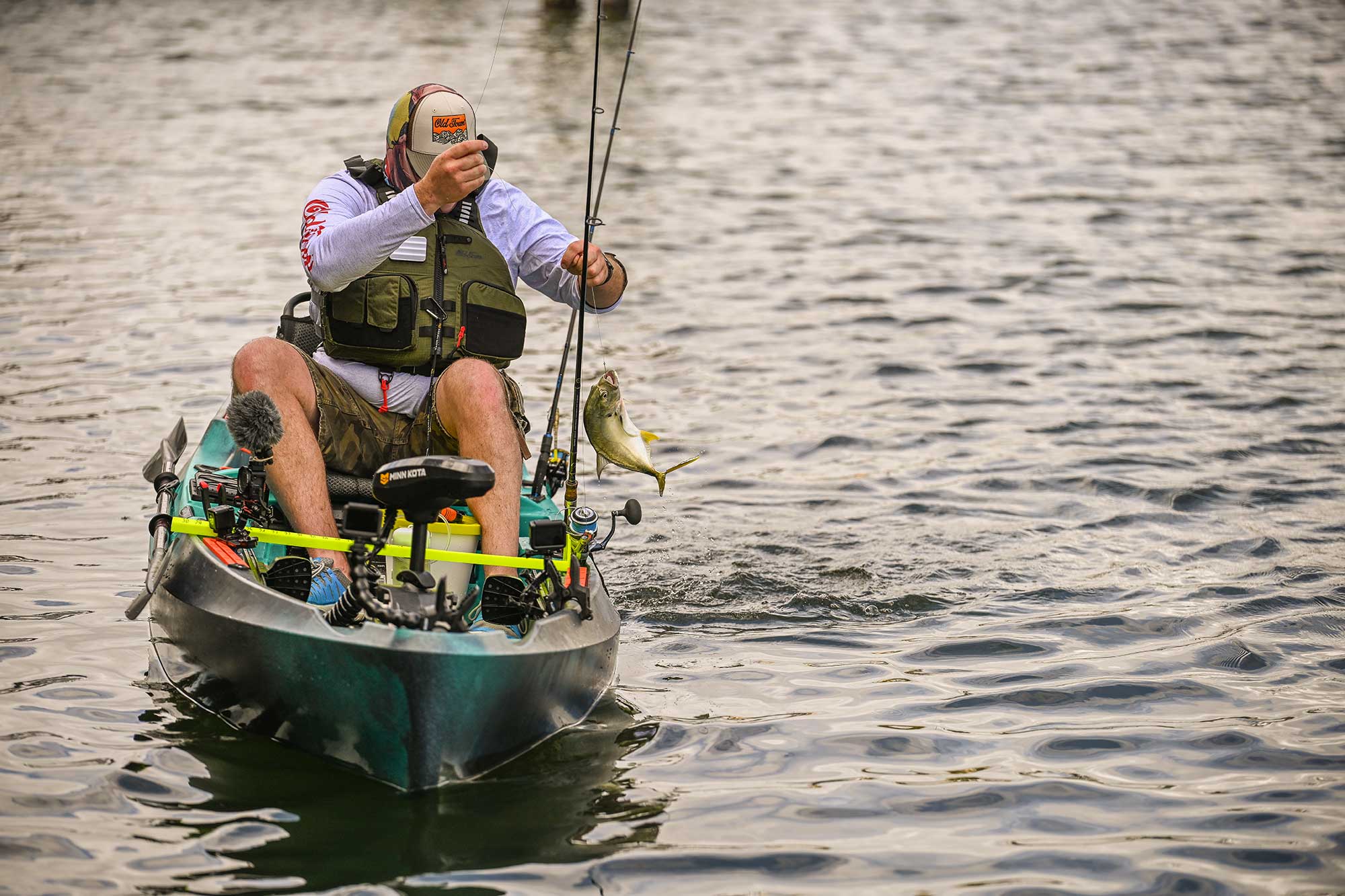 Minn Kota's 45-pound thrust, saltwater-safe motors bring amazing capability to a kayak, including Spot-Lock, the virtual anchoring system that works against current and wind to keep you right where you want to be when they really start biting.
"The new Old Town Sportsman Line was born from extensive consumer research," said Ryan Lilly, Brand and Product Manager at Old Town. "Understanding what motivates fresh and saltwater anglers drove us to innovate a lineup of truly amazing products. Whether you're a weekend warrior who loves the access of a small watercraft, an avid angler who demands hands-free fishing, or someone who just wants to take advantage of nearby water access, the Old Town Sportsman Line has a model that suits your pursuits."
Lilly told us during the pre-release event that we had wide-ranging focus groups to thank for the two color options, Photic and Ember. The teal- and orange-based schemes both look pretty awesome, but we're a little partial to the fiery Ember.
Powering Through the Sportsman Line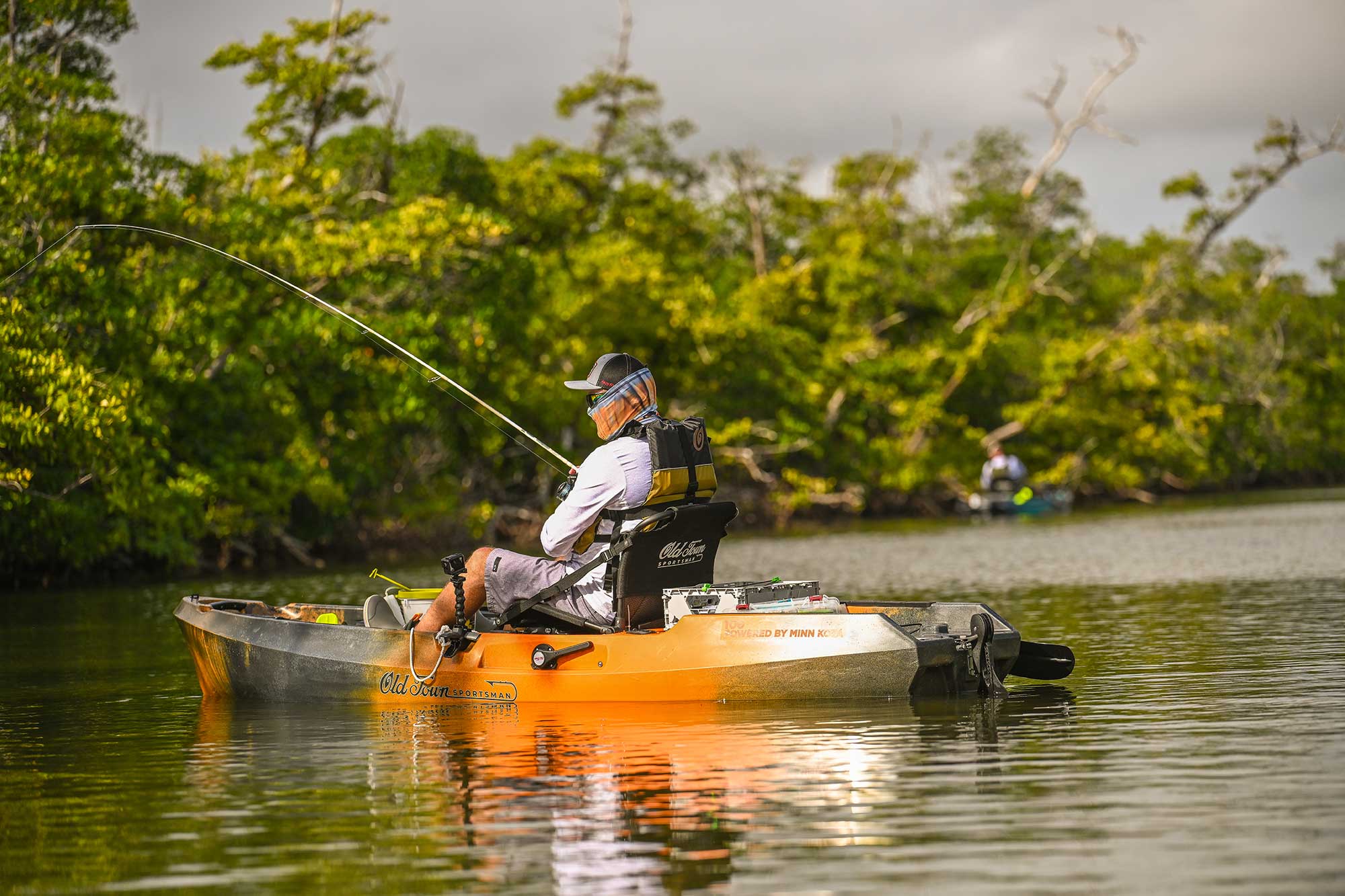 While the Autopilot models hold most of the cachet, the rest of the Sportsman Series stacks up nicely, especially when compared to similar kayaks in the same category.
The 106 Powered by Minn Kota is more of a plug-and-play system, with a power boat-style throttle and foot steering. It has a more compact size that's easier to toss on a roof rack and maneuver in tight spots.
The 106 Powered by Minn Kota uses the same 45-pound trolling motor, but without the ability to rotate. It's based off of the popular Topwater PDL 106 hull, but comes with the 2020 updates that make significant improvements.
The PDL Sportsman Category
The pedal-powered models shine as great examples of hands-free watercraft, and are just what the avid anglers of the world have been asking for.
It's highlighted by the Salty PDL 120, a 12-foot coastal kayak perfect for what's become a burgeoning style of fishing. Taking a kayak into the flats, canals, and even open water has significantly changed with the Salty.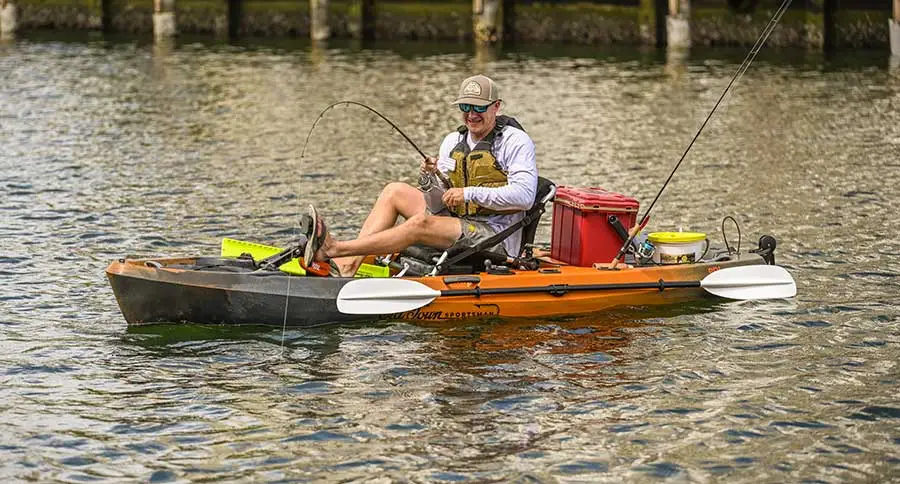 Then there's the Bigwater PDL 132 (meant for, well, just that) and the PDL 106 and 120, rounding out the category.
All the pedal-powered boats in the series have Old Town's patented PDL Drive, giving you instant forward and reverse, freeing you up to so all the necessary angling tasks that were previously so hard to do.
Rounding Out the New Fleet
Old Town knew that if they wanted to appeal to the entire kayak (or kayak-curious) community, they'd need lower-priced, entry-level paddle kayaks that still included features that a fisherman would get great use out of. Those models, the Sportsman 106, 120, Bigwater 132, and the Discovery Solo 119, help widen the offering for beginners or those looking to get more out of a non-powered kayak.
The Discovery Solo in particular seemed like an obvious choice for not just anglers, but waterfowl hunters as well. The extremely lightweight design (it's only 56 pounds), spacious hull (with room for a dog plus plenty more), a molded-in shogun shell tray make it perfect for a hunting mission on the water.
All of the Old Town Sportsman Fishing Kayaks include some thought out attributes that will put a smile on any angler's face. Their premium seating system is second to none, the non-slip, padded, EVA foam decks make standing a cinch, and the flush mount rod holders are intuitive and located in the perfect positions.
Built-in accessory panels make integrating electronics, cameras, or other gadgets simple, and the stern carry handles make moving the kayaks, no matter what size, much easier than other styles.
The powered models include a newly-designed rudder that makes more efficient use of the shape and positioning, while the water-tight compartments located in just the right spots give you everything you need to have a fun, safe, and confident day on the water.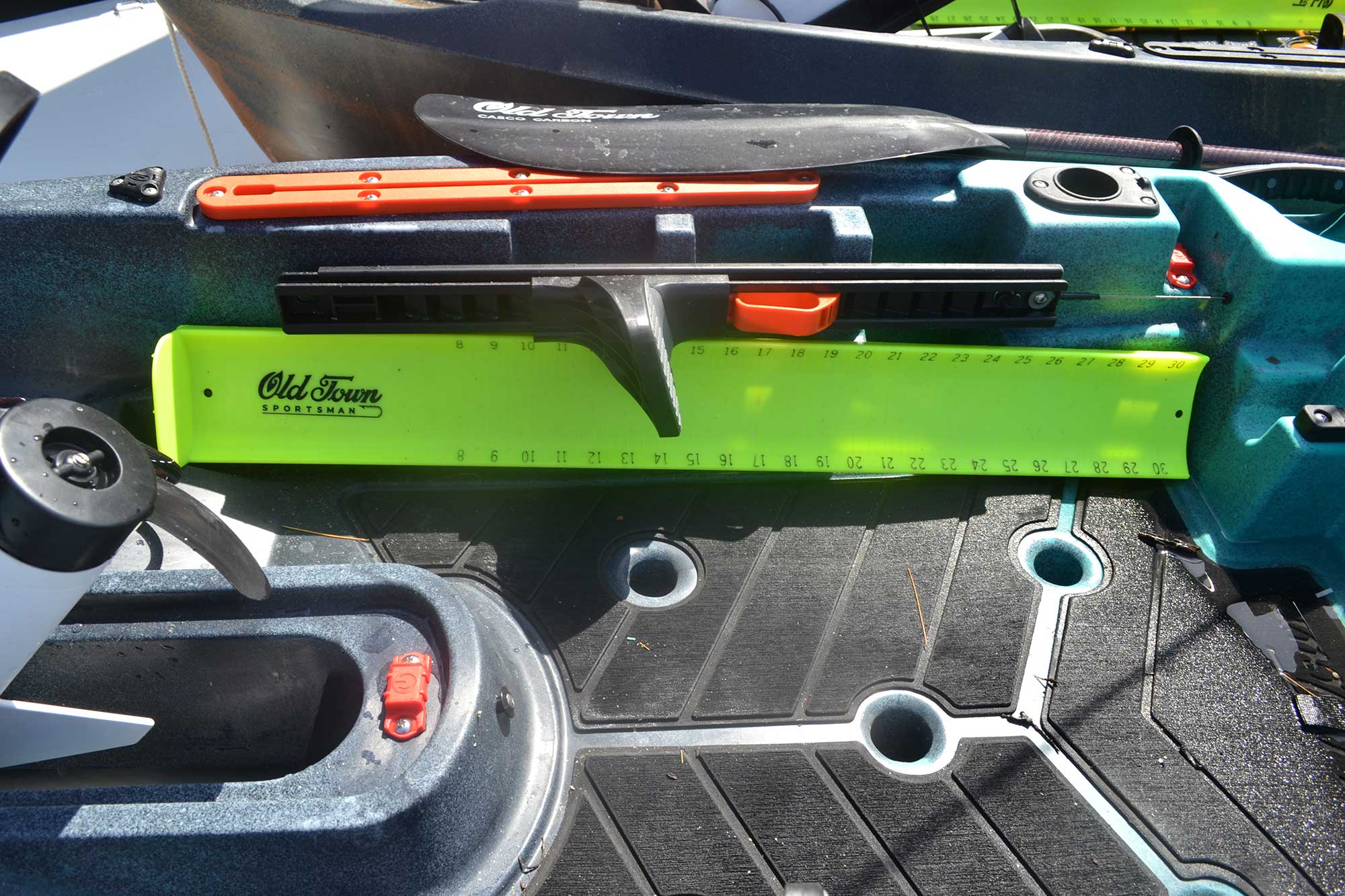 Every kayak in the new line comes with easy-access bungee clips, cup holders, accessory pockets, a tournament-ready measuring device (that's easily stowed and kept out of the way), and even an Old Town tackle box.
Basically, Old Town thought of everything, and found a way to directly apply it to the creation of their new Sportsman kayaks.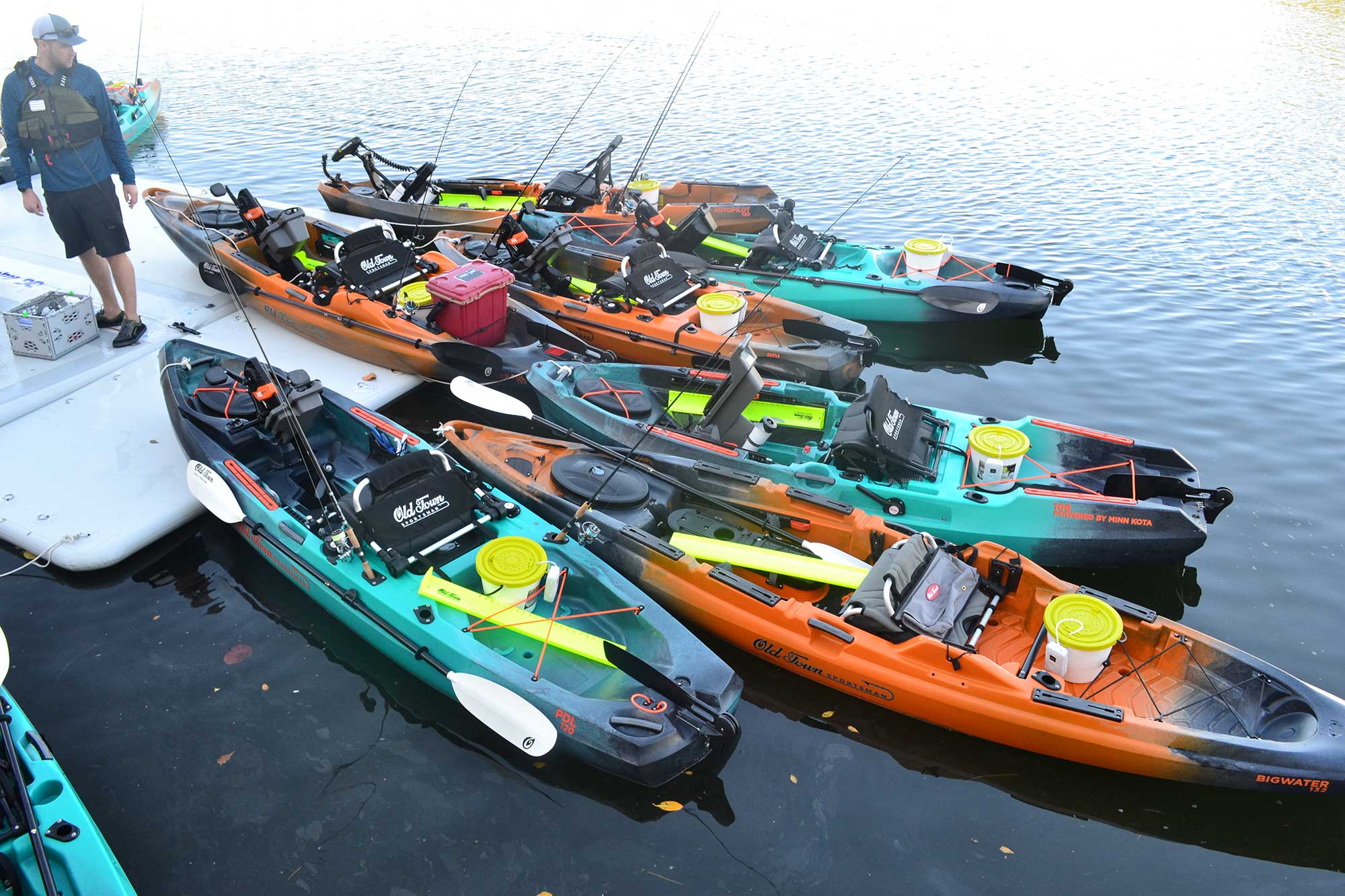 Along with the announced launch, Sportsman models are all ready to preorder and should begin shipping in a matter of a month or two. Lilly and the Old Town team have been working tirelessly on this project for a long time, and the feeling of excitement and satisfaction with what they've created was palpable when we visited Florida and got to fish in the boats with them.
They have put a lot of time, effort, and innovation into these kayaks, and are eager to get them into the hands of the fishing community.
To find out more and learn how to pre-order one of the new Old Town Sportsman Kayaks, check out their website. And if you're serious about your angling, think twice before committing to another brand or style. Think about how you'd use one of the new Sportsman crafts, and it will become a pretty simple choice.
NEXT: COASTAL MISSISSIPPI: 62 MILES OF SECRET COAST
WATCH
Enjoy the outdoors?
Sign up for daily stories delivered straight to your inbox.