Oklahoma wardens need help to find a second elk poaching suspect.
A game warden's job is never done it seems. Wardens have again turned to the public, looking for leads in an elk-poaching incident in Cherokee County.
Employees at the J.T. Nickel Family Nature and Wildlife preserve discovered someone had cut a lock to gain access through a gate leading into the Cherokee County preserve Nov. 27.
Further investigation revealed someone had poached an elk and had already taken off with the bull's head, antlers, hide and meat. A subsequent investigation by Oklahoma Game Wardens did produce a suspect from Oaks. Wardens also seized a 6x7 bull head in the investigation. But apparently, wardens don't believe their suspect acted alone.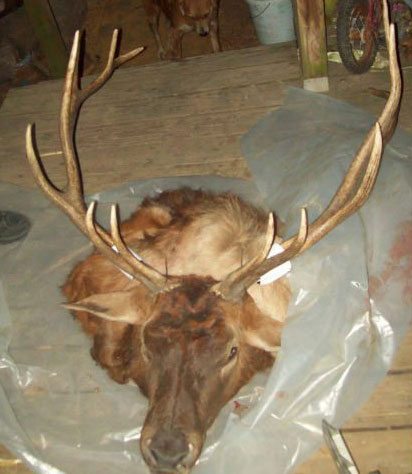 "The ODWC Law Enforcement Division is now actively attempting to identify a second male suspect who may have helped in the illegal hunting and transporting of the poached elk off the Nature Conservancy," the wardens posted on their Facebook page. "He is being described as a white male with slightly distorted facial features. The agency is now offering up to a $500.00 Operation Game Thief reward for information leading to the arrest and conviction of the primary suspect's accomplice. In addition, the Nature Conservancy, a leading private conservation organization, will match the OGT reward."
Oklahoma's wildlife officers have had an especially busy fall for dealing with poaching incidents. This is just the latest in a long line.
Officers are asking anyone who knows anything about this incident or the second suspect to contact Operation Game Thief at 1-800-522-8039.
The wardens also note that even an anonymous tip is still eligible to receive a cash reward.
NEXT: TWO POACHERS GET JAIL TIME, MORE THAN $20,000 IN FINES IN KANSAS POACHING BUST
https://rumble.com/embed/u7gve.v3tp7h/