Check out the new Yakima fishing rod carriers, easily attachable to the

platform roof racks and accessories and ready to keep things

secure

and

ready.
Yakima's rack systems have been kicking cargo butt for years, and just recently they dedicated a new line of innovation to those poor souls who've broken more fishing rod tips than they care to admit. You know who we're talking about.
Essentially, the three brand new products (available in Fall 2019) from Yakima bring new meaning to "safe travels" for your precious fishing rods. They require little to add them on to a full Yakima roof rack system, turning any truck or SUV into a fishing-mobile.
Best of all, they represent everything Yakima has come to stand for: a commitment to safety and integrity, giving you the assurance your stuff will be safe and secure. They've got the acknowledgement from the kayak, bike, tent, and commercial roof rack crowd, it's about time the anglers of the world were shown some love.
It was at last month's ICAST Show where we got our first close up look, and let me tell you, love they have been shown.
We got the full scoop on the new TopWater and DoubleHaul fishing rod carriers directly from the source, and are pretty sure you're going to be hard pressed to find a better system to store and transport your fishing gear than this.
Yakima rod carrier - The TopWater
For any conventional fisherman out there, traveling with your rods is a constant concern. You might have a fishing rod holder that's makeshift or DIY, and good on you; you're saving money and probably getting by fine.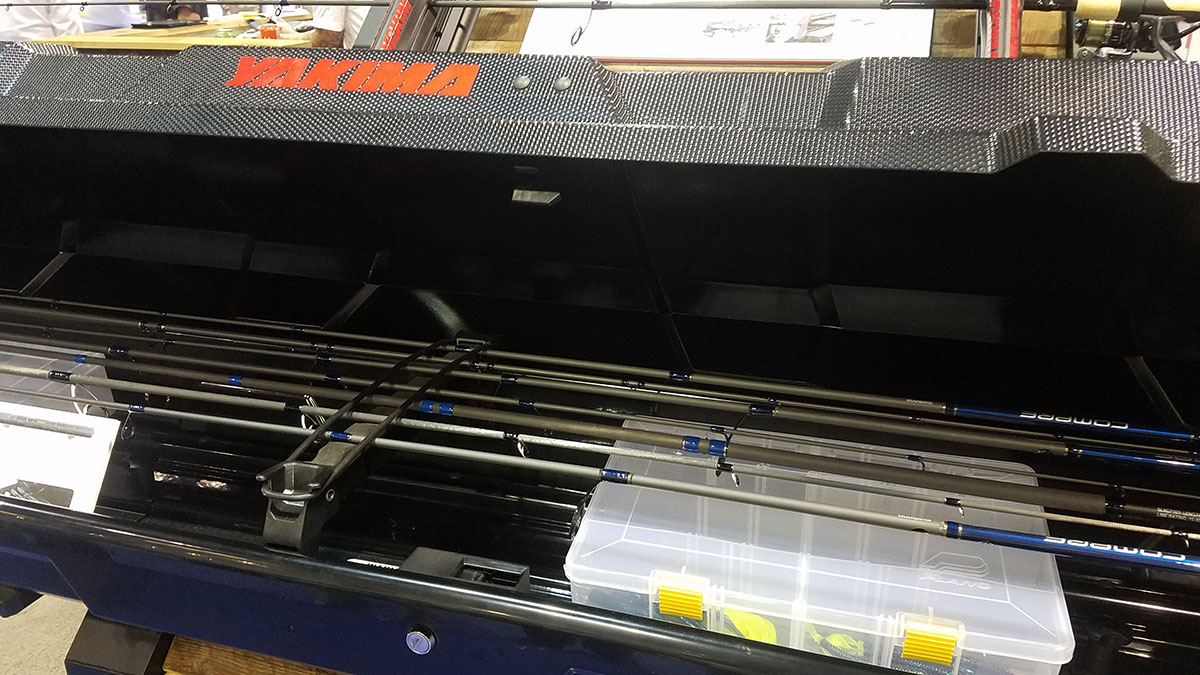 But when you really need to cover the miles, want a place to safely lock your gear away, and require a heavy duty system that stows rods in in a full and ready position, the TopWater is the answer.
The big (but not cumbersome) carrier fits eight fully-rigged fishing poles, both spinning or baitcasting, and can accompany rods up to eight feet. You've also got room for low profile tackle boxes below the rod hanging area. Protective foam pads and rubber straps help keep things from jostling around.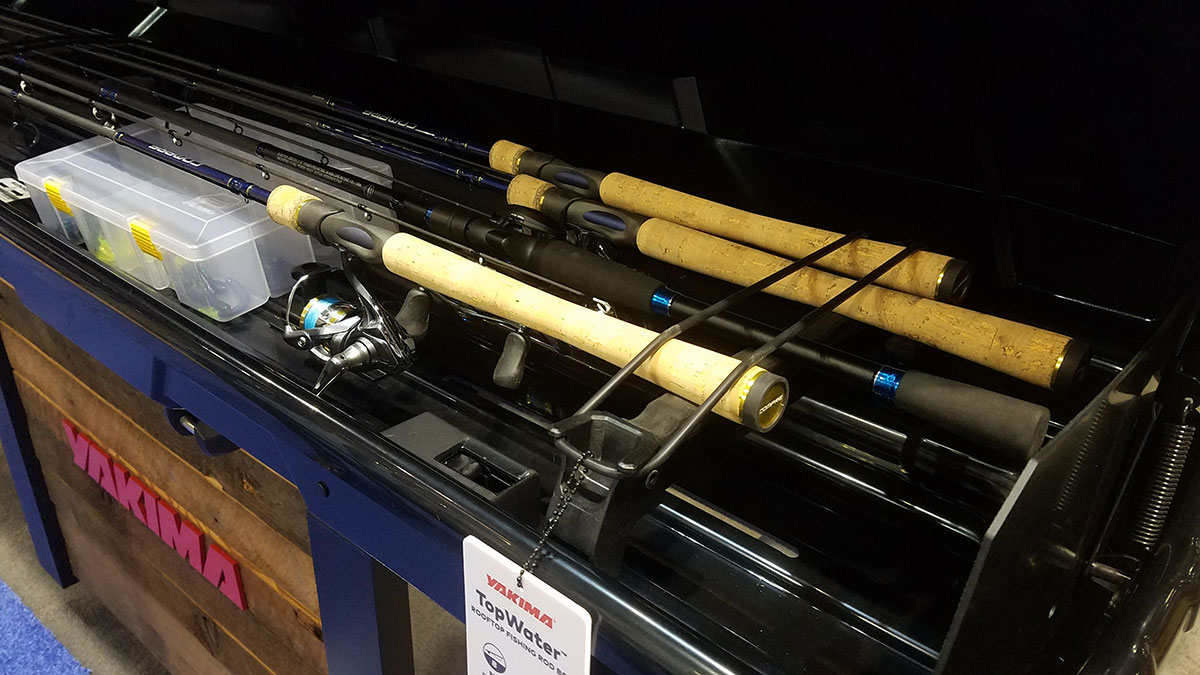 It's made completely in the USA from thermoformed ABS plastic, covered in a durable Carbonite-textured finish, and comes with a secure Yakima SKS lock.
You can't find another eight-rod carrier like this, because it simply doesn't exist. It's running an MSRP of $549.
Yakima fly rod carrier - The DoubleHaul
Fly rod carriers have always been either obtrusively big or not secure enough to set an angler's mind at ease. Yakima set out to address that, and the DoubleHaul is the precision-designed way to bring your fly fishing rods wherever your vehicle can reach.
The DoubleHaul fits up to four 10-foot fly rods, two of which can be spey rods. There's enough room for fighting butts, and the reels are held tilted to the side, so as to reduce the tube's contact with the rod's eyelets. That was a common issue in older style fly rod racks, and thankfully it's a thing of the past.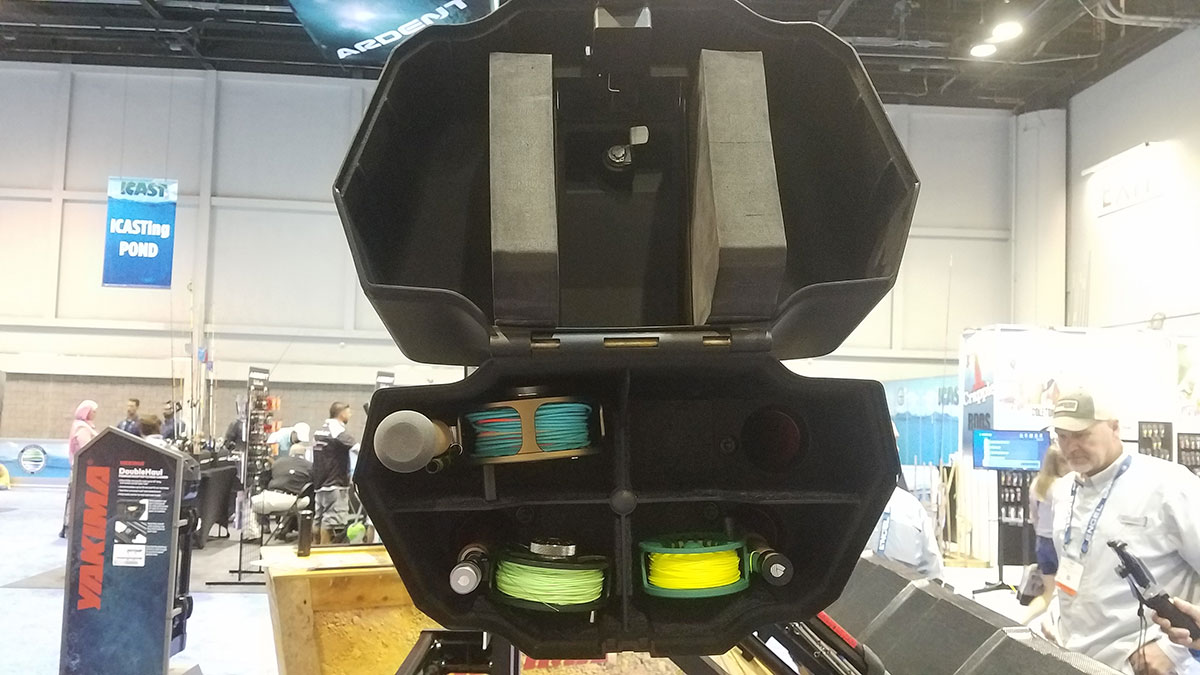 Each of the four rods held by the DoubleHaul has its own tube with smooth plastic liners to keep abrasion to a minimum.
The full length and footprint is actually customizable, meaning you can change it from the full 11 feet to merely six feet and store rods in folded pieces. You essentially remove the front half of the DoubleHaul and affix the end cap to the rear half to break it down. You're still staying rigged up and there's less overhang if you have a smaller vehicle.
The DoubleHaul has an MSRP of $699 and it has the same SKS lock system.
Yakima fishing rod mount - The ReelDeal
The least expensive of Yakima's fishing rod cargo systems, the ReelDeal fits eight rods of any style on a roof rack. It's still fully lockable, but doesn't protect things from the elements like the other two.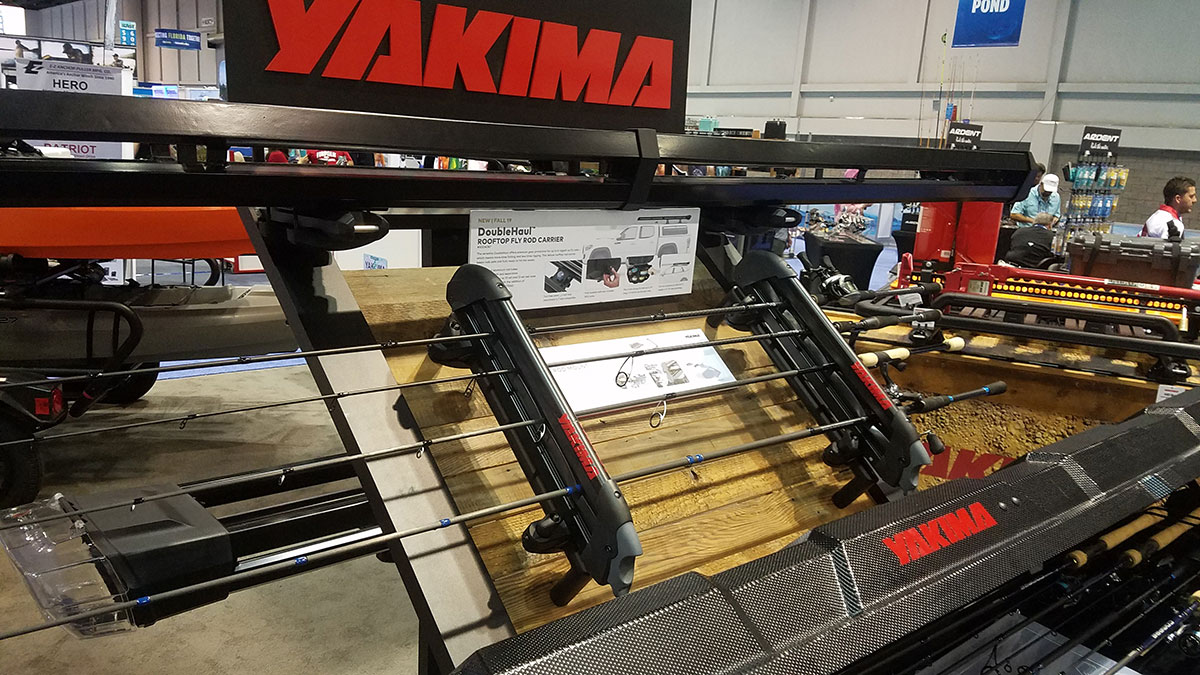 There's no pain trying to reach rods stored in the ReelDeal, because Yakima built in an easy side access process for loading and unloading.
Yakima Truck Racks and the Fishing Connection
All three of these rack systems can me attached tool-free to a Yakima crossbar, along with a few other options of customization. They each feature universal mounting, and will actually attach to any crossbars, be they Yakima's, factory, or another brand's. Plus, they're all covered by Yakima's famous warranty.
Fishing cargo boxes like these, hanging over your truck bed or rooftop, are the ultimate way to travel, both off road and on. The outdoor industry gives you the tools, and then it's your job to put them to good use.
We can see why the Yakima Racks legacy is so well respected, and we're more than pumped to see their fishing gear live up to the standards.
NEXT: WHAT SPECIES CAN YOU CATCH FISHING IN THE CARIBBEAN?
WATCH