Beware walleye...the Berkley Flicker Shad Shallow is coming to get you.
Walleye anglers should already be familiar with the Berkley Flicker Shad line. With multiple sizes to choose from, this fish-catching crankbait covers a wide range of water depths. New for next season will be two models designed to specifically target shallower fish.
Whether you're casting or trolling, the Berkley Flicker Shad's unique action has a way of fooling hungry walleye. Mimicking a preferred prey of this voracious predator, the Flicker Shad's side roll and flash, combined with rattles and a slow rise, is "matching the hatch" done right.
The current line of Flicker Shad has a "shallow" model that dives 6-8 feet deep. The engineers at Berkley decided this year that wasn't shallow enough.
The new Berkley Flicker Shad 5 Shallow measures 2 inches in length, weighs 1/6 ounce. and will dive 2-4 feet. Its big brother, the Berkley Flicker Shad 7 Shallow has a length of 2.75 inches, weighs 2/7 ounces and dives down 3-6 feet.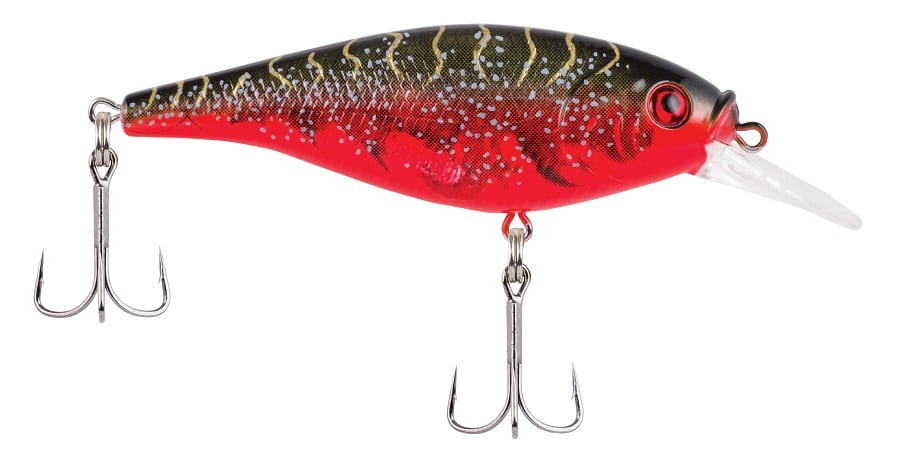 Now, walleye inhabiting the skinny water, or those fish high in the water column, have nowhere to hide from the Flicker Shad.
Each Flicker Shad is individually hand-tested, so anglers can be confident each hard bait will perform flawlessly straight out of the package. Additionally, all Berkley Flicker Shad Shallow hard baits also come standard with Fusion19 trebles.
Berkley also expanded the color choices with this new line, going from 23 colors to 28. The Flicker Shad Shallow will be available in the following: Black Silver, Blue Smelt, Blue Tiger, Chartreuse Pearl, Firetiger, Flashy Chartreuse, Flashy Clown, Flashy Ghost, Flashy Green Crush, Flashy Pearl, Flashy Perch, Flashy Purple Candy, Flashy Silver, Fool's Gold, MF Bluegill, Pearl White, Purple Tiger, Racy Shad, Red Tiger, Slick Alewife, Slick Black Pearl, Slick Blue Alewife, Slick Firetiger, Slick Green Alewife, Slick Mouse, Slick Purple Bengal, Slick Smelt and Yellow Perch.
I caught my personal best walleye, which weighed 11 pounds, in the fall of 2017 on a Berkley Flicker Minnow 11 Pro Slick.
You can bet I'm itching to give the Flicker Shad Shallow cranks a try in hopes of toppling that big girl.
The Berkley Flicker Shad Shallow hard baits will be available Dec. 17, 2018. You might want to put this great bait on your Christmas Wish List.
Be sure to follow Berkley Fishing on Facebook and check out the new lineup of baits on their website.
Did you enjoy this post? CLICK HERE to view more article by Justin Hoffman. You can also check out his Photography Site Justin Hoffman Outdoors, as well as follow him on Facebook Justin Hoffman Outdoors, Instagram hoffmanoutdoors, Twitter @HoffmanOutdoors, or subscribe to his YouTube channel Justin Hoffman.
NEXT: ABU GARCIA REVO MGXTREME SPINNING REEL
WATCH