Spring is a great time to go chasing waterfalls, blooms, and fresh air in one of the the few hundred National Parks across the United States. As warmer weather takes hold, the local ecosystems in many National Parks shake off the dullness of winter and the sights, sounds, and smells of a new season begin to flourish. If winter hiking isn't for you, now is the perfect time to come out of hibernation and plan a spring adventure!
There are so many advantages to visiting National Parks in the spring: the weather is usually favorable, the crowds are at a minimum, and the landscape is as stunning as ever. Plus, it's the perfect way to honor National Park Week! The annual celebration of our country's parks kicks off on April 22 and runs through April 30. Entrance fees will be waived on Earth Day to start the week and encourage people to enjoy the National Parks in person. The National Park Service and its partners will host a variety of events and activities in parks across the country throughout the week.
Not sure where to start? Here are our top picks for the best National Parks to visit in the spring.
1. Cuyahoga Valley National Park, Ohio
The most picturesque setting for a spring trip, Cuyahoga Valley National Park in Ohio has burbling streams, lush wildflowers, and varied hiking trails. The whole thing is topped off with the park's crown jewel: Brandywine Falls. This 60-foot waterfall is a popular destination, especially during warmer months, so a springtime visit is the best bet to enjoy this surreal place unencumbered.
2. Hot Springs National Park, Arkansas
Imagine spending a lovely spring day soaking in a warm mineral bath after a long, cold winter. That and more can be found at Hot Springs National Park in Arkansas. Beyond the ancient thermal springs, this unique park also has beautiful mountain views, incredible geology, forested hikes, and abundant creeks to explore.
3. Mesa Verde National Park, Colorado
Spring is a wonderful time to experience Mesa Verde National Park, which protects the rich cultural heritage of 26 Pueblos and Tribes, offering visitors an intriguing look into the past. This World Heritage Site and International Dark Sky Park is home to over a thousand species, including several that live nowhere else on earth.
Parts of the park begin to reopen as the winter chill thaws. Many cliff dwellings, including Cliff Palace and Spruce Tree House, can be seen from overlooks, but they cannot be toured until tour season begins May 14.
Like many other Colorado National Parks, spring weather is variable at Mesa Verde. With elevations over 7,000 feet, snow is possible throughout the spring. All park activities depend on road, trail, and weather conditions. Check weather forecasts and the park's website and social media to stay updated.
4. Shenandoah National Park, Virginia
Shenandoah National Park is among the loveliest in the country, where the spring season ranges from the middle of March through the end of May.
There is so much to do at Shenandoah during the spring. Visitors can explore the more than 500 miles of hiking trails in the park, which include short route, day-hike routes, and even longer routes. As with any location on this list, it's important to know the basic National Park dos-and-don'ts and be aware of any necessary safety precautions before planning your trip. A wide array of migratory bird species take refuge in Shenandoah during their long journey north, which makes spring in Virginia a good time for birdwatching, too!
5. Everglades National Park, Florida
A visit to Everglades National Park in the early spring makes a lot of sense. The season through late April is actually one of the most popular times to visit, due to the lower temperatures, lessening of mosquitoes, and abundance of wildlife that can be viewed. This park is an important habitat for numerous rare and endangered species like the manatee, American crocodile, and the elusive Florida panther. Spring is the best time to go birding in the Everglades, too, because many bird species winter in the relative warmth of the South Florida wilds.
6 . Blue Ridge Parkway, North Carolina
Labeled "America's Favorite Scenic Drive" for a reason, the Blue Ridge Parkway ambles along 469 gorgeous miles of both long-range vistas and close-up views of the rugged mountains and pastoral landscapes of the Appalachian Highlands. Driving isn't the only way to enjoy the Parkway. There are also 369 miles of hiking trails along the route, ranging in difficulty from beginner to expert.
7. Great Smoky Mountains National Park, North Carolina/Tennessee
Lovely, lush, and wild, the Great Smoky Mountains National Park straddles the border between North Carolina and Tennessee. This mountainous oasis is home to lots of wildlife, from black bears and salamanders to old-growth forests and spring wildflowers. The weather is mild and the views are stunning in this National Park in spring.
8. Zion National Park, Utah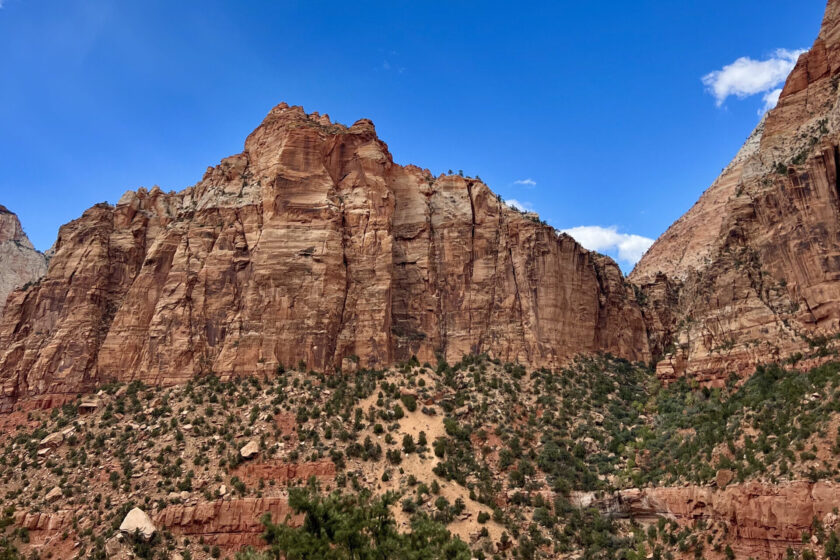 Zion National Park in Utah bursts open in natural beauty in the spring. The cottonwood trees bloom against a backdrop of creamy pink sandstone cliffs meeting the brilliant blue sky. The weather in Utah in the spring months is still mild and comfortable, and the park's visitation is usually low, which makes it a great time to visit and explore the park's many scenic views, waterfalls, and other attractions. If you plan to visit the famous Narrows, be sure to check the weather and flood reports.
9. New River Gorge National Park and Preserve, West Virginia
For those with a taste for big adventure, perhaps one of the best National Parks to visit in spring is New River Gorge National Park and Preserve in West Virginia. There's no shortage of adventures to partake in, including climbing, biking, hiking, whitewater rafting, birdwatching, and camping. This is also the perfect National Park for dog lovers, as pets are allowed on all trails. Know the regulations and conditions ahead of time to enjoy this lesser-known gem.
10. Glacier National Park, Montana
Glacier National Park in Montana is one of the National Park system's best-kept springtime secrets. Spring is the perfect time to visit; plenty of flora will be blooming, crowds will be minimal, and animal sightings (maybe even baby animals!) will be likely. Bonus: Glacier National Park's Going-to-the-Sun Road is closed to vehicles in the spring, but open for cycling. Take your bike for a cruise and enjoy the views!