Could this be the biggest walleye ever caught ice fishing?
We all love a big fish story, and this one out of Ontario will undoubtedly make your jaw drop. According to Target Walleye, an angler fishing the fabled waters of the Bay of Quinte has iced a truly gigantic slab of walleye gold.
The trophy fish, weighing 18.5 pounds and measuring 33 x 21.5 inches, was caught on a 1/2 ounce Acme Kastmaster doctored with red and silver prism tape. The angler, whose name isn't mentioned, states the fish hit at 8:30 a.m. and is only the third walleye he's iced this season.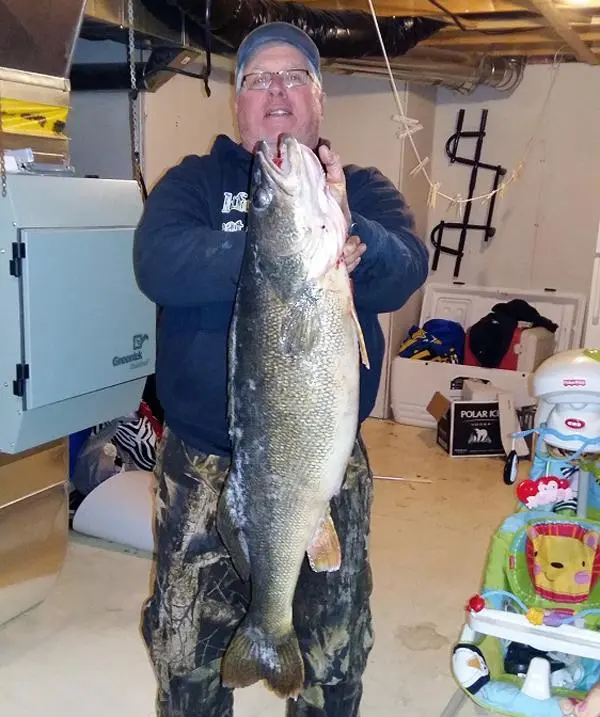 "When I laid her on the ice I knew it was probably the biggest walleye of my life," he said. "Had no scale or tape measure with me, but I suspected it was over 14 pounds. I normally put these big girls back but since I was pretty certain she was my new personal best, I decided to keep her for the wall."
"When I got home and weighed/measured her I was in shock. I thought 17-18 pound walleye were only a myth...never dreamt I'd catch one myself."
The angler also mentioned that it fought no differently than any of the 8-10 pound walleye he'd caught in the past. The one challenge he faced? Getting its mammoth head through the 8-inch hole.
The Bay of Quinte is a mecca for monster walleye and this once-in-a-lifetime fish reinforces that claim.
Congrats from all of us here at Wide Open Spaces!
Did you enjoy this post? CLICK HERE to view more articles by Justin Hoffman. You can also check out his Photography Site Justin Hoffman Outdoors, as well as follow him on Facebook Justin Hoffman Outdoors, Instagram hoffmanoutdoors, Twitter @HoffmanOutdoors, or subscribe to his YouTube channel Justin Hoffman.
NEXT: FEMALE ANGLER LANDS MONSTER 55-INCH LAKE ST. CLAIR MUSKIE
https://rumble.com/embed/u7gve.v3tsdx/
Enjoy the outdoors?
Sign up for daily stories delivered straight to your inbox.