More and more states are increasing regulations to combat chronic wasting disease.
The Missouri Department of Conservation recently issued a statement regarding new CWD regulations. According to the report, hunters are prohibited from feeding deer or placing mineral supplements in effected areas. The policy states any county within 25 miles of a known CWD case is subject to the restrictions.
Mineral supplements and attractants are often used to bolster the health of the local whitetail deer herd. Hunters often place trail cameras near these sights to aid in conducting an inventory and capture pictures of would-be target bucks. However, altering the natural behavior of deer can cause some problems.
Because CWD travels through prions, any area where animals are congregating could pose a risk. If an infected deer is nosing through a mineral pile, the prions left behind will very likely transfer and infect any deer who later visit that same mineral sight.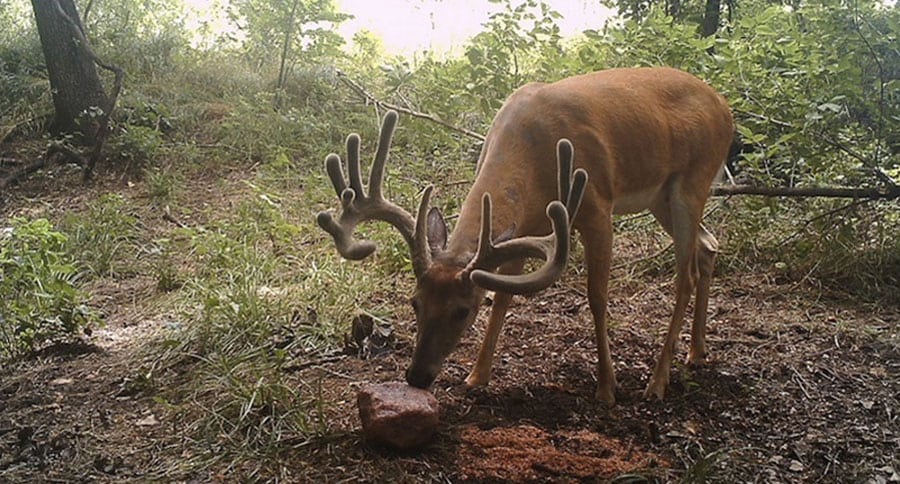 Some supplement supporters argue that the health benefits for the deer outweigh the risks. However, the science disagrees. Typically, the improved health of the animal isn't enough to prevent or overcome the infectious disease.
CWD has an interesting impact on free-ranging deer herds across the United States. While we don't know everything, one thing we do know is that it dramatically increases the death rate of wild deer. Unaddressed, it'll have a significant impact on deer hunting in coming years.
It can take up to 18 months before an infected animal becomes clinical. At that point, death typically follows in short order. Many states are encouraging hunters to have their deer harvests checked. And, it might be wise to follow Missouri's lead in terms of disease control. If you're in an area CWD has already affected, consider avoiding the use of bait sites or mineral supplements.
Like what you see here? If so, click here to read more great hunting, outdoor, and shooting articles by Reid Vander Veen. Also, check out his writer page, Tree Stand Diaries, on Twitter, Facebook and Instagram.
NEXT: CWD CAUSES DEER DEATH RATE THREE TIMES FASTER THAN NORMAL
https://rumble.com/embed/u7gve.v3tom3/
Enjoy the outdoors?
Sign up for daily stories delivered straight to your inbox.