Hunting with kids can be one of the most rewarding and fun things you could ever do. It also takes a ton of patience, and usually a lot more gear than you're used to. Your main goal when bringing kids along should be to give them a wonderful experience that they want to do over and over again. If you make it too serious, they may come once or twice, but they will never develop that love of hunting. Every kid is different and every hunt is different, but if you can remember to make it fun and keep them involved, you may have one of your kids as a hunting buddy for life! Here are a few of the items I find super helpful when bringing kids with us hunting.
Ear Protection: Walkers Electronic Patriot Series
Suppressor: When we're hunting big game where it's legal to use a suppressor, we opt for the Banish 30. Anything that protects the hearing of those young ears is worth it.
Optics: We go with these Small Swarovski Pocket Size Binos, which are particularly great for turkey hunting
Shooting Sticks: BOG Death Grip
Insect Repellant: Ranger Ready Picardin Spray is great for bugs and can be safely applied directly to your kid's skin. Ranger Ready Permethrin Spray works against ticks and can be sprayed on your kid's clothing.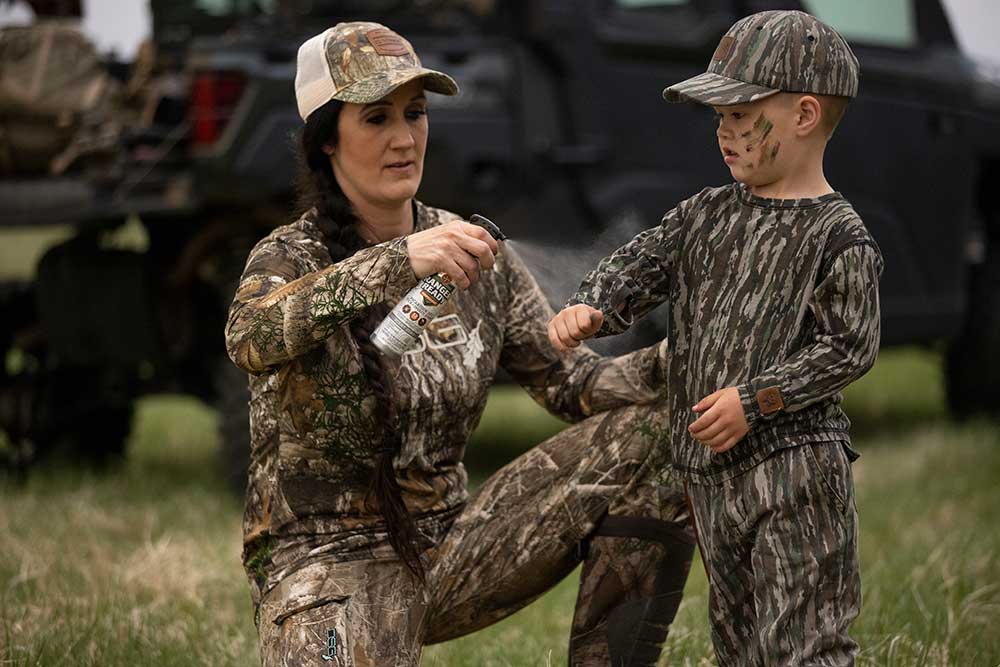 Game Calls: Kids should have their own calls to use, and learn how to use them early! Jax has a Bone Collector Soggy Bottom Box Call.
Ground Blind: Bog Grave Digger in Realtree Excape. We also like to use camo netting if we aren't in the blind for some extra concealment.
Blind Chairs: Bog 4 on the Floor Chairs
Hunting Clothes: Jax wears Bone Collector Raskulls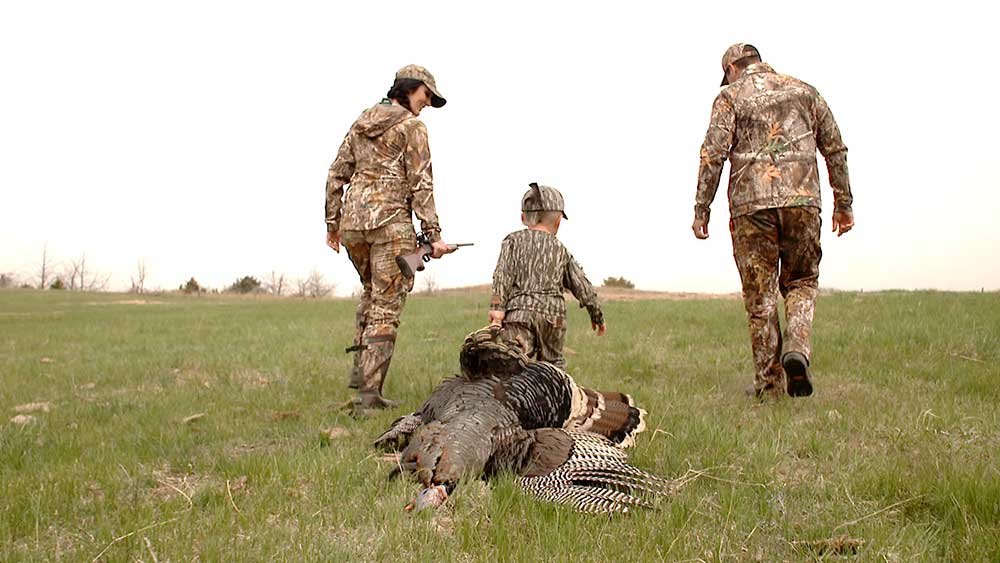 Kid's Hunting Knife: I think it's important for kids to have their own hunting knife and sheath, but only one deemed totally safe. This "Youth Starter Knife" from Etsy is just a butter knife with a deer antler handle. They will even burn the kid's name into the sheath.
Camo Face Paint: We go with Trophy Taker and use their 4-color camo face paint, but if it's cold we'll opt for a full face mask.
Hand Warmers: Speaking of the cold, we like to have Hot Hands around to keep those little fingers warm.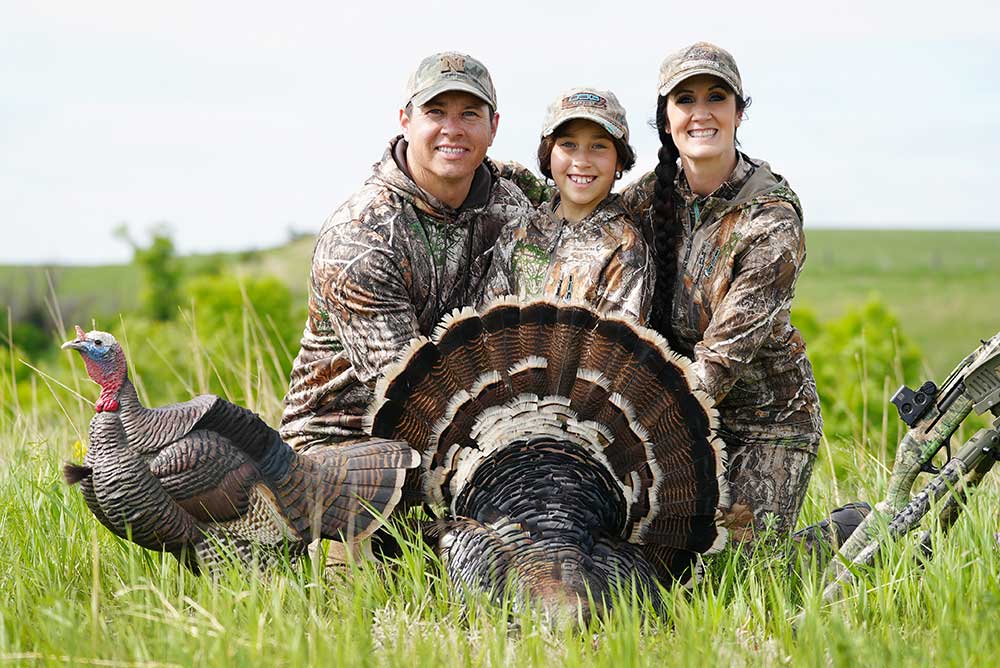 Shooting Targets: It's smart to use targets with the actual animal on it to practice shot location ahead of time. It's also worth it to try some dry fire practice with the turkey decoys. We use Birchwood Casey 12x18 Inch Turkey Targets.
Cameras and Equipment: I use a Sony A7SIII with a 100-400mm Sony Lens for most photos. I also like having a small camera in the blind to capture all the real reactions and action. I use a GoPro 9 with a Jaws Flex Clamp that clamps on to the blind rod. For an additional piece of equipment, I like having a tripod for taking timed photos together afterwards. If you're skipping this part and not using a fancy camera, then get a tripod mount that can hold your phone.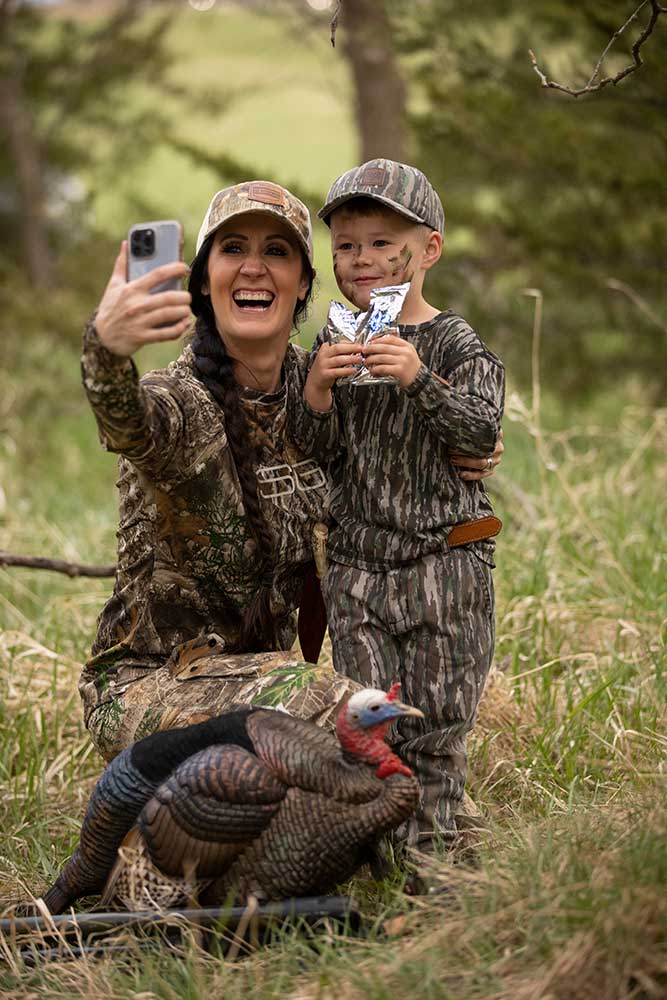 Kid's camera: Seckton HD Digital Camera
Kid's toys: We go with cars, horses, markers or pencils, paper, or any little items to play with in the blind that are not noisy. We also got Jax a toy bow, which was a nice introduction for him.
Blanket: We always bring something soft that allows the kids to lay down if they get sleepy.
Drinks & Snacks: You can never have enough! We pack juice boxes, Pop-Tarts, grapes, fruit snacks, Fruit Roll-Ups, cookies, and turkey sticks. We also bring some special drinks that are only for hunting. In Jax's case, he gets a grape soda to celebrate when we are successful. And we always try to do something fun after, like have a pizza party or stop for ice cream. Anything that makes it positive!
READ MORE: MELISSA BACHMAN'S PERSONAL TURKEY HUNTING GEAR LIST