One young man isn't able to fish and hunt the same way as you or me, but that sure doesn't stop him from loving the outdoors!
Billy Daw has been paralyzed from the waist down since his birth. He suffers from spina bifida and hydrocephalus. However, Billy doesn't let that stop him from enjoying the outdoors like none other.
In the past, I've had Billy both on my radio and TV show. Every time I talk to him, he becomes more of an inspiration to me. This guy will blow your mind with the work he's doing. So once more, I have the pleasure of talking with him for Wide Open Spaces.
BA (Blake Alma): Billy, tell me a little about yourself and what you are doing for the outdoors.
BD (Billy Daw): My name is Billy Daw and I have spina bifida and Hydrocephalus, which is water on the brain. I've been in a wheelchair all my life, but I've never let it stop me from doing what I love to do. Through the outdoors, I spread the word of Jesus Christ and what he has enabled me to do. I love to inspire each and every person I come in contact with. The outdoor industry is great for me because I get to communicate with the world. I have talked to so many people who have a lot in common with me and I just love that!
BA: Man, that is awesome. To see what you are doing through your difficulties helps push myself and others to their limits as well. So, what gave you the vision to start Wheel Chair Outdoors?
BD: When I killed my first deer, which was a spike buck, I posted it on Facebook, and a popular podcast called Big Buck Registry contacted me about my deer. They wanted to hear my story, so after talking to them, they were saying that I could inspire so many people with my story, so why not make an outdoor page called Wheel Chair Outdoors. At first, I thought they were a little crazy and I doubted myself. Well, I rolled with it. After three years now, Wheel Chair Outdoors has gone places I've never thought it would.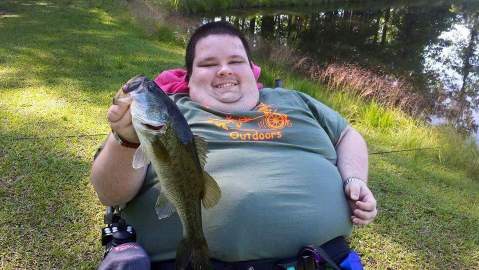 BA: That is awesome, Billy! I was just on the Big Buck Registry myself. I talked with the host of the show about you and the things you're doing. Proud to see where you're going with your work. What's your favorite part about all the things you do?
BD: My favorite part about the things I do is getting to meet new people, hear all of their stories, and interact with them. Things I do are not for myself... they are for the people. When it comes to my fans and friends, it's all about them, because I love them. Being outdoors is just a bonus to me, but spreading God's perfect word and what he's done for me is the best thing ever! So not only do I have a story to tell people, but it also allows me to interact with them.
BA: Couldn't agree more. The outdoors helps bring people closer to the Creator and that is what it is all about. Go ahead and tell me about your first outdoor experience. Where you hunting or fishing?
BD: My first outdoor experience was fishing because I've only been a hunter probably about 10 years now. I remember going fishing with my parents when I was younger on the pier at the beach. We have spent many cold nights at the beach pier fishing. I loved every minute of it. I knew right then after my first time fishing, I was HOOKED!!!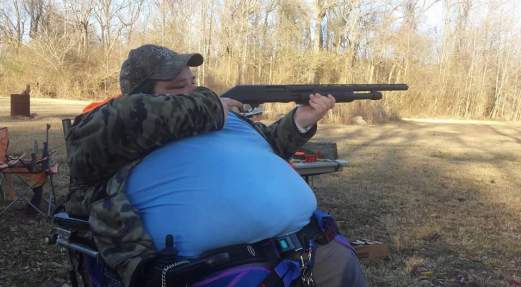 BA: That is great, man! What do you see for yourself in the future?
BD: What I see in my future is having a blast working with Realtree and, hopefully, starting my own outdoor show. Being a part of Realtree was one of my future dreams but that dream came true recently. I'm so proud to be a part of it. What does my future have in store for me? I'm not sure, but one thing is for sure, God has a plan. Getting my own show, growing Wheel Chair Outdoors, and also hunting the U.S. one state at a time are my goals. I plan on pursuing everything I've ever dreamed of and keep on with my passion for the outdoors. My little message for the readers: NEVER give up, chase your dreams today, because tomorrow isn't promised. You can do anything you put your mind to. If you can dream it, you can do it.
Thanks, Billy, for taking the time to talk with us!
Did you enjoy this post? CLICK HERE to view more articles by Blake Alma. Blake is a 17-year-old TV & radio host, published author, hunting activist, and creationist. You can check out Blake's site at www.blakealma.com.
Enjoy the outdoors?
Sign up for daily stories delivered straight to your inbox.