The Maxam SKJSK Survival Knife is part of a utilitarian 12-piece set and is a great deal on Amazon right now for only $32.96.
This world-renowned knife has a blade 1/8" thick and 7 3/4" long. It also comes with a 7" skeletal frame knife with a 1 1/2" blade, which fits into sheath of the bigger knife. As mentioned earlier, these knives are a part of a larger set of outdoor survival tools.
In the zinc alloy handle of the knife, you'll find a storage compartment which contains a pencil, bandage, compass, tweezers, razor blade, safety pin, fishing line, thread, and needle. All of this for just $32.96.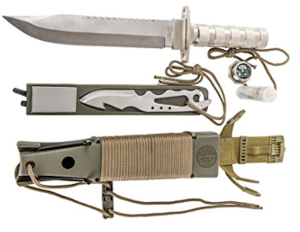 Measuring over 14" in length and with a total combined weight of 2 pounds, this set makes a useful addition to any outdoor survival kit. It comes with a limited lifetime warranty, and if you want a matchless product, click here and order yours today.
NEXT: GERBER'S VITAL PACK SAW SHOULD BE IN EVERY HUNTER'S PACK [VIDEO]
https://rumble.com/embed/u7gve.v3tp3v/
Enjoy the outdoors?
Sign up for daily stories delivered straight to your inbox.