The all-new Mathews VXR 28 and VXR 31.5 hunting bows are poised to make serious waves in the archery market.
Mathews didn't become a household name in the bowhunting industry by being complacent. They've built their reputation on staying in front of the pack with new, innovative technology to maximize their always-improving products.
So, if they're refreshing their products year after year, what else is left to do to actually make the bow better?
In the case of the VXR 28 and VXR 31.5, Mathews seemingly took that question as a challenge, addressing stability, quietness and maneuverability.
Mathews reached a new level of stability with the new Extended Bridged Riser, which ultimately led to a platform that cut weight while maximizing length and rigidity in critical areas.
With this six-bridge riser, the VXR shoots like a target bow with the maneuverability of a hunting bow.
Additionally, Mathews employed its SwitchWeight Technology, which allows hunters to adjust their peak draw weight and draw length with the quick change of a module, each of which is programmed to deliver maximum efficiency, resulting in an ultra-smooth draw without sacrificing speed. Those are available in peak weights of 60, 65, 70 and 75 pounds.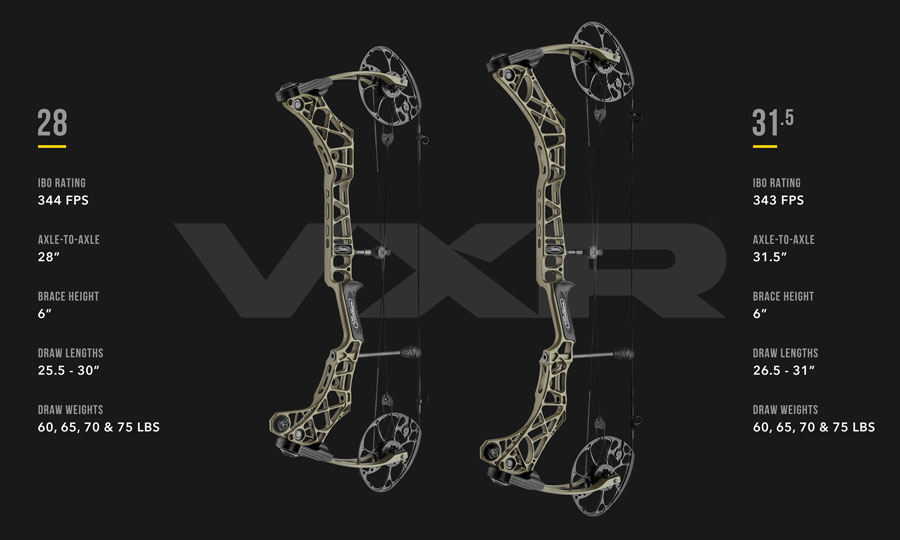 Reducing noise is a priority for any bowhunter, which is why the VXR takes on Mathews' new Silent Connect System. The SCS kit allows hunters to quickly and silently attach the new Mathews Genuine bow rope and bow sling.
It also uses 3D Damping, which they repositioned and tuned to the specific harmonics of each VXR model to reduce post-shot vibration and noise.
Bowhunters will also take a liking to the new Engage Grip, which offers an ergonomic design for less torque and more consistent accuracy when taking shots. And, they'll appreciate the dovetail mount, which accommodates the Integrate MX Rest by QAD.
To see more from Mathews, be sure to check out mathewsinc.com.
NEXT: ALPACKA RAFT NAMES EMILY LEDERGERBER NEW DIRECTOR OF MARKETING
WATCH