The CL09 by Fenix is the most capable ultra-compact lantern I've ever used.
There are a few things in life that you should never skimp on.
I've always been a firm believer that you should never take the cheapest option when it comes to your taxidermist, your optics, or your toilet paper. The older I get the more I realize the saying, "You get what you pay for" is typically very true.
I recently started looking at my flashlights and other lighting gear from this same perspective. On a recent elk hunting trip, I took along a couple products from the Fenix Flashlight store.
If you're not familiar, Fenix is an online store that provides high quality lights for everything from camping to everyday carry flashlights, from headlamps to lanterns. Their options cover lighting for almost every scenario you can think of.
Looking for a great camping lantern? One with a rechargeable battery that you can also use as a power bank? Check out the CL30R LED lantern.
Looking for a sleek new, high performance EDC flashlight? Fenix Tactical Flashlights have you covered there, too.
For me, I was looking for a light-weight, high-performance, ultra compact lantern for around camp. The Fenix CL09 lantern was the perfect test subject.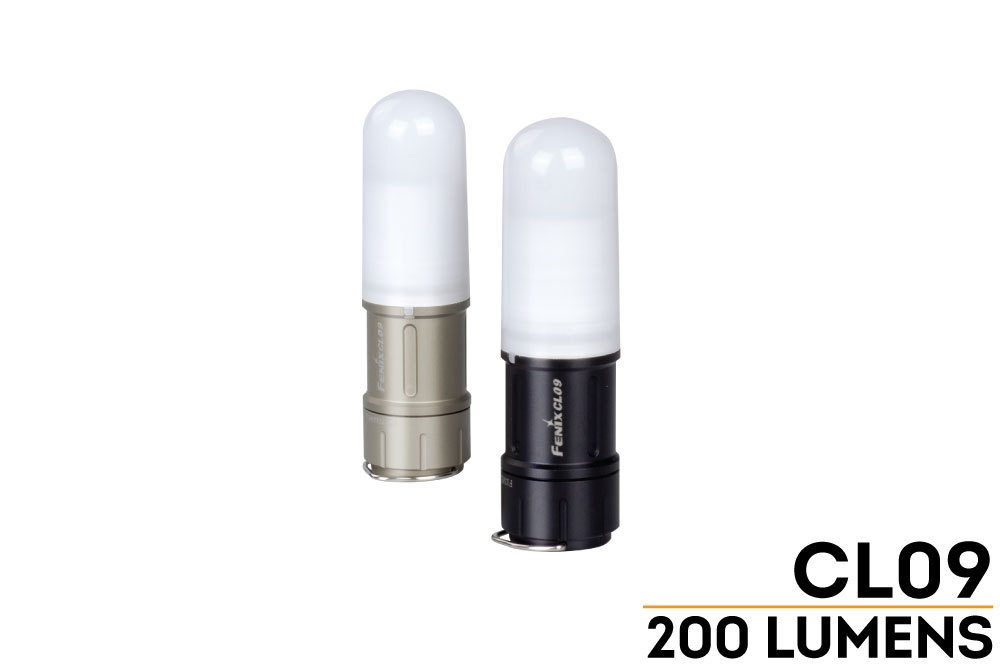 Now let me first highlight one key feature. When we're talking ultra compact, I mean ultra compact. This thing is about the size of an adult man's finger. Not hand. Finger.
But please don't let the compact size give you the impression this light is small on features.
Cree XP-G2 R5 light sources
7 different light settings: Green, Red, Red Flash, Low, Medium, High, and Turbo
Spherical body for 360' lumination
Waterproof to 6.5 feet
Capable of withstanding temps as low as -40'
One button operation
Field Test
For our DIY elk hunt, we were looking for a lantern that could easily light up our tent, but also provide enough light for our team to operate around camp while packing for hunts or preparing dinner. The reaction of our hunting party when I first hung this light from the roof of the tent and turned it on was pure delight.
In fact, we had to adjust down the brightness setting because there was simply too much light on the turbo and high settings.
Outside the tent when preparing meals or loading the truck, the high power light hung easily from a nearby tree branch and provided 360' of easy viewing pleasure for everyone around looking at maps and packing for the next hunt or preparing meals.
This tiny little beacon of joy is available at the Fenix-Store for less than $35. It's available in black or iron grey.
If there's one thing that I'd like to see it would be longer battery life on brighter modes with the included 16340 battery. On Turbo mode, which is a noon-at-night brightness of 200 lumens, the battery will last around 2 hours. Set on High, or 80 lumens, that life extends to nearly 6 hours.
On the Medium and Low settings you'll see 19 hours and 90 hours, respectively. However, considering the rechargeable capabilities of the battery and the small frame and size of the light, I'll gladly deal with the need to recharge from time to time.
And speaking of versatility. Since returning from the elk hunt, I've already used this light around the house when our power was fluctuating during a thunderstorm and while working on my truck in the driveway. The compact light easily hangs by it's built in magnet on the fridge or under the hood.
Like what you see here? If so, click here to read more great hunting, outdoor, and shooting articles by Reid Vander Veen. Also, check out his writer page, Tree Stand Diaries, on Twitter, Facebook and Instagram.
NEXT: WORLD CLASS ELK SHOT IN... NEBRASKA CORN FIELD
https://rumble.com/embed/u7gve.v3v69r/