Professional Controlled-Angle System is the ultimate at-home device for getting a pro blade edge, with decades of experience at the top of the market.
The crew at Lansky Sharpeners knows how to stay sharp, proven by their remarkably effective Professional Controlled-Angle System. It's giving at-home sharpeners a major edge with the right tools to do the job properly.
The particularly great thing about this sharpening system is it instantly gives you a pro-level performance, for beginners and advanced users alike. The original Controlled-Angle System has staked its claim as the ultimate in knife sharpening technology.
The Controlled-Angle System also includes an easy-to-use hone to sharpen serrated edge blades, something a lot of sharpeners don't even bother with.
The System lets you select the sharpening angles that are best suited for your specific knife or its intended use. The angles range from 17° to 30° and will cover the spectrum from a razor sharp (but delicate) edge for fillet knives and such, to a heavy duty edge meant for rope cutting and bushcraft applications.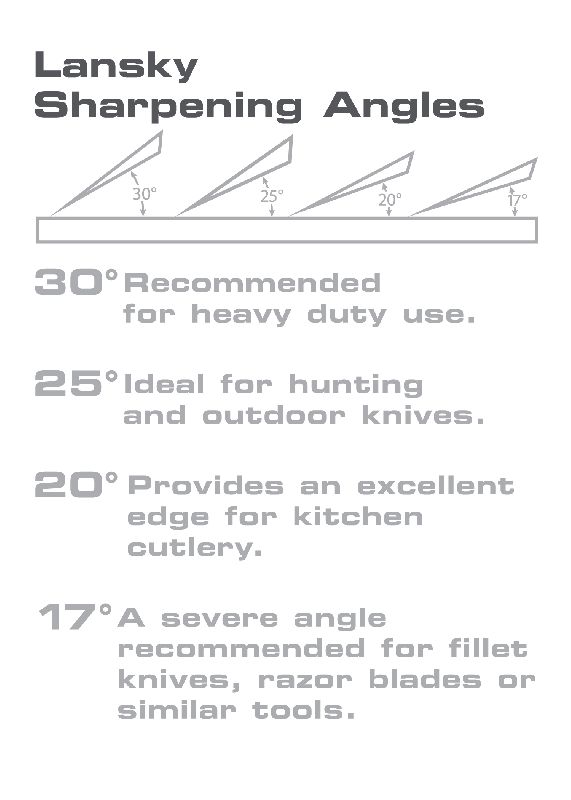 The knife clamp included in the system holds the knife securely in place along with the angle guide, so that every stroke of the sharpener works towards the same pre-determined edge. The Coarse to Ultra-Fine hones give an excellent range of grits so you can take edge care and maintenance to the top level, unreachable with another at-home sharpener.
The entire System comes in a handy carrying case, which keeps everything organized where you can easily find it. Here's everything that comes with it: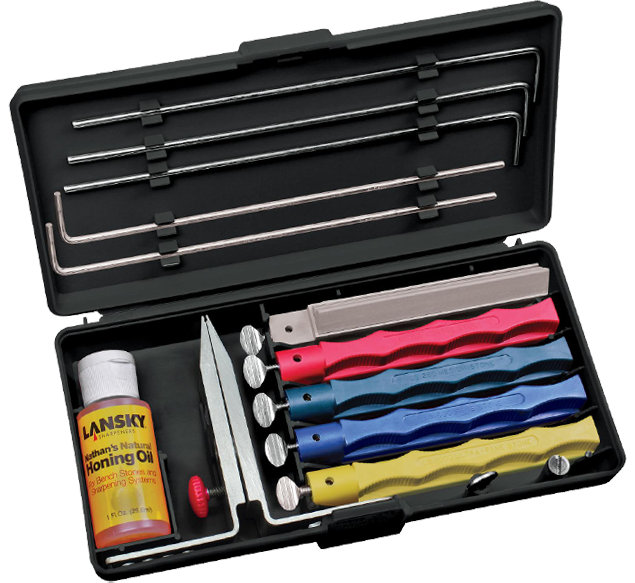 Serrated Medium Hone: for sharpening serrations
Coarse Red Hone: (120 grit) for edge reconditioning
Medium Green Hone: (280 grit) for sharpening and less frequent touch-ups
Fine Blue Hone: (600 grit) for most frequent touch-ups to keep your blade paper-slicing ÷sharp
Ultra-Fine Ceramic Yellow Hone: (1000 grit) for polishing the edge for a razor sharp edge
Honing Oil: Specially Formulated for sharpening
Easy to use, multi-angle clamp: to hold the blade securely
Guide Rods: One for every hone
The Lansky system makes perfect sense for outdoor sportsmen, at-home chefs, and even those who regularly use workshop knives. It's been produced for over 40 years, meaning the Lansky Professional Controlled-Angle Sharpening System has stood the test of time. No one's improved upon the design or created a better way to do it.
It's all the more reason to finally try it for yourself, and put forth your sharpest effort from here on out.
NEXT: CHECK OUT THE NEW LANSKY C-SHARP PORTABLE SHARPENER