One of the five Great Lakes, Lake Ontario is surrounded by the Canadian province of Ontario and New York state, with Rochester city sitting on its southern shore. It runs to the Atlantic Ocean via the St. Lawrence River. Lake Ontario spans seven regions in upstate New York, including Niagara County and Oswego County. You'll definitely want to verify the species you want to target and their various open seasons, and you can do so with help from the New York Department of Environmental Conservation. Sportfishing fanatics will have their pick throughout Lake Ontario, with several sought-after species.
Salmon Fishing
While you might also get a chance at Coho salmon or Atlantic salmon, the big draw on Lake Ontario is the the Chinook salmon fishing, followed by king salmon. The best time of year to hook a trophy salmon here is between April and November. In fact, one angler caught two world-record Chinook salmon in September 2020 while fly fishing on the Salmon River, which drains into Lake Ontario. The first weighed in at 15 pounds 12 ounces, and the other topped 20 pounds.
Steelhead/Rainbow Trout Fishing
Anglers can catch steelhead just about any time of year, particularly along the Niagara River or one of many other Lake Ontario tributaries. Fishing the winter or summer spawns typically yields the best results. In the spring, trolling the lake shoreline is your best bet. Crankbaits and spinners top the lure list for these fish.
Lake Trout & Brown Trout Fishing
These trout dominate the Lake Ontario fishing in springtime. Anglers frequently hook lake trout weighing more than 30 pounds, and they're fairly easy to catch in cooler waters. For brown trout, a trolling setup along warmer shorelines is the way to go.
Largemouth Bass & Smallmouth Bass Fishing
Head to Lake Ontario's eastern basin in the summer for a chance at big bass of the both the largemouth and smallmouth variety. While they don't get as much attention here as other sportfish, anglers have caught record-tying bass around Lake Ontario.
Walleye, Musky & Pike Fishing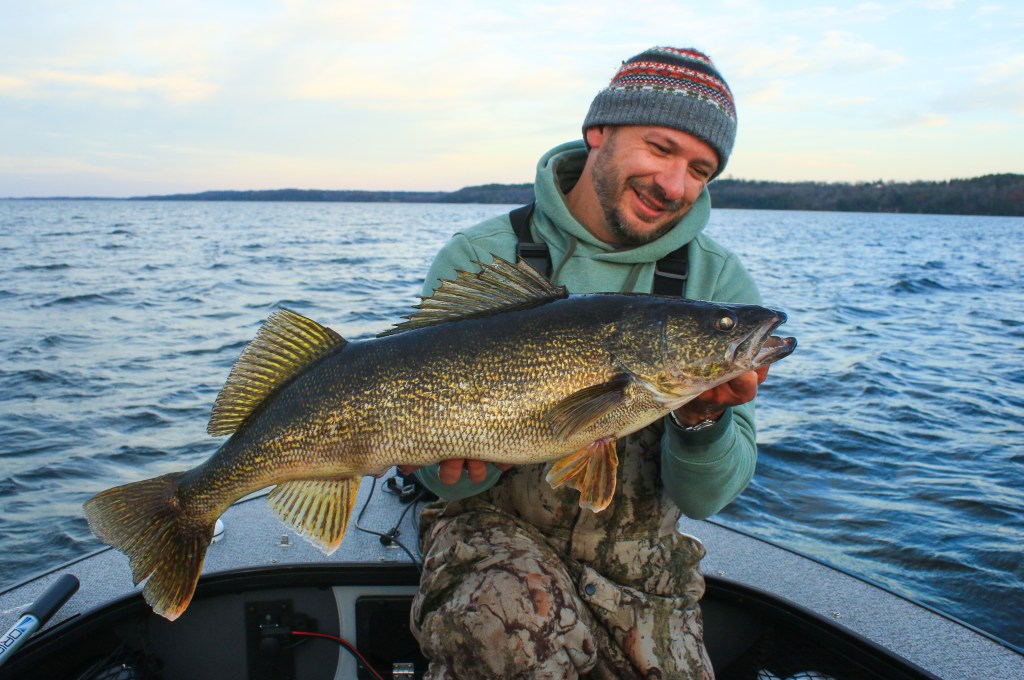 For wintertime angling, walleye can be caught using both conventional and ice fishing tackle. Monster musky populate Lake Ontario as well as aggressive northern pike.
Depending on what species you're after, there are plenty of hotspots throughout Lake Ontario and its tributaries at just about any time of year. For a fun, laid-back fishing trip, book with one of dozens of fishing charters in the area.