Don't worry, even the most seasoned professionals still cut themselves every now and then.
I will admit without hesitation that I've always had immense respect for people who can put a good edge on a knife. It's a skill that comes naturally to some; to others, it's an art perfected over time.
Watch Robert Arrington from Deer Meat For Dinner sharpen one of his blades and accidentally slice himself afterwards.
It happens to the best of us, Robert!
There is absolutely nothing worse than having a dull knife in your bag when you need it most. Have you ever been in the backcountry with a dull knife? Awful, isn't it? One of the best tools that I keep nearby on all trips is a mini sharpening stone (yes, it can even hook to a key chain). With literally a couple of hits on this diamond, your knife will be back to cutting shape in no time. Definitely a life saver when you're not home near a full-sized sharpening stone.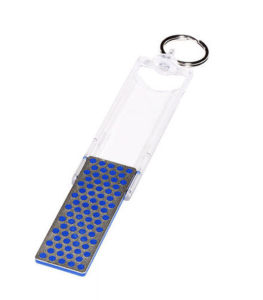 NEXT: HOW TO MAKE FISHING LURES FROM EMPTY DIP CANS
https://rumble.com/embed/u7gve.v3tsmt/
Enjoy the outdoors?
Sign up for daily stories delivered straight to your inbox.