For many national park enthusiasts, Joshua Tree ranks among the top for its distinct landscape and views. Named for the twisty, spiky trees that cover much of the land, Joshua Tree National Park is the meeting point of two desert ecosystems—the Mojave and the Colorado. The park spans over 800,000 acres of rugged terrain, where fierce conditions make the country seem barren. Here's a rundown of what to expect if you're planing a trip, and a few of the unique characteristics this special park holds.
What to Do in Joshua Tree National Park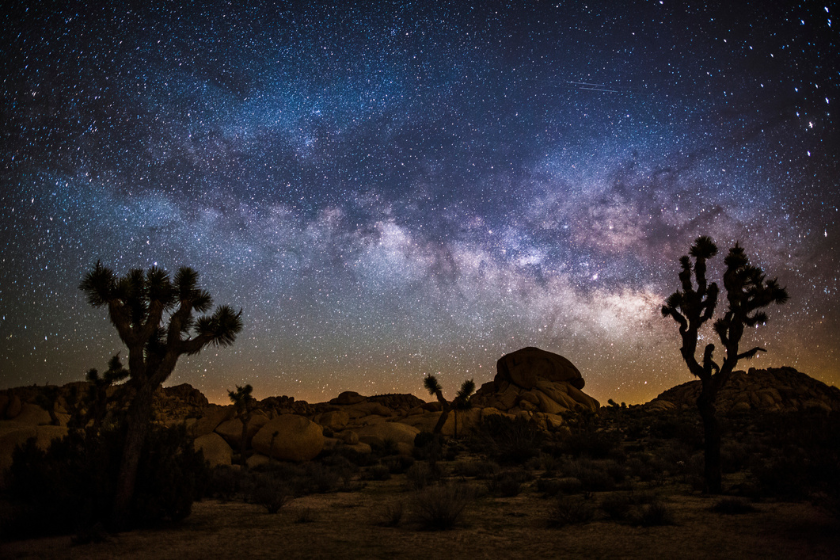 Joshua Tree National Park has something for pretty much everyone. Dozens of its trails are great for horseback riding, biking, and especially hiking.
Discovery Trail: You'll get a great glimpse at the geology within Joshua Tree National Park on this trail developed by kids for kids. Perfect for a brief family hike, the trail is a 0.7-mile loop that features a viewing telescope at the midway point. Although the trail requires some minor scrambling, it's a great choice year-round.
Black Rock Canyon Panorama Loop: If you're all about stellar views from high vantage points, this loop is a must-hike. The 6.5-mile route offers excellent views of Mount San Jacinto and San Gorgonio.
Boy Scout Trail: If you want to escape the crowds and possibly spot bighorn sheep and desert tortoises, hit the Boy Scout Trail. It spans 8 miles one way through remote portions of the park with 1,190 feet of elevation change throughout its course. Some hikers will make this a 16-mile round-trip jaunt, but most leave a vehicle at the end of the trail, which is best traveled from October to April.
Barker Dam: Although it can get crowded, this trail is a top choice for a day hike with a great mix of scenery and history. It measures under 1.5 miles but showcases all Joshua Tree National Park has to offer.
The area is also one of the best spots for rock climbing in the country. Although the park offers some more challenging choices, several spots are great for climbers of any skill level:
Double Cross: The most popular climb in Joshua Tree National Park, this route is located on Hidden Valley Campground's Old Woman crag.
Sail Away: You might have to wait in line to make this climb in the center of Real Hidden Valley, but it'll be worth it.
Leaping Leaner: Located not far from Sail Away and with less demand, this route on Locomotion Rock is a great alternative.
For those who love to take in the night sky, the clear desert sky in Joshua Tree National Park makes for excellent stargazing. The International Dark-Sky Association named it an International Dark-Sky Park, and visitors can view the Milky Way when conditions are right. The Cottonwood Campground offers the darkest skies for overnighters, but the park also offers several roadside pullouts where visitors can gaze at the stunning stars when skies are clear. The park offers tips for stargazing at different times throughout the year, as the best spots vary by month.
Wildlife & Plant Life in Joshua Tree National Park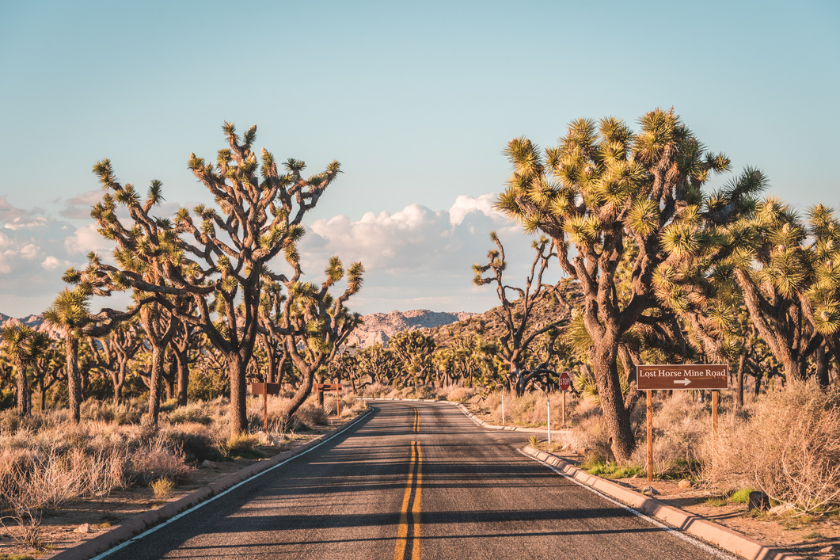 Despite its climate, Joshua Tree National Park holds thriving populations of some stunning plant life and beautiful wildlife. In addition to its namesake trees, the park holds desert lavender, palm trees, pine trees, and cacti. Spring brings a beautiful display of wildflowers throughout the park.
Joshua Tree National Park is also home to desert bighorn sheep, black-tailed jack rabbits, kangaroo rats, coyotes, and mule deer—although some of these animals can be elusive. The park is located along the Pacific Flyway, so visitors can also spot migratory birds during the winter months.
When to Visit Joshua Tree National Park & Where to Stay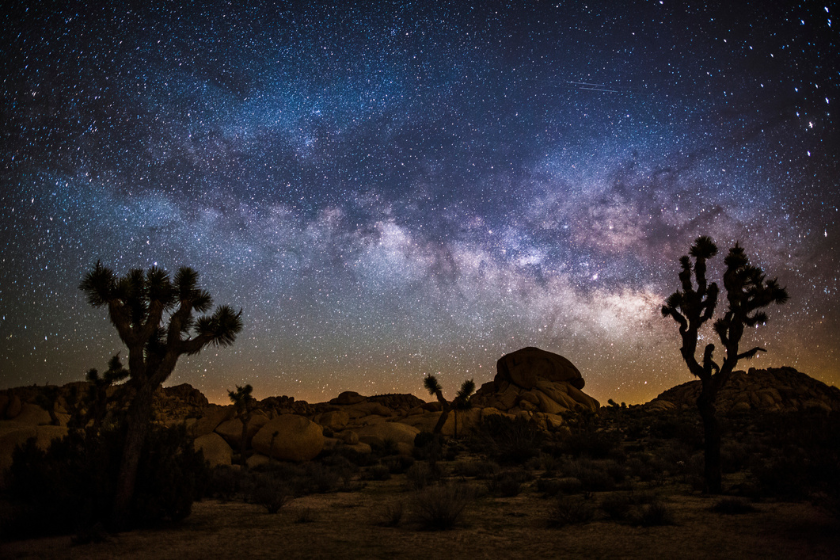 Temperatures can be sweltering in Joshua Tree National Park during the summer, so the most popular times to visit are between March and May or October and November—but it's also possible to encounter large crowds during these times. Even during the milder months, you run the risk of encountering high winds and flash flooding. High and low temperatures can be extreme as well, so come prepared for a variety of conditions.
Water is critical to staying hydrated in the heat of the desert, so Joshua Tree National Park offers water bottle fill stations at Black Rock Nature Center, the West Entrance Station, and the Joshua Tree Cultural Center as well as water jug fill areas at the West Entrance Station, Indian Cove Ranger Station, Black Rock and Cottonwood campgrounds, and Park Headquarters (northeast section of the parking lot).
Joshua Tree National Park holds no hotels or restaurants, but several campgrounds offer the opportunity to stay inside its limits. The following are great options but require reservations ahead of time: Indian Cove, Black Rock, Jumbo Rocks, Ryan, Cottonwood, Sheep Pass Group Campground, Cottonwood Group Campground, and Indian Cove Group Campground.
Enjoy the outdoors?
Sign up for daily stories delivered straight to your inbox.