The right ice fishing fish finder will increase your catch significantly.
When the cold weather arrives, we start breaking out the tackle boxes and ice fishing gear once again as we head to the frozen lakes in search of the big ones. One of the more difficult aspects of ice fishing is simply in locating the fish. A quality fish finder or flasher will help significantly with that. Because it's a lot harder to cover a lot of water through the ice than it is during warmer months.
Thankfully, portable fish finder technology, accessibility and functionality has advanced significantly in the last 15 years. Today's ice fishing electronics show off incredible detail and real-time images that allow you to specifically target the fish you are seeing on screen with your jig or bait.
Next to an underwater camera, they're probably the most vital piece of equipment you can use while angling through the ice. These are our picks for the best ice fishing fish finders on the market today. There's something here for every angler and budget.
Garmin Striker Plus 4

The great thing about this Garmin Striker Plus ice fishing bundle is the fact you can use this on both ice and in open water, meaning you get much more functionality out of the unit. Take it on ice in January and out in a kayak in July. This combo unit features a 4-inch color display with a built-in GPS and waypoint marking so you can mark the best fishing spots and return to them again and again. This package comes with a dual beam ice fishing transducer that uses Garmin's CHIRP sonar for imaging detail that allows you to distinguish individual fish. Garmin also includes a carrying case that will help protect the Garmin Striker 4 from the elements.
Vexilar FL-18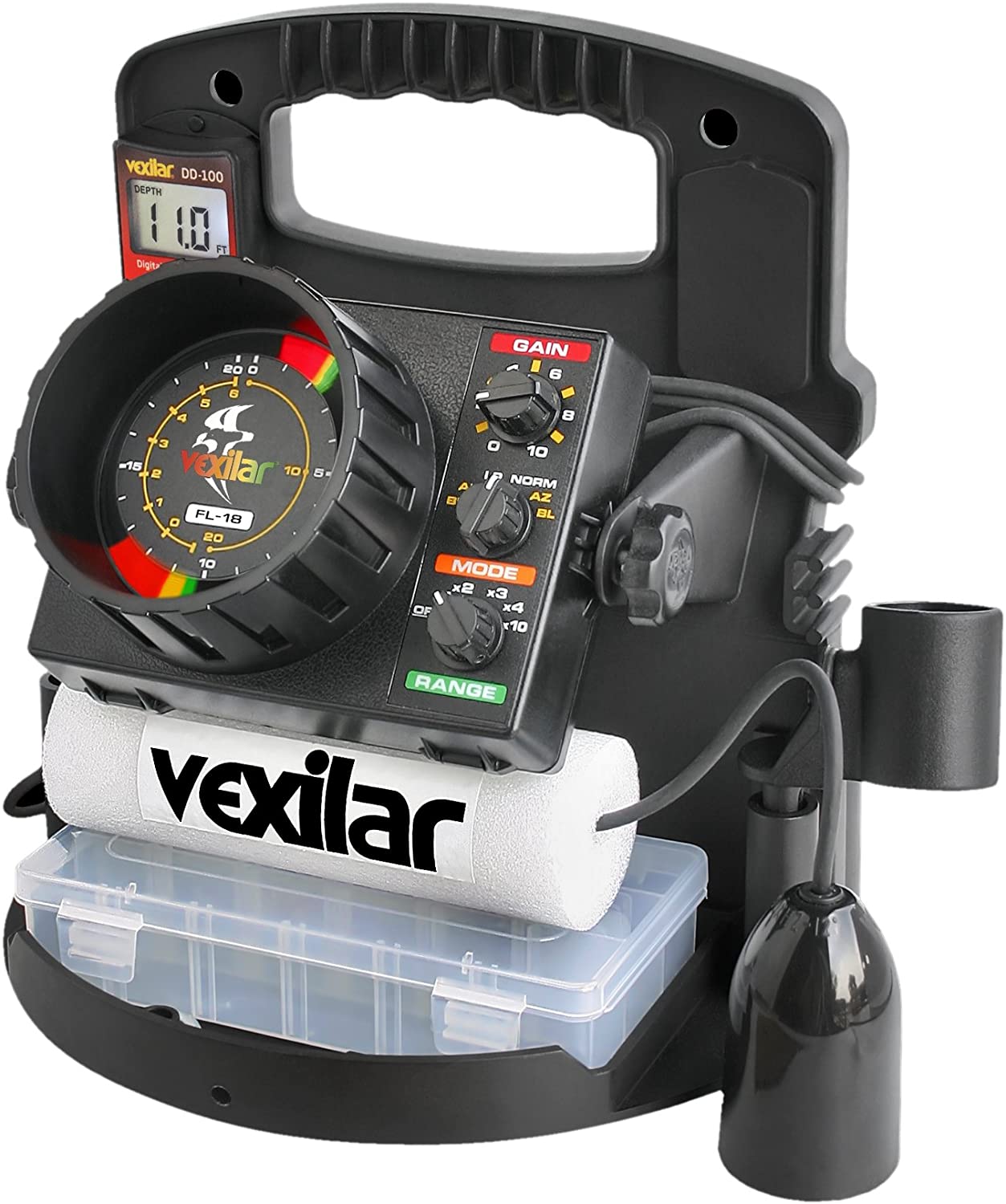 Arguably one of the most popular ice fishing flasher/fish finder units on the market today. The FL-18 Genz Pack comes with a 12-degree ice ducer. This unit features a split screen flasher display that allows you to focus one side on the bottom six feet of water while also giving you a live view of the entire water column. The three-color LED indicates the strength of each target so you can change up your presentation accordingly. As a bonus, this unit also works out of a boat. It has a bottom lock feature that allows you to use it in open water even in rough conditions. The ultra pack carry system features a 12-volt battery and comes with the charger pre-installed on the back. It also has a rod holder and spots for mounting other accessories.
Marcum LX-7L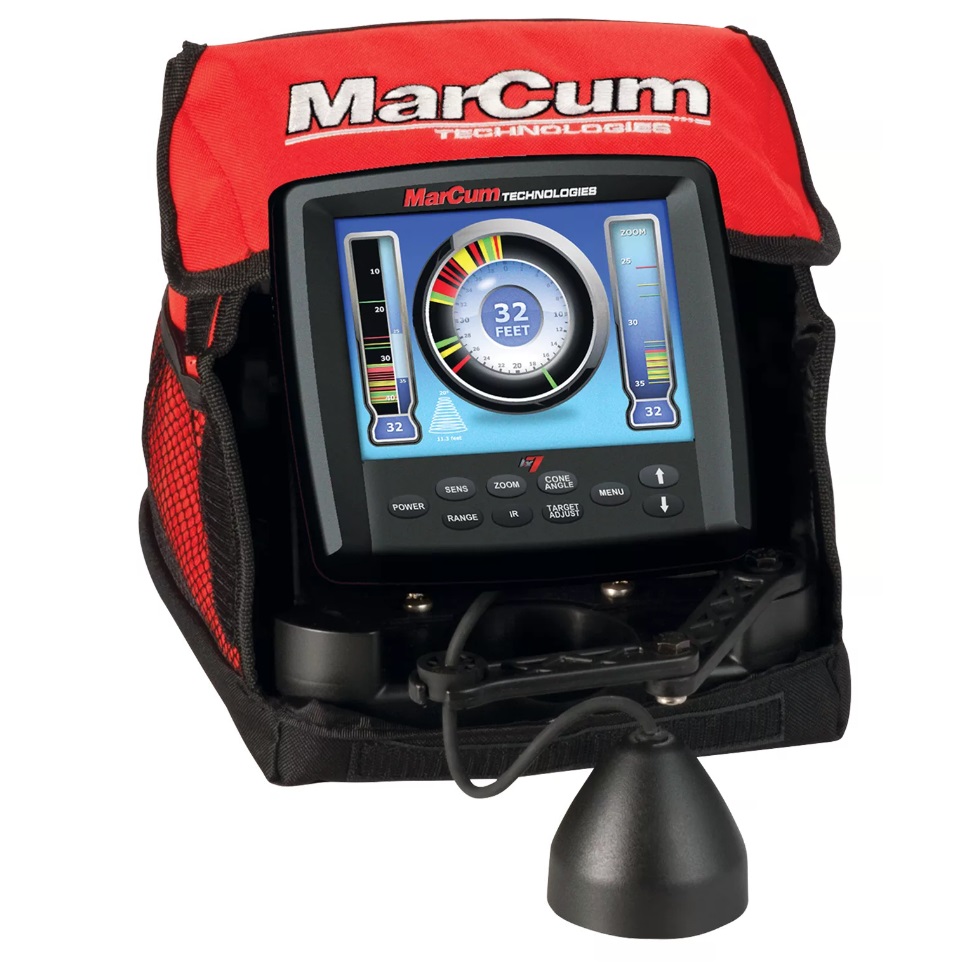 If you are looking for a unit with an easy-to-read display, consider the Marcum with its 8-inch flat panel color LCD screen that is also backlit for fishing in low light conditions. This ice fishing sonar allows each angler to customize the display windows and even screen colors to his or her tastes. This unit comes with a dual beam ice transducer with two different cone angles for eight and twenty degrees. Marcum also includes a LiFePO4 12-volt 10-amp lithium battery and a soft storage pack complete with a snow shield for protecting the unit during adverse weather conditions.
Humminbird Ice-35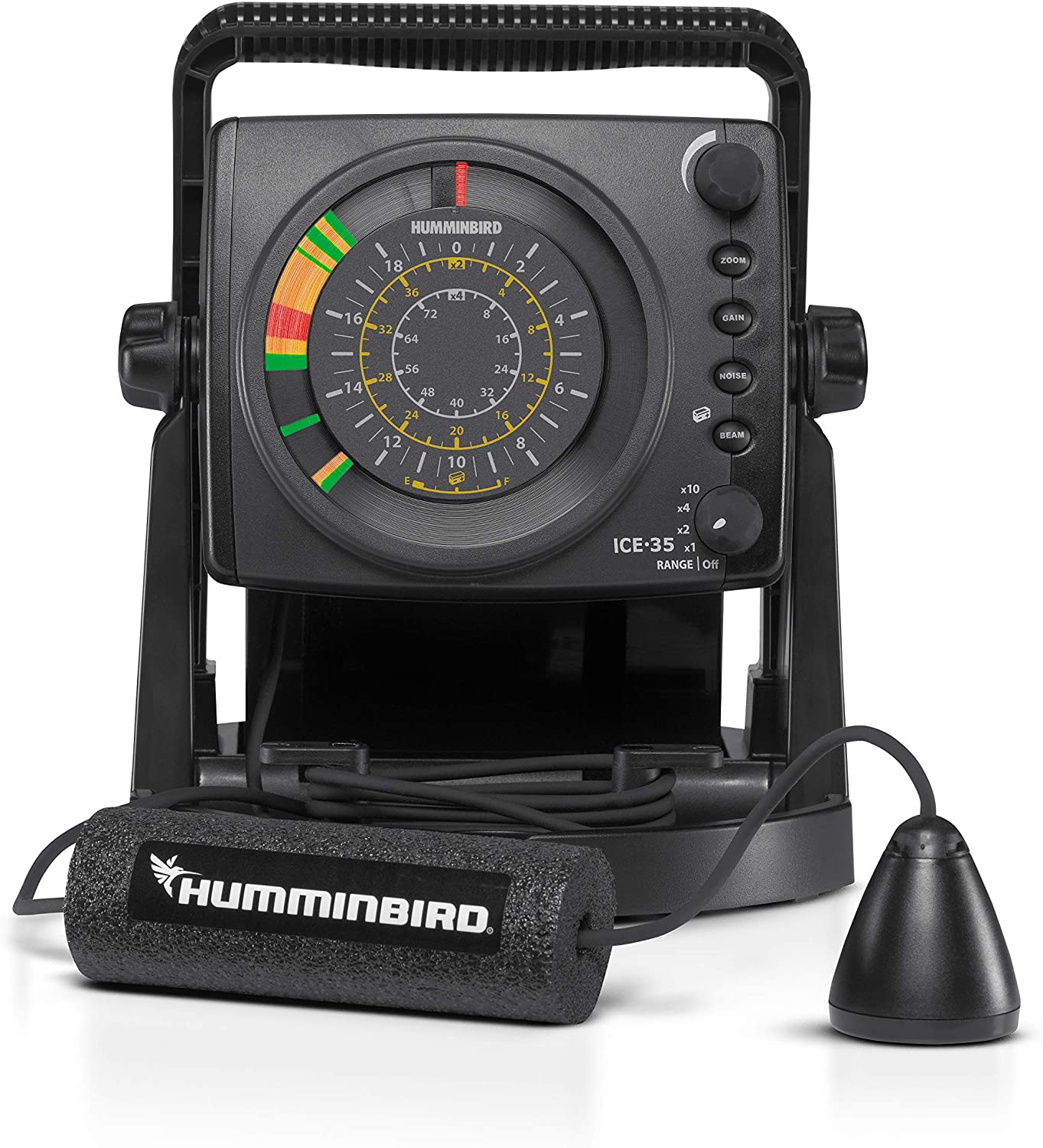 It's hard to go wrong with a storied name like Humminbird. They have been making quality ice flashers for decades now. The Ice-35 features a dual beam sonar where anglers can choose the size of the beam. The depth finder has adjustable ranges allowing you to reach down to depths of 200 feet. The fiber optic display shows you lure in real-time allowing you to target specific fish other anglers miss. This flasher features a 2X dynamic zoom allowing you to zoom in on specific depth ranges. The 7-Amp hour batter ensures you will get hours of battery life each time you take this unit out to the lake.
Garmin echoMap 73 CV Panoptix PS22 Ice Fishing Bundle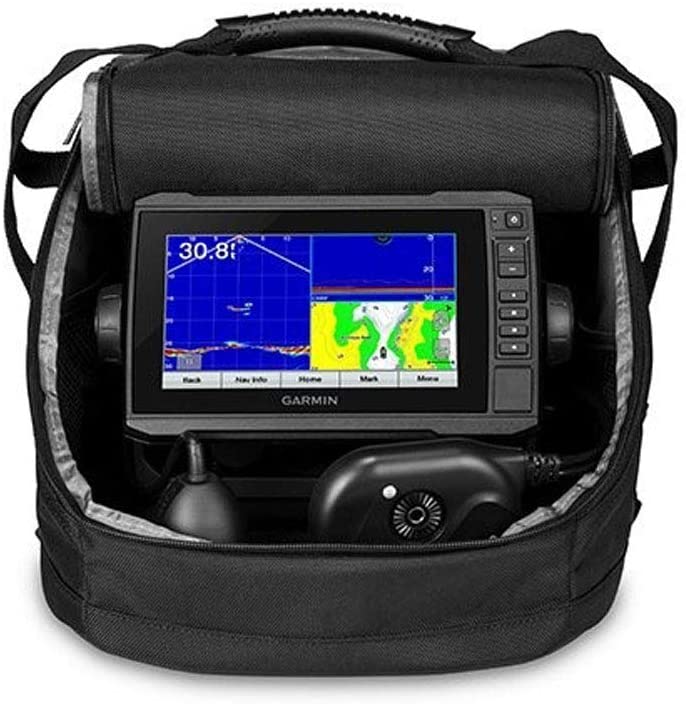 For the serious ice angler who practically lives on the ice during the winter months comes a serious piece of fish finding gear. This unit comes with a 7-inch Echomap UHD touchscreen display and features three types of sonar. The Panoptix livescope transducer mounts on a swivel pole so you can use the LiveVu forward sonar view to show the water in a 100-foot circle all around you. That means less time drilling holes and more time catching fish. This unit also has Garmin CHIRP sonar that allows you to pick out and target specific fish. As if that wasn't enough, this unit also has a built-in flasher, and is preloaded with map data for 18,000 lakes in the U.S.
Lowrance HOOK Reveal 7 SplitShot Ice Pack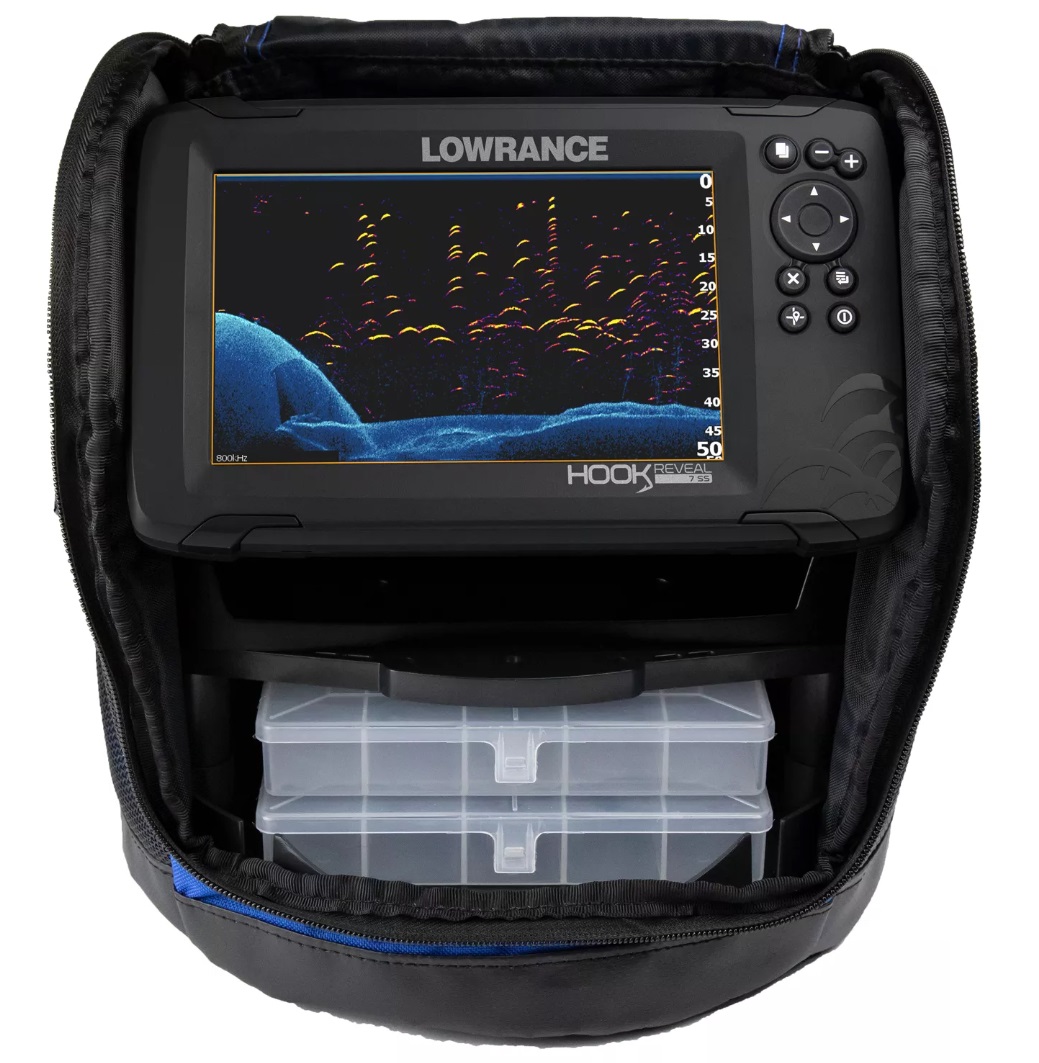 If you are looking for a larger display screen at an affordable price, the Lowarance is a good option. This unit features a SplitShot transducer, CHIP sonar and DownScan. Lowrance has an interesting feature called "FishReveal" that combines the features of both CHIP and DownScan to produce a real-time detailed image of exactly what's happening on the bottom. And the 7-inch display is built to be extremely bright and easy to see, even if harsh sunlight. This unit also features base maps of many lakes to help you zero in on new hotspots this season.
Products featured on Wide Open Spaces are independently selected by our editors. However, when you buy something through our links, we may earn a commission.
For more outdoor content from Travis Smola, be sure to follow him on Twitter and check out his Geocaching and Outdoors with Travis YouTube channels.
NEXT: GIANT MUSKIE BARELY CLEARS TINY ICE FISHING HOLE
WATCH