Having a pair of good binoculars can make the difference between tag soup and a filled freezer in some situations. But how do you choose? Should you buy full-size or compact binoculars? How do you find something that works well in low light? What will provide the best image quality? We'll help you answer all those questions and find a high-quality pair of hunting binoculars that will fit your preferred price point.
Before you purchase a pair of hunting binoculars, there are a handful of considerations you should try to prioritize, as tech specs for optics can be hard to shovel through. All of these numbers are relevant, however, which is why we're going to help you narrow down the features that are the most important to you, the hunter.
1. Think About Lens Quality
When shopping for a pair of binoculars, you'll likely see numbers like 10x25 or 12x50 on them. The first number refers to the magnification, and the second refers to the objective lens size, which is the one farthest from your eye.
The objective lens is the one that gathers all the light and transmits the image into your eye. The larger the lens, the more light it collects. The binoculars I own are a tiny pair of Bushnell 10x25s. In truth, I don't think these were made for hunting. I think they were made for birding. Most hunters won't want something this small because they're admittedly terrible in low-light conditions. This is because the small lenses are terrible for light transmission. I'm okay with it because my eyesight is awful in low light.
Unless you're looking for something super lightweight and portable, I'd say you should buy at least a 42mm. You can also find 50mm from all the major manufacturers like Leupold, Swarovski, Leica, Zeiss, Vortex, Nikon, and more. Just be aware that while you're gaining low-light vision, you're also hurting portability. Larger objective lenses add size and weight. You must ask yourself if it's worth the neck strap constantly digging into your neck to carry around a giant pair of binoculars.
2. Make Magnification Make Sense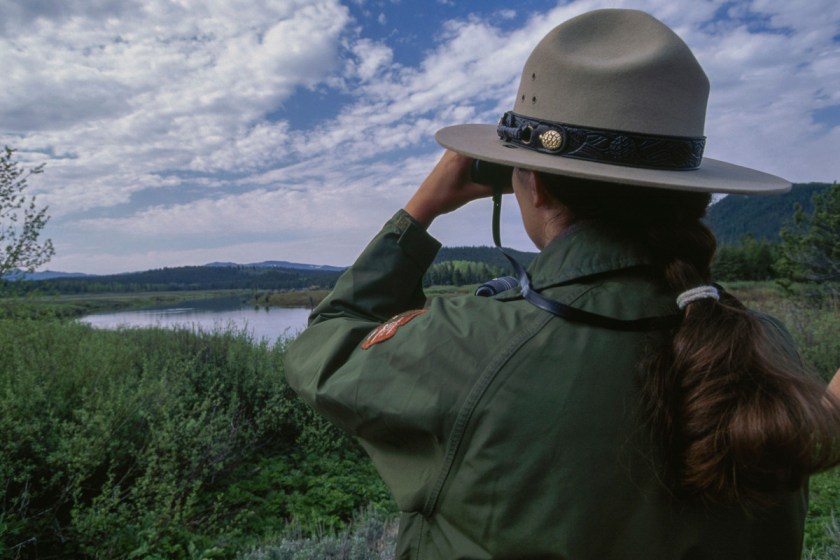 When buying binoculars, many people buy the highest magnification they can find.
But there are more factors to consider here. The higher the magnification, the less light is transmitted through the objective lenses to the eyepiece and, ultimately, you. This means that high magnification binoculars can be terrible for low-light conditions.
Another factor that comes up is image stabilization. Ever notice that no one holds a high-end spotting scope by hand? Because these scopes use considerable magnification, it is impossible to get a clear image free-holding it in your hands. Super powerful binoculars may require the use of a tripod or a monopod.
Consider the type of hunting you're going to be doing. Higher magnification doesn't make sense if you're hunting bears or moose at close range in dense brush. In those situations, 8x magnification is often all you need. If you're spot-and-stalking elk or pronghorn antelope at a distance, 10x magnification or higher makes more sense.
You can get away with higher magnification if you need it. My 10x magnification optics may be a little much for the dense, brushy areas I hunt here in Michigan. Again, I think my Bushnells were made for bird watching, but I'm also kind of picky about what deer I shoot. While I'm seldom glassing at long range, I appreciate the details.
The last buck I shot was a 10-pointer with some palmations on his right-side antler. I considered passing the deer until I glassed him and spotted that unique feature. I don't think I would have seen that detail with a lower magnification, and I would have been left with regret in passing him. So, it comes down to personal preference in many ways.
3. Consider the Field of View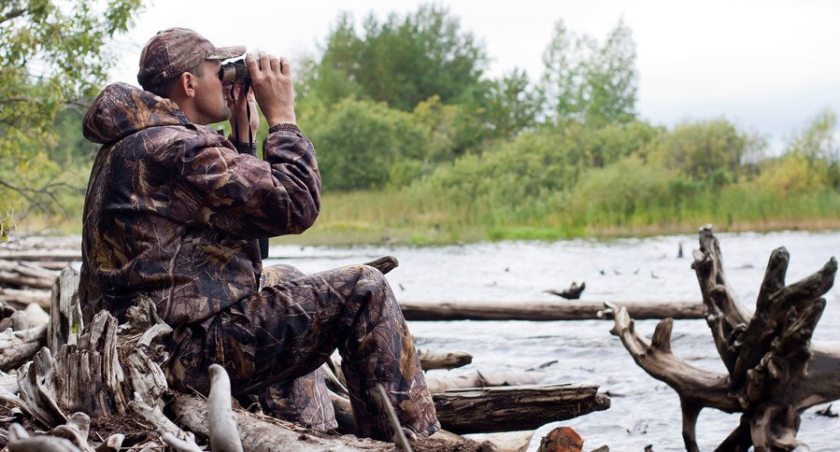 This ties right into the magnification because the higher it is, the narrower the field of view. For many binoculars, you'll see things like "283 FT at 1,000 yards" or "4.5-degree angle of view" on the boxes. Don't get confused. They mean the same thing.
It means that when viewing 1,000 yards out, the area you're seeing is roughly 283 feet wide. With an angle of view designation, multiply the number by 52.5 to get the FOV in feet. That 4.5-degree angle of view would mean it's roughly 236 feet.
As for why this matters, well, it's simple. The wider the field of view, the better your chance of spotting an animal. Again, take into consideration where and what you're hunting. After fast-moving pronghorn antelope in the high desert of Northwest Wyoming? You can usually get away with a narrower field of view than a whitetail hunter in the swamps of Northern Indiana.
Fortunately, many companies provide options for either narrow or vast fields of view. For instance, the Vortex Optics Diamondback is offered in magnifications of 8x, resulting in a vast 393 feet field of view and 12x, offering a much narrower 271 feet field of view. You can go one of two extremes or find something in between to fit a variety of hunting situations on varying terrain.
4. Roof prism or Porro prism?
You'll often hear these two terms thrown about with little explanation when talking optics. This refers to the number of prisms reflecting the image through the binoculars and your eye. Porro prisms are the most well-known just because their design of four prisms reflects the most stereotypical look of binoculars. The Nikon 3248 ACULON binoculars pictured above are an excellent example of what we're talking about. Note the offset angle of the eyepiece and the objective lens. The prisms reflect the light and image around that angle to your eye.
Contrast that with the straight lines of a roof prism binocular like the Bushnell Legend Ultra HD binoculars or the camo Nikon Pro Staff 7s. Your eye is basically in direct line with the objective lens. This style of binoculars has been steadily taking over the high-end market. This style, which uses a series of prisms to reflect the image and light up to six times, can fit into a more compact and lighter tone.
So, which is better? We'd have to say the roof prism, but it's a close contest. Porro prisms have an advantage in that the light is reflected through the optic less, meaning more hits your eye, and they will be better for those "last light" scenarios. On the downside, these things are enormous and unwieldy.
We give a slight edge to the roof prism for hunters only because this design is better suited to the elements. Most waterproof binoculars made today are roof prism, and they're better at keeping out moisture simply because there are fewer moving parts and places for water to seep in. That brings us to our next feature to look for.
5. Don't Overlook Weatherproofing
If you live in the desert, you probably don't have to worry about this much. But for the rest of us, the best time to hunt for many species of deer is when it's cold or snowy. Your best binoculars will do you no good if they're fogged up either internally, externally, or worse, both.
That is why we recommend going not just for supreme optical quality but also waterproof and fog-proof qualities. Waterproof and water-resistant binoculars will have O-ring systems to keep the moisture from getting inside on even the nastiest hunting days.
Still, other binoculars eliminate all chances of moisture affecting the internal structure of the binoculars by sealing them with nitrogen or argon gases. No air means no humidity, and when you glass that big buck, you get a clear image no matter the conditions.
We also like our binoculars to have no-slip rubber or grips on the outside, making them easier to handle in wet or snowy conditions. Rubber armor on the outside also helps protect your investment against falls from your stand or onto rocky terrain. The best hunting binoculars will have rugged qualities to take abuse and handle whatever the elements throw at you.
6. Sweat The Small Stuff
Plenty of more minor features to look for will only add value when purchasing a high-quality optic. See if it includes rain guard covers or a case to store it. Lens coatings are worth paying attention to because they will help reduce glare and help see better in darker conditions. Just stay away from colored red or ruby lens coatings. They're just going to degrade the image. These are usually seen on lower-quality optics.
When it comes to lens coatings, you'll often see the terms single or multi-coated. With multi-coated optics, it simply means the manufacturer has added a coating layer to help reduce reflections to at least one lens surface. Most people consider binoculars that have full multi-coating, that is, coatings applied to all surfaces, to be among the best binoculars on the market.
Consider also a laser rangefinder. Why carry two pieces of hunting equipment with you when you can have two in one? The only downside is that rangefinder binoculars are costly. A pair of Nikon LaserForce binoculars goes for about $1,200 on Cabela's. When you look at high-end optics brands like Zeiss and Swarovski, we're talking anywhere from $2,200 to $ 3,500!
Do you wear glasses? Look at things like eye cups and eye relief. The relief refers to the distance between your eye and the exit pupil eyepiece. Look for binoculars with more extended eye relief. It may take some searching as many binoculars are not made with eyeglass wearers in mind.
As a final thought, remember that binoculars are like many things in life. You often get what you pay for. Unfortunately, that means you often must spend a little more to get quality. But if you do your homework and find just the right optic, you'll find you have a pair of binoculars that will last through years of abuse in the field.
For more outdoor content from Travis Smola, follow him on Twitter and check out his Geocaching and Outdoors with Travis Youtube channels.
READ MORE: ATN OPTICS OFFERING HUGE HOLIDAY REBATE AND ACCESSORY DEALS FOR NIGHT AND THERMAL SCOPES