Wyoming offers incredible hunting and fishing opportunities any outdoorsperson would enjoy. Between being a new waterfowl hunter and never having the chance to hunt in Wyoming before, I got excited when Erin Crider, a waterfowl guide, invited me on a women's cast and blast trip. I headed out to central Wyoming with Uncharted Outdoorswomen this past October, and we planned to carpool to the hotel, rent a boat, and float down a river with our fly rods and shotguns. I kept my expectations low while mentally preparing to go on this adventure. Whether we filled bag limits or not, I knew I'd go home with more knowledge and hopefully some enhanced skills. Here's some of the intel I learned from Erin and the other experienced Uncharted Outdoorswomen on the trip about hunting waterfowl from a boat in Wyoming.
Read the Regulations and Know the Duck Seasons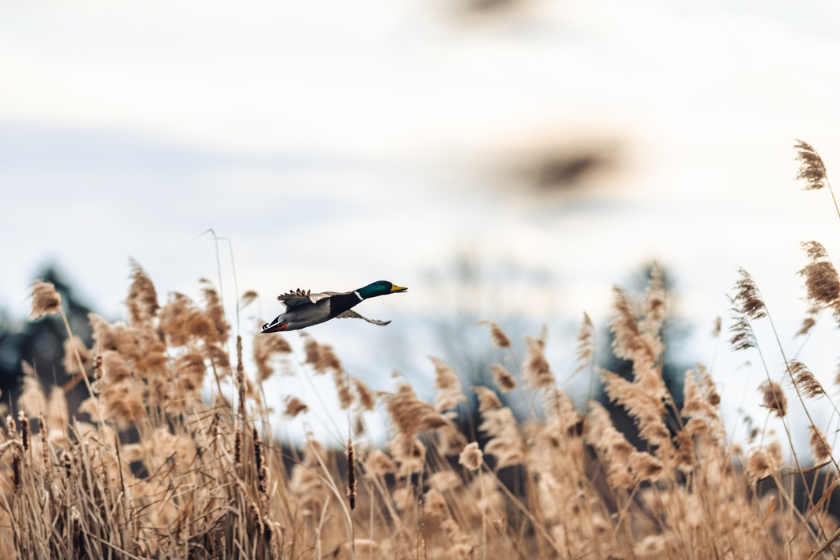 Hunting from a boat in Wyoming is highly regulated. When hunting migratory game birds from a watercraft in this state, it's essential to understand Wyoming's hunting rules so you stay within the law. First of all, according to Wyoming's 2022 small game hunting brochure, hunting waterfowl from a boat "under power or sail" is illegal. However, you can hunt from these vessels if you furl the sail or shut the motor off. In other words, the boat's progress must cease completely. If you're in a rowboat, your rower must lift the oars out of the water and allow the boat to drift while you hunt. It's also illegal to chase birds with any "motor-driven water conveyance or sailboat."
Another legality to keep in mind when hunting on Wyoming's rivers is where public land boundaries end and private land begins. The Wyoming Game and Fish website states that private landowners have "the right to control access to any land they own. Private land may include stream banks, islands, and streambeds." Hunters and anglers cannot wade, bank fish, or anchor on private land. Be sure the places where you get out of your boat or touch the riverbed are public, or obtain permission ahead of time to access private properties where you'll be hunting.
In addition to needing a federal duck stamp and active Wyoming small game license, remember that non-toxic shot is required for waterfowl hunting, too. Having the proper type of shot in your bag, plus all the stamps and tags necessary to hunt legally, and communicating with your rower before you shoot will help you find success when hunting waterfowl from a boat.
Wyoming makes finding open waterfowl seasons easy on its website. Its small game regulations are available digitally, and they list out all the small game seasons, including waterfowl. To find out when your hunting spot is open to waterfowl hunting, first identify if it's in the Central or Pacific Flyway. From there, you can read your region's specific season dates for ducks and mergansers, dark geese, light geese, early Canada geese, and coots. In the 2022 brochure, the bag limit was seven birds in the Pacific Flyway and six in the Central Flyway. The regulations break down what species your bag limit may legally consist of. Like many other states, Wyoming splits up its waterfowl seasons throughout the fall from September through February. Know when your split begins and ends so you don't accidentally hunt during the closed season.
Select a River With Prime Waterfowl Habitat and an Experienced Rower
Preseason scouting comes in handy for hunting waterfowl from a boat. When choosing which river you're going to float and hunt, pick out one that has high-quality waterfowl habitat. Rushing rapids aren't going to hold as many birds as wide, slow-moving rivers hiding pockets of still, shallow water with lots of plant growth. I'd recommend floating with your fly rod a few days before the bird season opens. While casting your fly, take mental notes or mark spots on OnX where you see ducks and geese on the water. Then, when the season opens, do the same float again but swap your fly rod for your shotgun.
It'd be tough to row your boat and hunt waterfowl from it simultaneously. Finding a great rower with a solid boat, whether it's your buddy or a local river guide, will make or break your float. The better they are at navigating the boat, the easier time you'll have scooping up your birds out of the water and finding crippled birds while staying safe on the water.
Be Prepared to Take Shots at Ducks, Geese, and Even Turkeys
Waterfowl may be one of many bird species you see while you float. Wild turkeys often come down to the river's edge to drink water or even fly across a river to access small islands with suitable habitat. Although Wyoming's nonresident fall turkey tag is a little pricey, it's worth picking one up, especially if you see turkeys while scouting before you hunt. Stick turkey loads, goose shot, and duck shells in your bag before you depart, and you'll be ready for any bird that comes within shooting distance.
Hunting waterfowl from a boat in Wyoming is an unforgettable experience. Limited hunting pressure, beautiful landscapes, and large, healthy bird populations make this hunt one for the books. To make things even better, Uncharted Outdoorswomen is offering this experience as a guided hunting trip next year. Sign up for their email newsletter or follow the group on Instagram to find out when registration for this trip will open in 2023.
Enjoy the outdoors?
Sign up for daily stories delivered straight to your inbox.