Editor's Note: Products featured on Wide Open Spaces are independently selected by our editors. However, when you buy something through our links, we may earn a commission.
Another bowhunting deer season is almost upon us, which means now is the time to pick up some new hunting gear for the upcoming season. While many hunters prefer to sit in a treestand, there are some hunting scenarios where a tree is simply not available. Instead of giving up on what could be a prime opportunity at a big game animal, the solution is to set up a hunting ground blind for bowhunting. A good blind for bow use offers maximum concealment from the prying eyes of whitetails and other animals while still offering enough room for you to move, draw, and aim without giving yourself away. The ideal ground blind offers excellent portability, is easy to setup at your hunting spot, and can stand all seasons with just some ground stakes. A quality blind will also offer excellent durability and protection no matter the weather conditions. After all, the longer you can withstand the elements, the longer you can hunt, and the better your odds of success will be.
Just prior to the hunting season is the perfect time for bowhunters to do some deer blind shopping, so today we have some high-quality recommendations that are sure to make your archery deer hunting or even turkey hunting season a lot more exciting and enjoyable. We picked the blinds on this list specifically with bowhunting in mind, so check out our choices below:
1. The Best Two-Person Option

The Ameristep Care Taker is a larger, two-person pop-up ground blind for bowhunting. It stands about 69 inches tall, meaning there is more than enough room to draw and shoot from inside. The shell of this one is made from a tough Durashell Plus fabric with a matte finish which will help the Realtree Edge camo pattern blend into your hunting environment seamlessly. Ameristep gave the interior a coating that's meant to help eliminate any silhouettes being visible to animals standing outside of it. They also gave this blind replaceable shoot-through mesh windows. That big buck will never know you are there until it is too late.
2. An Even Roomier Option

If you are looking for a hunting blind that is roomier than normal, the Big Cat's 80-inch height and 90-by-90-inch interior should fit the bill. This blind has 10 window openings and is made from an HD 150-Denier fabric that should stand up to the elements quite nicely. This one is great for bowhunting because those low profile windows give you more shot options at game that might be standing at extremely close range or even below you on a hillside. Most user reviews rave about the roominess of this one. A great option if you are a little on the taller side and want to stretch out on those all-day sits in the woods.
3. A Quality, Zipperless Option

This blind is slightly on the pricier side, but it has a few key features that make it stand out from the crowd. The first is the zipperless double wide door, it's held together with a bungee, and it's perfect for areas where the deer are extremely wary. It also has a built-in sun visor and 180-degree views from two sides, and the framework makes it incredibly easy to put together and take apart. The sun visor helps with the visibility in low light conditions, and to additionally prevent the hunter's silhouette from standing out.
4. The Easiest Option to Transport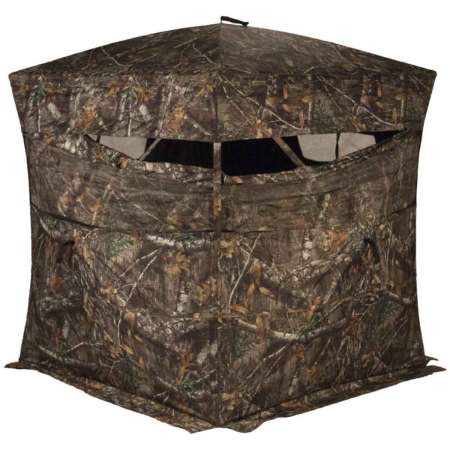 Rhino Blinds build some quality gear, and this one is 150-denier polyester construction that features additional stitching in the corners and reinforcements in the parts that see more tension and stress. This is going to help it last for many seasons to come. This one has a smaller, 58 by 58-inch footprint, but is still 66 inches high, making it plenty roomy enough for most bowhunters. This one also features a zipperless entry system and see-through mesh windows that will help you hide more efficiently than ever. Rhino includes everything you need including a backpack, stakes, and tie-down ropes: All you need to do is pick a spot and get hunting.
5. A 360-Degree Option

This affordable option from Muddy Treestands has 360-degree views, which is accomplished by sliding mesh fabric rather than windows. It comes with nine stakes for easy set-up and a deluxe carrying bag. One five-star reviewer writes: "easy to set up and takedown, a great camo, great shooting windows for archery (I shoot a traditional bow), easy to get in and out of the blind and lots of room inside."
For more outdoor content from Travis Smola, be sure to follow him on Twitter and check out his Geocaching and Outdoors with Travis YouTube channels.
This article was originally published in 2021 and has been updated by the commerce team.
READ MORE: The Best Tripod Tree Stands To Hunt Deer With This Season
WATCH