Looking for a fresh meal? Try this grilled venison backstrap recipe.
Venison, or deer meat, is arguably one of the best tasting meats. However, you typically won't find this cut of meat at the store. If you do, it's not from America, and most likely from a deer farm in New Zealand.
Venison is organic wild game, so if you are not a sportsman, it's time to either take up deer hunting or become friends with someone who has. Although, I strongly recommend the former, especially if you want to be cooking venison often as a healthier alternative to beef.
This grilled venison backstrap recipe that I personally handcrafted is an extremely easy main course, and takes less than 30 minutes of prep time to cook.
Before you start anything, be sure to thaw your deer backstrap if it's frozen for 24 hours in a refrigerator. Once the meat is thawed, trim any fat or silver skin that might be on the meat.
Marinade your backstrap however you prefer. I've used barbecue sauce, soy sauce, and Worcestershire sauce, and they all taste great. It's just dependent on what you prefer.
On a side note, if you personally harvested the deer during hunting season, you'll want to transfer the meat from the field to a cooler as soon as possible so the meat doesn't spoil.
And one more thing: If you want to brine your meat prior to cooking it you can soak it in salt water and brown sugar for 24 hours prior to cooking to get rid of the gamey taste. This will also help maintain a juicy, moist flavoring.
Grilled Venison Backstrap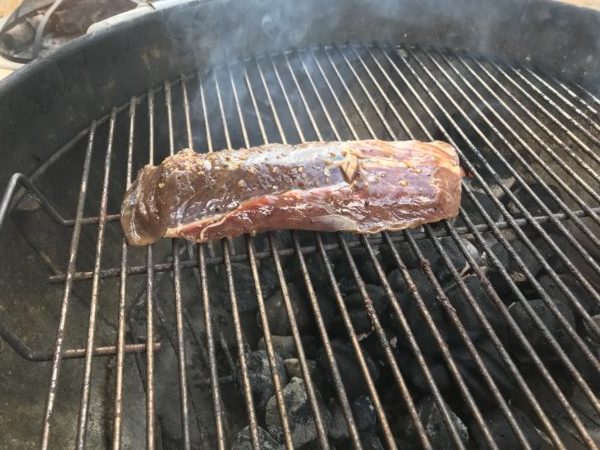 Ingredients
1 pounds venison backstrap
2 tbsp honey
1 tbsp olive oil
2 tsp ground pepper
2 tsp salt
1 1/2 cups Worcestershire sauce (can be replaced with bbq sauce or soy sauce)
Directions
Place all ingredients into a shallow baking dish and add marinade of your choice. Let sit in the fridge for about 45 minutes to an hour total time. For more taste, add black pepper or your favorite seasoning.
Place venison on a grill (perpendicular to the grill grates) set at high heat. I use a charcoal grill and wait until the charcoal are grey-to-white. This may not take as long for a gas grill.
Once the meat is cooked to your liking, take it off the grill and let the meat rest for five minutes.
Remove the meat from the grill and allow to sit for five minutes.

Most people will recommend medium rare

for any sort of backstrap or venison loin. Only because it can lose some flavor if too overdone.

Garnish with your favorite garden vegetables, french fries, or any sides you may have (you can't really go wrong).
This marinade also works well with a venison tenderloin or a venison steak.
For more great recipes including venison recipes click here.
Products featured on Wide Open Spaces are independently selected by our editors. However, when you buy something through our links, we may earn a commission.

Like what you see here? Read more awesome hunting articles by Nathan Unger at whitetailguruhunting.com. Follow him on Twitter @whitetailguru, Instagram @whitetailguru and subscribe on YouTube @Bulldawgoutdoors. Nathan is also the host of the Whitetail Guru Hunting Podcast.
NEXT: HERE'S A GREAT VENISON MEATBALL RECIPE FOR ANY OCCASION
WATCH
Enjoy the outdoors?
Sign up for daily stories delivered straight to your inbox.