Heard of a must-see waterfall but can't quite find the trailhead? Mid-hike and can't figure out whether you're supposed to go left or right at the fork? Nearly every hiker has run into these problems. But Google Maps updates are here to lend a hand to National Park visitors, just in time for the busy summer season. The technology behemoth announced four map updates to better help visitors navigate the parks.
These updates will pull information into one accessible spot, compiling data on directions, trails, maps, and attractions. This is a need Group Product Manager Michael Curtes would know quite a bit about, as he's visited 24 of the 63 U.S. National Parks. He explains, these updates will make "discovering things to do when you're [at the parks] feel like, well, a walk in the park."
While April's updates are currently being rolled out for U.S. National Parks, Google plans to expand these updates to parks worldwide in the coming months.
Here's what you can expect from the additions to Google Maps:
1. Better locate must-see attractions.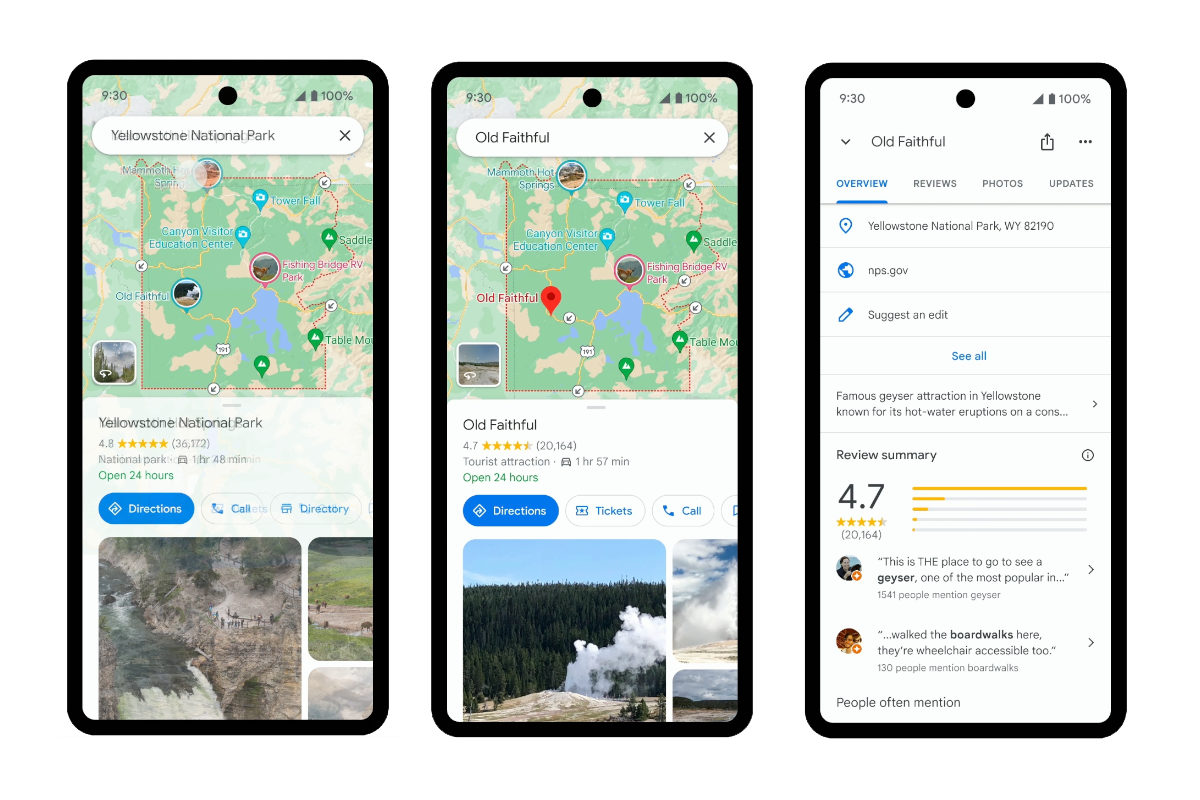 National parks are full of must-see attractions, but these top spots aren't always the easiest to find. This update will allow parkgoers to search within their chosen destination, leveraging the Maps community to find trailheads, visitor centers, campgrounds, and attractions.
Using Yellowstone National Park as an example in the press release, Curtes says visitors will be able to type in the park name, hit search, and their screen will be filled with images of sights throughout the park. Clicking on a picture will give visitors additional photos, reviews, and videos of the spot.
2. Pick trails based on activity type.
Not sure if the trail you picked is better for biking or hiking? On top of showing users an in-depth look at trails, Google's second update gives you a look at which trails are best for specific activity types (i.e., running, walking, or cycling). Users can see the entire route from beginning to end with markers for all the attractions in between.
Again leveraging the Google Maps community, the trail listings will also have public-added details like trail difficulty and trail type.
3. Skip getting lost with detailed trail directions.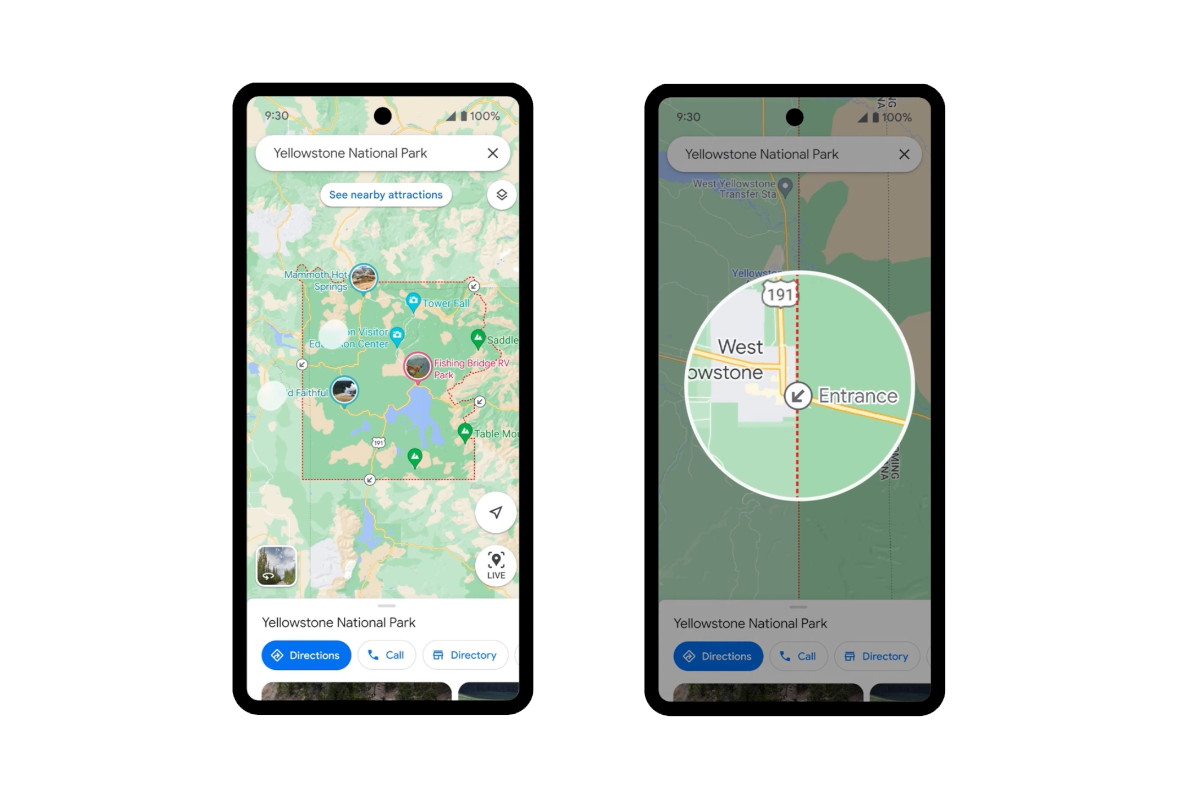 There's nothing worse than hearing about an unforgettable hike but not being able to find the trailhead. Now, park entrances will be highlighted on Google Maps, with detailed directions via the best walking or cycling route to get you to the trailhead. This update will go live at the end of April.
4. Download offline maps for cellular dead zones.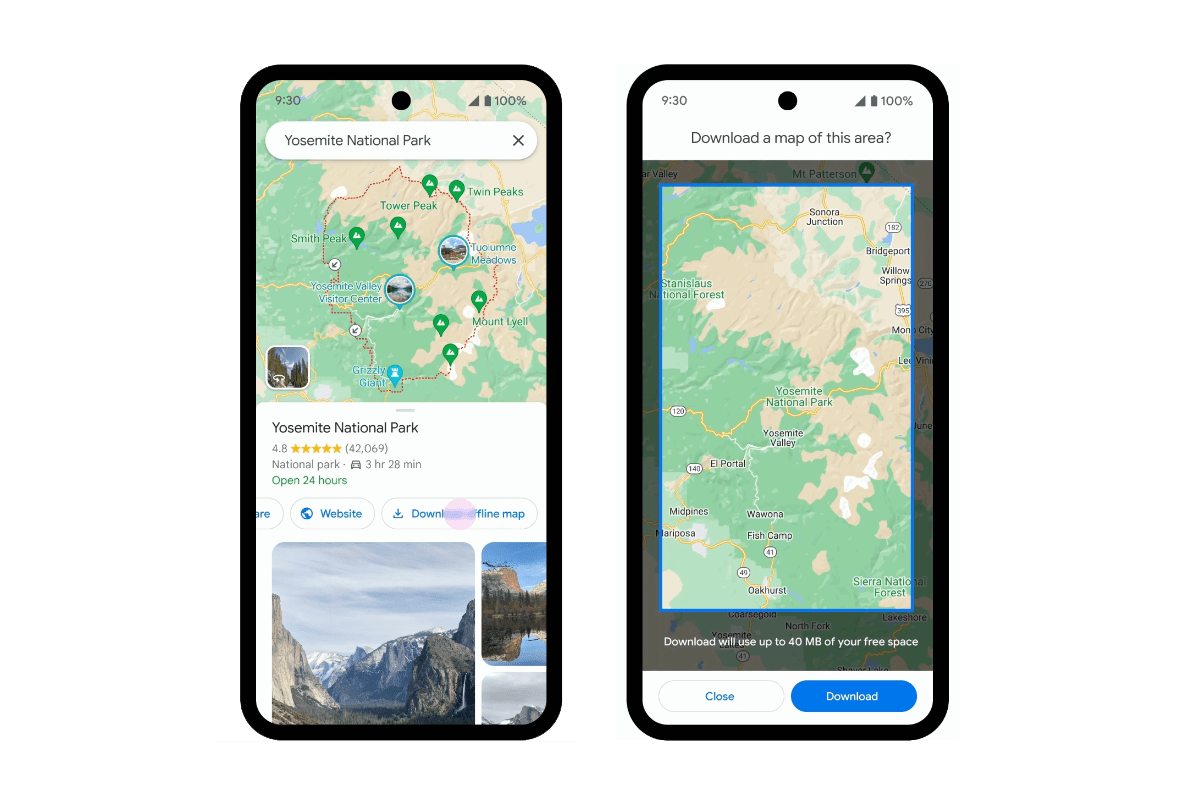 Cell service in national parks is very hit or miss—and you pretty much never know until you get out there and find you have no service. Google's fourth update will allow park visitors to download a map for offline use, giving them access to necessary information without having service. Just remember: You have to plan ahead and download it while you're still in service.