This new Maven Spotting Scope can be had for $200 off with this presale deal.
From now until May 31, 2019, Maven has put their new S.2 Spotting Scope on the presale market for $200 off the intended price.
If you use pre-sale code: S2-PRESALE you'll cash in on Maven's latest technology in the spotting scope game. The S.2 is expected to ship just after the deadline, within the first week of June.
What makes the S.2 particularly intriguing is its smaller, compact size and profile, especially when compared to your typical idea of a spotting scope. It's only 34 ounces and 11 inches long, but features a powerful 12-27x magnification range, a 56mm objective lens, an Abbe-Koenig prism, and impressive ergonomics.
The 56mm objective lens is an improvement upon the normal 50mm, letting in more light with a smaller overall size. It's a premium, crystal-clear fluorite objective lens, which is arguably the best glass available. That makes for crisp, clear images with almost zero aberration or distortion.
The field of view on the Maven S.2 is said to be outstanding, and when you're settled on a knob trying to view game animals from super long ranges, you can rest assured you're peering through one of the best spotting scopes around. Plus, you won't have to worry too much about protecting it, because its durable magnesium/polymer frame can stand up to a good amount of general abuse.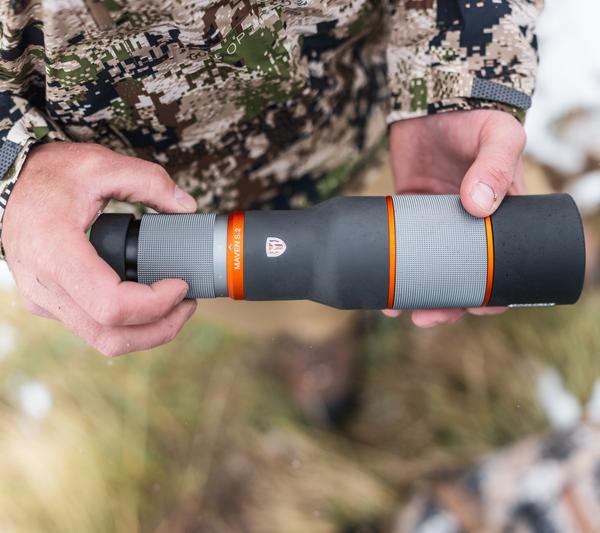 And best of all, you can fully customize the S.2 on Maven's website, and choose from a ton of options like camo wraps, accent colors, and custom engraving.
If you need something for target shooting at the range or bringing into the field, the S.2 ranks high on the must-have list.
The Maven S.1A is the brand's angled spotting scope, and the high quality edge-to-edge clarity set the stage for the scaled-down S.2. The great eye relief and consistent low light performance that Maven's known for translates nicely into this compact scouting tool.
Spotting scopes like this should start in a pretty high price range, but the retail of $950 isn't too bad. It's part of the strategy that's helped Maven keep prices low while still kicking butt in the performance categories.
Just like with other Maven gear, you'll get the same direct-to-consumer approach with inherent quality and a well-backed lifetime warranty. You can even find some of it on Amazon, sold directly by Mavenbuilt.
What you can't find anywhere but their own website is Maven's presale for the S.2 Spotting Scope. If saving $200 on one of the most unique and highest quality scopes on the market sounds good to you, now would be the time to take advantage.
NEXT: MAVEN SHOWS US HOW TO GET BETTER BINOCULARS FOR YOUR MONEY
WATCH: SITKA USES THE SCIENCE OF SOUND ON THEIR NEW FANATIC HUNTING GEAR