Where would you take your reward if you win the exclusive Leupold and DECKED Giveaway?
It's a special thing when we get two of any sportsman's favorite brands to co-sponsor a giveaway, but our newest sweepstakes takes the cake. We've never been so excited to offer a chance at winning a prize package like this before.
All you need to do is enter the $2,500 Optics and Gear Giveaway, and you'll be eligible to win an tire DECKED truck bed storage systems, plus a new pair of high-quality sunglasses, a crystal-clear set of binoculars, and a riflescope ready to mount from Leupold Optics.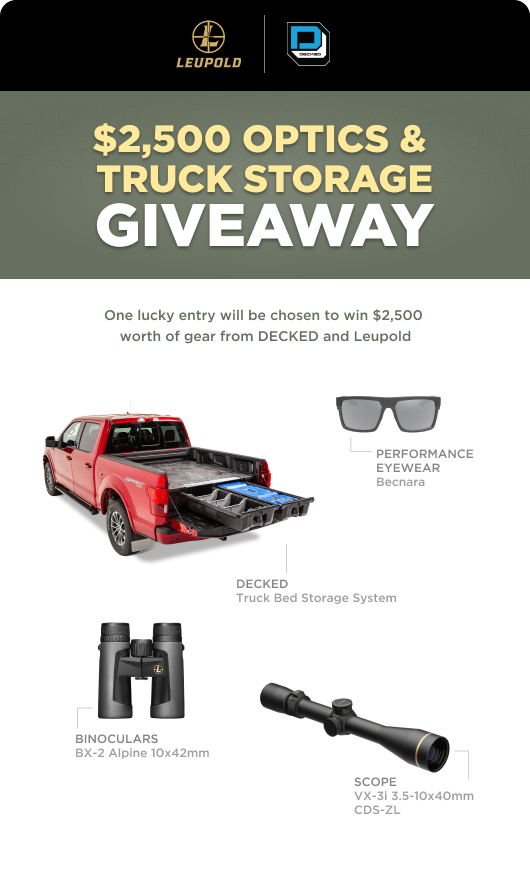 Here's a closer look at the prizes:
Becnara sunglasses from Leupold's new line of Performance Eyewear
Leupold BX-2 Alpine 10x24mm Binoculars
Leupold VX-3i 3.5-10x40mm CDS-ZL Scope
DECKED Truck Bed Storage System
Even more meaningful are the extra entries anyone can earn by executing simple, "would have done it anyway" actions like following the co-sponsors on Facebook and Instagram.
Imagine the cool things you can do with the collection of optic gear from Leupold, and then add to that an innovative, reliable, and haul-it-all storage system from DECKED. You and your crew, plus all the stuff you can pack into the DECKED drawers, will be ready for nearly any adventure.
Are you ready to enter? Don't waste time, because the deadline is September 20, 2020.
Enjoy the outdoors?
Sign up for daily stories delivered straight to your inbox.