Here's a rundown and review of the new Primary Arms GLx First Focal Plane Scope.
You've probably heard the old notion before: spend what you will on a new gun, but the scope you mount on it is where you should really invest.
Luckily, that notion originates from generations ago, and the idea that a great scope will cost a great amount of money is beginning to fade. There's real opportunity to find optics that don't cost an arm and a leg, but still perform as reliably as one twice the price.
Now we're seeing tangible proof from Primary Arms and their new GLx line of optics.
The scopes are breaking new ground with their capabilities and price tags. As Primary Arms says themselves: "With years of research and refinement, GLx will challenge everything you know about mid-priced optics."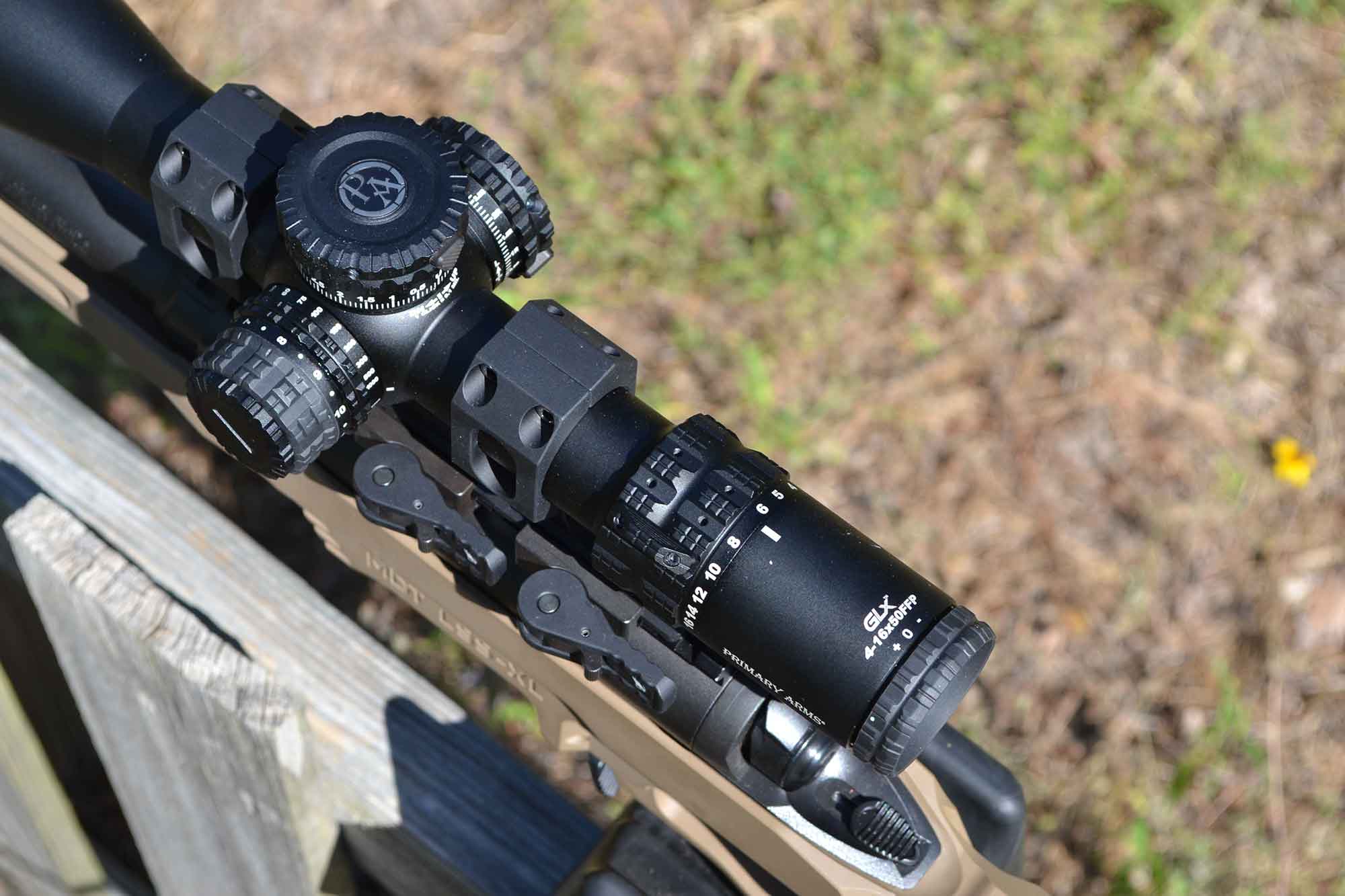 Primary Arms' team of Houston, Texas-based engineers put together quality first focal plane construction, crystal clear glass, and a lifetime warranty to create a superior scope at an unheard of price point.
Target shooting, long range precision, and even hunting applications are all encompassed by the abilities of the GLx.
Featured on each new GLx scope are locking turrets with return to zero, AutoLive motion sensing reticle illumination, and a hardened steel-on-steel adjustment system. That just scratches the surface, and after giving one of the models a good test at the shooting range, we've come away more than impressed.
Available Models of the Primary Arms GLx
For starters, the GLx line includes a mid- to long-range selection of three magnification ranges: 2.5-10x44mm, 4-16x50mm, and 6-24x50mm. We tested the 4-16x50mm, mounted atop a Savage Arms 110 Precision, and felt like we had struck accuracy gold.
Each scope is available in two reticle configurations, which are as follows:
The 2.5-10x44mm uses ACSS Griffin MIL and ACSS HUD DMR 5.56/.308 reticles. The 4-16x50mm scope comes with either the ACSS HUD DMR 308 or R-GRID 2B reticle. The long-range 6-24x50mm scope features the Athena BPR MIL and ACSS HUD DMR 308 reticles.
The prices range from $649.99 to $799.99, lower than expected considering the continual list of fantastic features. Like we mentioned, the first few uses of the riflescope left us very impressed, and we're left believing that Primary Arms optics technology, in conjunction with the eye-opening cost, is leading the pack.
Primary Arms GLx4 4-16x50 FFP Scope Specs and Details
One of the first things we noticed after mounting the GLx 4-16x50 was the incredible field of view. You can scan and track moving targets more easily than you'd imagine, while also maintaining the precision at longer ranges you'd expect from a high quality scope.
The turrets in particular are next-generation stuff, with a reimagined construction and operation that's intuitive and sophisticated at the same time.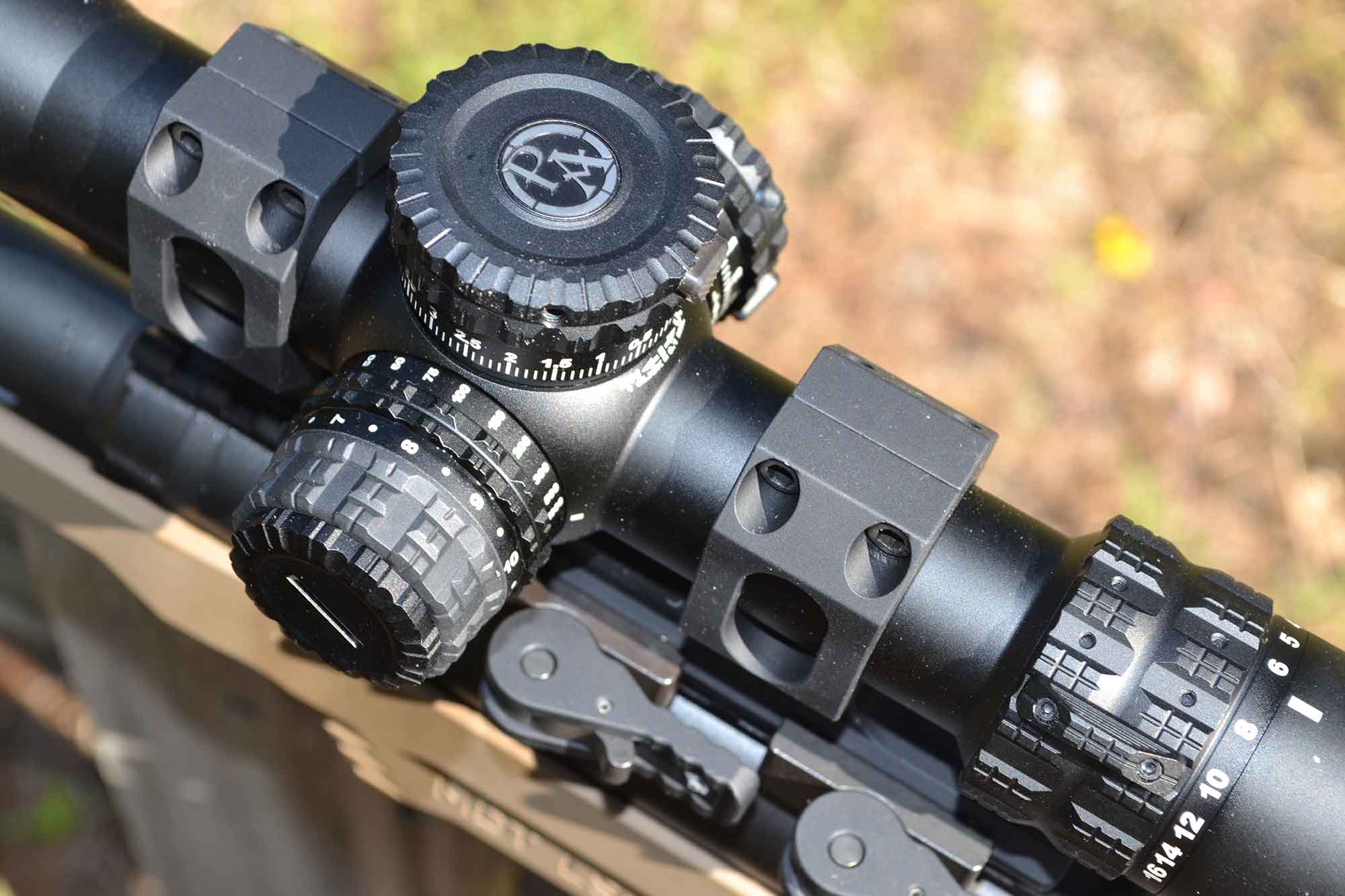 The standard brass components were replaced with stronger steel and aluminum, while the adhesives of old were traded for true mechanical retention. It made for nice, crisp adjustments that Primary Arms says won't fade over time. If the scope turrets stay as tactile as they were when the optic was taken out of the box, this is a serious advantage.
The button lock on the turrets lets you avoid any unintentional adjustments, and includes the return-to-zero system, which is said to eliminate over travel under pressure. Without being too forceful, we were able to see that feature in action, and know it will go a long way in preserving the scope's integrity.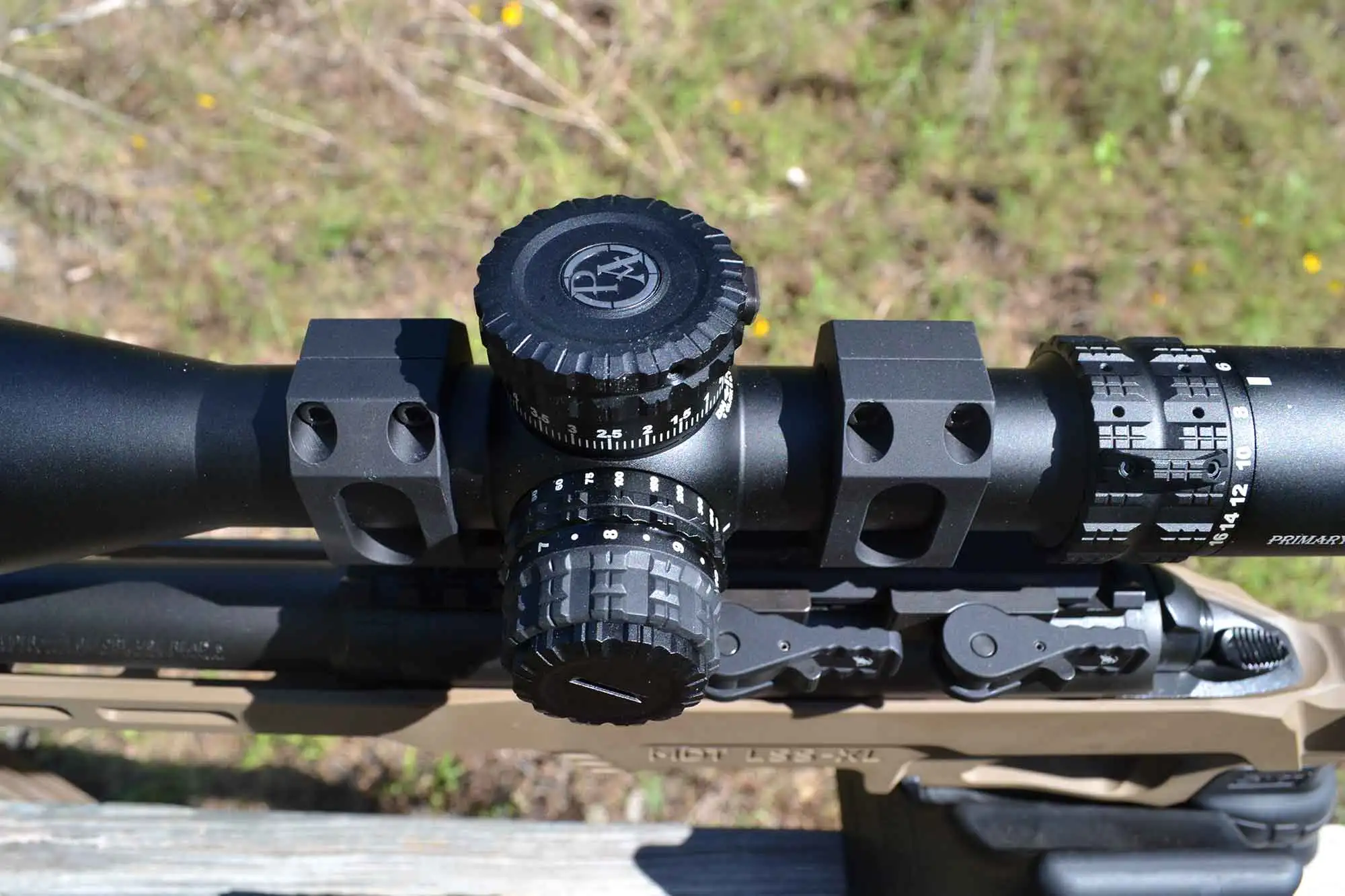 Here are the full specifications on the Primary Arms GLx4 4-16x50:
Click Value: 0.1 Mil
Exit Pupil Diameter: Low: 12.20 mm / High: 3.20 mm
Eye Relief: Low: 3.60 in / High: 3.50 in
Field View 100: Low: 23.70 ft / High: 6.30 ft
Illuminated: Full Illumination
Maximum Magnification: 16
Minimum Magnification: 4
Night Vision Compatible
Objective Diameter: 50mm
Reticle: MIL-Dot
Reticle Type: MRAD
Total Elevation Adjustment: 25 MIL
Total Windage Adjustment: 25 MIL
Tube Diameter: 30mm
Turret Features: Exposed Turrets, Tactical / Target Profile, Finger Adjustable, Locking, Zero Reset, Zero Stop
Weight 23.5 Oz.
Finding a scope line that includes three models, all under $1,000, with this much capability has adjusted our thoughts on what to look forward to when it comes to quality optics. It's reassuring that companies are focusing on bringing a shooter the best equipment while avoiding the prices that would make a typical gun owner shudder.
In other words, if you're looking to capitalize the "bang for buck" factor, Primary Arms GLx scopes are where your search should start.
To find out more, you can always go to PrimaryArms.com and view their entire collection of optics and accessories.
NEXT: THIS 6,000-YARD SHOT TAKES LONG RANGE SHOOTING TO A NEW LEVEL
WATCH