Ford set an unprecedented production milestone this month, rolling out its 10-millionth Ford Mustang from the assembly line at its Flat Rock Assembly Plant after 54 years of production.
The Mustang rolling off the line is a 2019 GT convertible, painted Wimbledon White, the same color used with the first production Mustang. To celebrate, 60 Mustangs were parked outside of the factory, forming the number "10,000,000" , with festivities including a World War II North American P-51 Mustang fighter jet flying overhead.
Now, its Ford's second-best selling car in the world, behind the Ranger.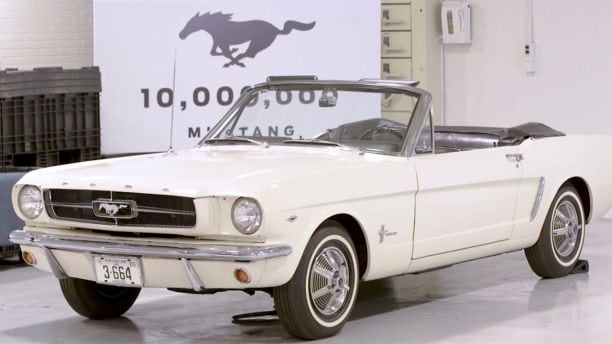 To commemorate, the Mustang's first buyer, 76-year-old Gail Wise was invited to Ford's Dearborn, Mich. headquarters, shipping her restored Mustang from her home garage in Ill. Surprisingly, it only holds 68,000 miles, worth between $350,000 to $450,000 after originally purchasing it for $3,447.70 in 1964.
"It's like being a movie star at 76," said Wise in an interview with the Detroit Free Press. "I felt like a movie star at 22 when I bought the car. I mean, that was 54 years ago and we're still talking about it."
NEXT: TRAILER LOAD FAIL WITH A '65 MUSTANG
WATCH
Enjoy the outdoors?
Sign up for daily stories delivered straight to your inbox.