We spent a day on the water fishing in a charity tournament put on by Academy Sports + Outdoors. Here's how it went down.
Earlier this season, prior to the milestone 50th Bassmaster Classic, I was lucky enough to get invited to fish in a mini charity tournament hosted by the folks at Academy Sports + Outdoors.
It was a great way to get in the fishing frame of mind before the Super Bowl of Bass Fishing, but it was also a rare opportunity to share a boat and a day's worth of angling with two unlikely teammates.
Before we get to that, and before mentioning anything about the tournament itself, I wanted to paint the full picture so you can appreciate what it was like to fish with Academy's newest fishing gear and get a feel for the full experience. It was mixed with food, conversation, and learning opportunities that made for a memorable trip.
It was awesome, and by the end I'd realized it was the sort of thing only a brand like Academy would be able to pull off.
Arriving at the Coosa
The setting for this story is Neely Henry Lake, a portion of the famous Coosa River near Gadsden, Alabama. It was a location I'd never visited, let alone fished, and even the impending storm clouds and rainy forecast didn't really hurt my anticipation.
I was one of several media members joining public relations representatives from Academy at River Rocks Landing, where we had a river house to ourselves and a dinner planned, one that would be a main highlight of the whole trip.
Thanks to a Traeger pellet smoker, a spectacular cut of prime rib, and the cleverly-titled "Holy Cow BBQ Rub," our meal ranked among the best I'd eaten in a long time. Academy's very own BBQ ambassador, Matt Pittman, was at the helm, and his aptly-named Meat Church BBQ brand uniquely epitomized what he's all about. He is friendly, informative, and really seemed to be enjoying being the chef for a bunch of strangers, and helping break the ice on the first night of a cool trip. Like the familiar saying goes, food brings people together, and Pittman displayed that reality before our eyes.
And it didn't hurt that his skills were top notch.
The Brussels sprout side dish and pecan cobbler dessert he made hit the spot. It was so good, it made me quickly get over my surprise that Academy even has an influence partner in the BBQ world. Matt knew his stuff, and was telling me all about his unique BBQ classes, taught by him and a network of smart, experienced meatheads (meant in the fondest of terms).
Seriously, follow Meat Church on Instagram and Facebook, and look for their rubs and seasonings at Academy stores or elsewhere, including online. You'll like what you see.
Oh, and that whole "breaking the ice" thing? It was actually vital, and helped us all warm up to each other. Everyone that took part made it pretty easy to have a good time. They were a fun, accommodating, genuine bunch, but it was quickly becoming a more high-profile group than I anticipated.
Gearing Up with Academy
Ever wondered what goes on in a sporting goods store before they open the doors each morning?
I don't have to wonder anymore, because the next morning involved a stop at the local Gadsden Academy store to learn a bit about the gear we'd take out on the water.
We got insight from Academy's experts and close-up look at the rods, reels, and brand new fishing shirts we'd get to put to good use later in the charity tournament.
But best of all, we had the entire fishing section in a good-sized Academy store all to ourselves for a few precious moments, and that was extra cool. I'll admit I got a bit caught up in it; I was surrounded by unfathomably skilled athletes, not to mention spectacular fishermen, all of whom live for competition. It a was a little like I was preparing for something big. I was kinda pumped up, you know?
The newest tool at our disposal would be the H2O Xpress Tac-40 Baitcast Reel, Academy's in-house version of a sophisticated reel without the typical high price attached. It's a 7.3-1, low-profile baitcaster with a carbon drag and a one-piece aluminum frame. We got some exclusive insight to the ideas that went into it, and heard a little more about how important fishing, and fishing gear, has turned out to be for Academy.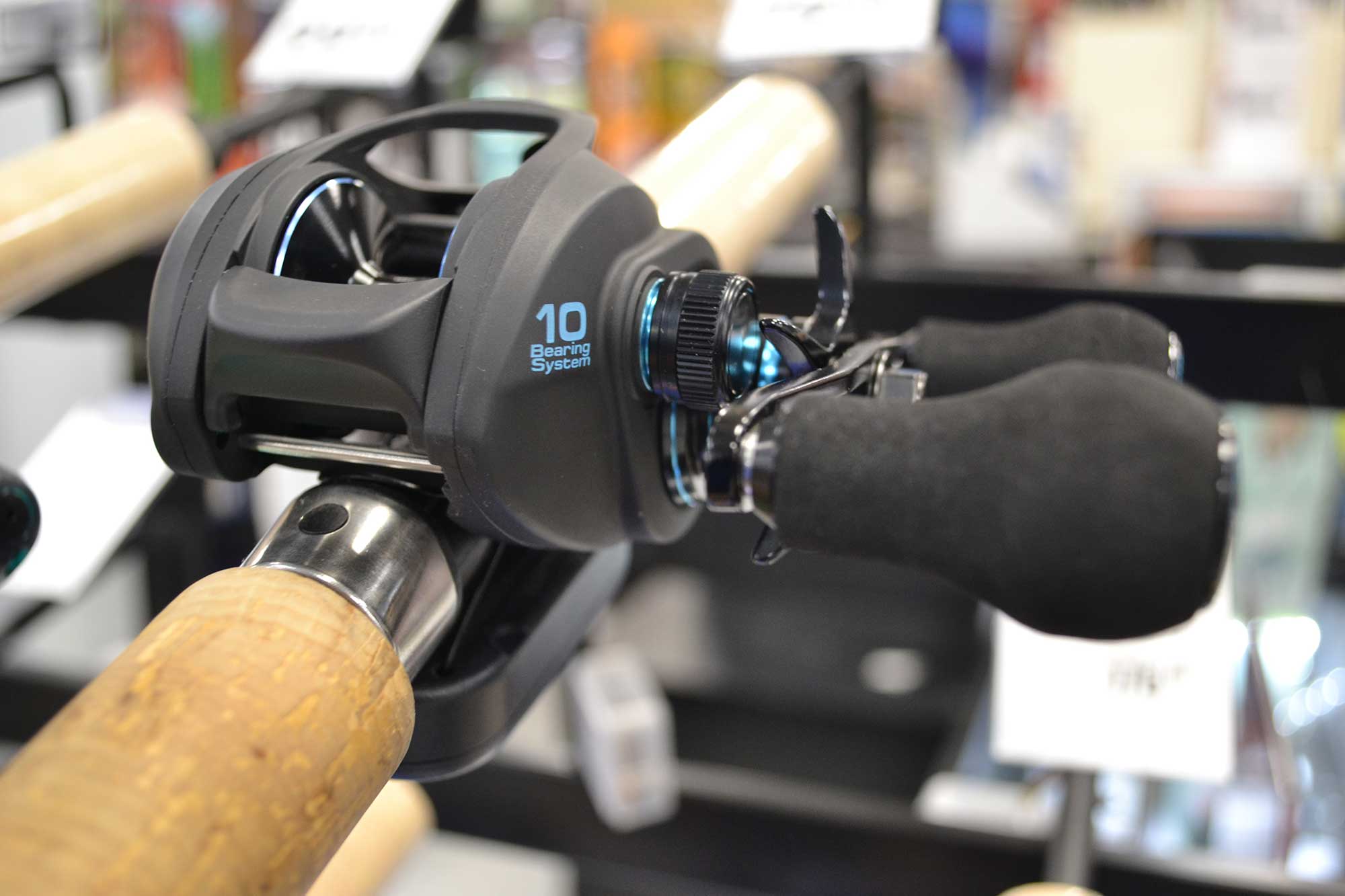 The Tac-40 would prove to be a smooth, well-built reel and my casts later in the day would wind up where I wanted them, almost effortlessly so. If you don't want to spend more than $100 on a really good reel, look no further.
On top of that, we'd be outfitted with the new Magellan Pro Angler Fishing Shirt, a tech-driven, utilitarian piece of apparel that any fisherman can appreciate. The classic vented, button-up look was maintained, but the COOLCORE technology and moisture wicking capabilities brought some modern features to the fold. Perhaps the coolest (and most useful) part of the Pro Angler Shirt was the line cutter attached to the front chest pocket. If you no longer have to search for and grab a pair of clippers or scissors, you're one big step ahead.
Once we were set up with a selection of H2O Xpress lures, some soft plastics, and various other weapons for our tackle arsenal, we were ready to learn from our teammates. And, who I ended up joining forces with made the morning that much better.
Tournament Teammates
The diverse lineup of competitors in this charity fishing tournament was what initially caught my attention getting graciously invited. Along with some mystery professional tour fishermen and the angling publication writers and editors, each team of three would include an SEC-based football player—the likes of former Alabama QB Greg McElroy, former Auburn defensive end Marlon Davidson, and former LSU Tiger and Dallas Cowboy Marcus Spears.
I quickly learned I'd be fishing with Jacob Wheeler, an MLF pro who, at that point, had already won two of the early season's events. Wheeler and Wide Open Spaces had connected before, so I was eager to see him in his element and witness what it was like to fish from a pro's boat.
Add to that a second teammate in Jake Fromm, former Georgia Bulldog and soon-to-be-drafted quarterback, who's no slouch in the outdoor game himself.
He was fresh off the NFL Combine, but I was trying to remind myself to keep the sports questions brief.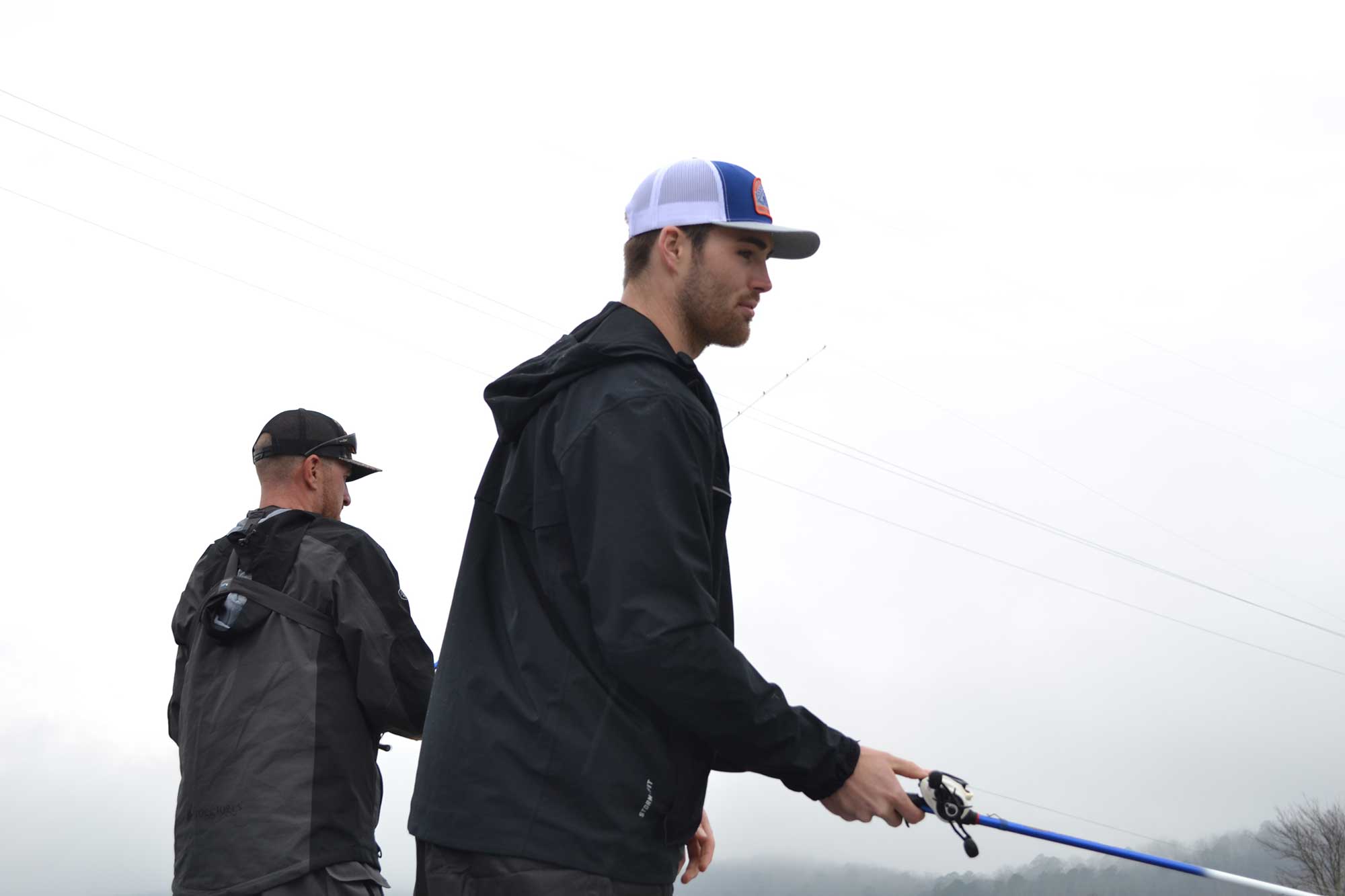 Luckily, both guys were outgoing and more than willing to engage in friendly get-to-know-you chatting.
Naturally, they were a couple of pretty competitive guys, too. And, that unfortunately led to the only real drawback of the tournament and the trip as a whole: the fishing was pretty crummy.
That fish in the Instagram photo above represents the bulk of our catch, but it was one of those days where you especially don't mind getting skunked. The conversation on the boat, and getting to know a couple guys who, it's fair to say, represent a legitimate shot at leading the next generations of their respective sports, was incredible.
Fromm talked a lot about football, and definitely honored some pretty dumb questions from both Wheeler and me. But he also chatted a lot about his affinity for the outdoors, and even his concern about how that sort of thing, owning guns and hunting animals, might be taken by the larger world of the NFL. He remained optimistic that he'd maintain his sportsman ways as fairly as he could, and really seemed to have a good head on his shoulders.
Wheeler was locked in, running (if you can believe it) three different fish finding systems. I had sort of heard rumors that he wasn't a one-brand man, and that he used any and everything he could to his advantage. And man, seeing that guy operate a Humminbird, a Lowrance, and a Garmin was amazing. I tried to follow when he attempted to talk us through a little bit of it, but it was clear he was an above-average user, taking real advantage of what's out there. I was seriously impressed.
Alas, it couldn't generate much for fish, but you can't exactly find them (or catch them) if they just aren't there. It rained lightly off and on, and when the camera crew came over to our boat, we didn't have much entertainment to offer up.
I'd be remiss if I didn't mention that crew from Silo Creative, who were top notch guys as well. Just check out their Instagram, for crying out loud. I hadn't encountered a better on-the-water film crew, and the fellas did a fantastic job.
Bringing It All Together
When the time came and the boats were being trailered, the usual smack talk and withholding made their appearance, but we all pretty much knew it was a weak day in the catch department.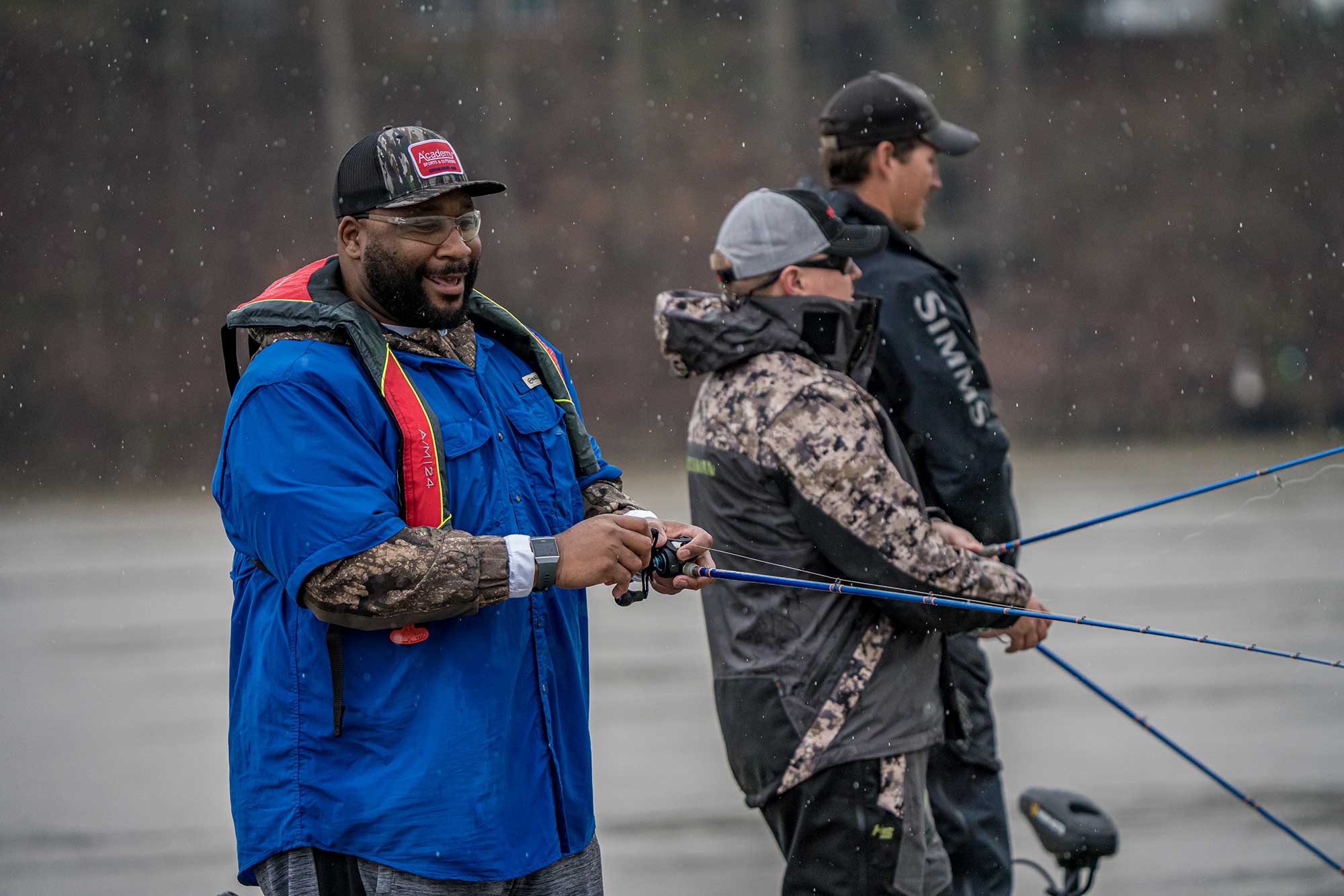 The eventual winners didn't matter as much, but it was Marlon Davidson's boat that wrapped up the victory. He reeled in the winning fish on an H2O Xpress Lipless Crankbait. The real winner was the YMCA of Greater Birmingham, which received a monetary charitable donation along with a ton of sports and rec equipment. It was just the sort of thing a Y needs, and the representatives on hand to accept the winnings were more than excited. They even said the gear would get used later that night at soccer practice.
That's the sort of thing that'll make a rough day of fishing totally worth it.
We started to part ways, wish luck, and head off to our next destinations, which for Fromm included the Georgia Pro Day workouts, and for Wheeler meant Birmingham for Bassmaster Classic festivities, then a rejoining of the Pro Tour. They were both hilarious and semi-unfiltered, but still kind enough and respectful enough to mark a spot in my memory of "good ones."
As was everyone connected to the trip, which ended up being immortalized by the SEC Network as a short segment in a weekly show. There's also a great interview Fromm did shortly after about hunting that you can find here.
All in all, it was an awesome experience, and great to see Academy's generosity, not only towards myself and the rest of the attendees, but also the local community and fishing world as a whole.
NEXT: OPENING CEREMONY: HUNTING THE FIRST DAY OF TEXAS DOVE SEASON
WATCH