Eric Clapton handles a fly rod as proficiently as he strums a guitar.
Eric Clapton has been making a pilgrimage to the scenic splendor of Vatnsdalsá, Iceland, each summer for the last nine years. Although the beauty of the land is a definite magnet, it's the hard-fighting salmon that lure the 72-year-old British rocker.
Clapton waded the wondrous and famous waters of Vatnsdalsá River August 4, casting an 'Evening Dress' fly - which is a combination of green, gold, and black hues. And with guide Sturla Birgisson at his side, Clapton hooked into one of the largest salmon of the summer so far: a 41-inch fish that weighed a massive 25 pounds.

According to the Iceland Monitor, the male salmon was caught in a part of the river called Hnausastrengur, a spot that holds some of the rivers largest fish. Clapton's trophy took 40 minutes to land.
A fish that would make 'Layla' jealous: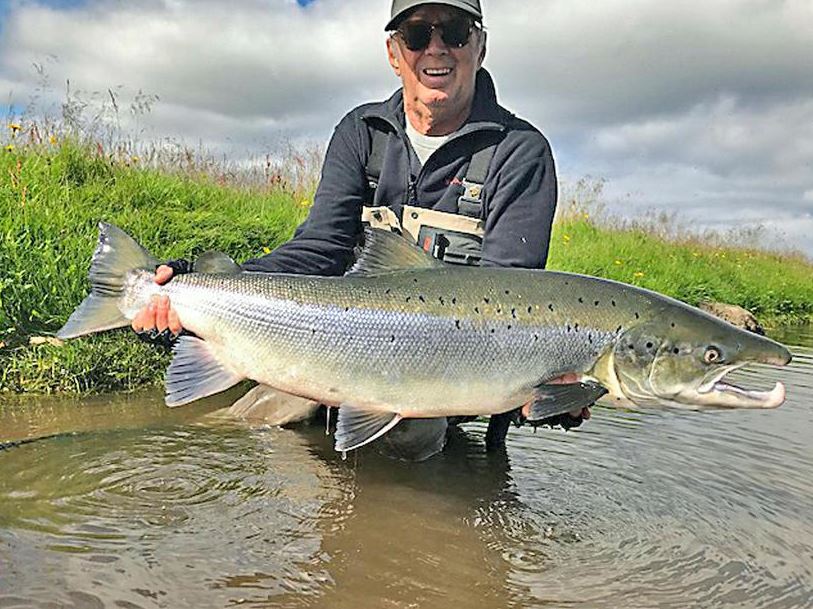 You may remember the story we brought you this time last year, highlighting the 28-pound record-setting salmon Clapton caught in the same river. To read that story, CLICK HERE.
The Vatnsdalsá River has a strict catch and release policy, so all fish live to fight another day after being carefully weighed and measured.
A tip of the fishing cap to you, Eric. You definitely rock.
Photos Courtesy of Private Collection/Iceland Monitor
Did you enjoy this post? CLICK HERE to view more articles by Justin Hoffman. You can also check out his Photography Site Justin Hoffman Outdoors, as well as follow him on Facebook Justin Hoffman Outdoors, Instagram hoffmanoutdoors, Twitter @HoffmanOutdoors, or subscribe to his YouTube channel Justin Hoffman.
NEXT: FEMALE ANGLER LANDS 55-INCH LAKE ST. CLAIR MUSKIE