We've collected the best duck hunting gear suggestions, tips and reminders for all your waterfowl needs.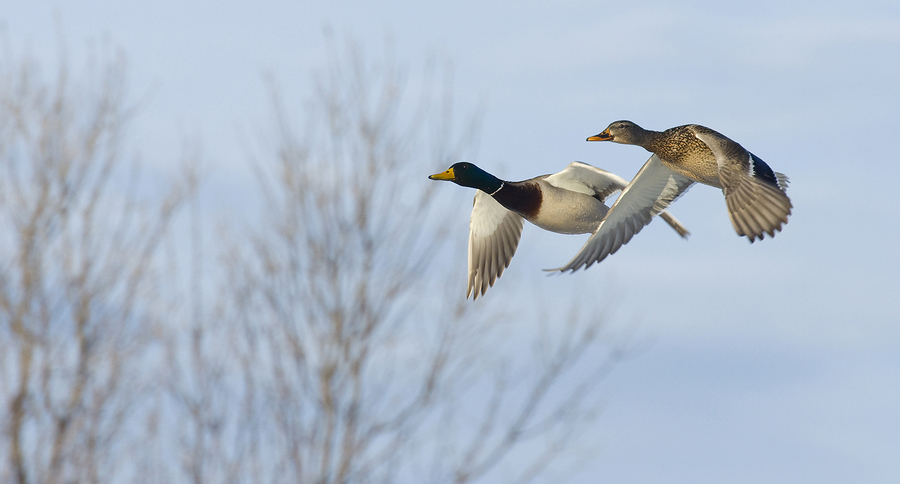 If you've ever looked for duck hunting gear and been overwhelmed by the variety of choices, you aren't alone. Especially considering the emergence of "Duck Dynasty," reality TV's number one show, duck hunting has become more popular over the last few years and driven gear into the mainstream. Thanks in big part to the show, duck hunting gear can now be found in big box stores like Wal-Mart and Kohl's, when before it was limited to the outdoors retailers.
All the same, if you're looking for quality duck hunting gear, you likely won't find exactly what you need from one of those mainstream retailers. You can use the Wide Open Spaces shopping search engine to find the equipment, clothing and accessories you need, and go through this guide to determine what fits your needs and budget.
Read this story on two duck hunters' run in with an anti-hunter.
Guns and Ammo
Hunting ducks with shotguns has been the primary method of pursuit for generations. Shotguns and the loads they fire are ideal for flying targets like waterfowl, spreading the ammunition across a wider ranger than a single bullet fired from a rifle. Though shotgun technology has advanced dramatically, the style and objective of modern duck hunters is very similar to that of their forefathers.
Reliability and durability, like in most hunting cases, are big advantages in guns used for duck hunting. Going after waterfowl almost certainly introduces bodies of water to the equation, and during cold, rainy weather is often some of the best chances to hunt ducks. With this being the case, a gun that will hold up against the elements and shoot straight and true every time is going to be a difference maker.
The Remington 870 Express Super Mag 12 Gauge Waterfowl Camo Shotgun ($449) is a favorite of bird hunters around the world, and has established itself as a leading seller with over 10 million sold to date. A non-complicated pump-action design is combined with a versatile load capacity to create an affordable yet trusty gun that will last decades with proper care.
Image via Bass Pro Shops
Moving up in price is the Browning A5 Hunter, a beautiful gun that will hold up to some bumps while performing amazingly well. A gloss finished walnut wood stock, matte black barrel and action, and aluminum receiver add a classic touch to a sophisticated firearm. Browning's exclusive humpback design has been made famous through this gun and others, and you'll quickly find out why it's a well sought-after shotgun for duck hunting.
Image via Bass Pro Shops
Finally, the Benelli 12 Gauge Nova Pump Shotgun ($499) comes highly recommended by longtime duck hunters, mainly because of its 12-gauge pump that incorporates a polymer stock and lightweight receiver into a single unit for unrivaled strength and weather resistance. Finished with a Realtree camo pattern, it's popularity has risen since its innovative style was introduced. If there's ever a gun you're going to drop in a river or lake (and still plan to use), this might be the one.
Image via Bass Pro Shops
If it wasn't already apparent, shotguns, and therefore shotgun shells, are the most popular choices for hunting ducks. Steel is the common material used in duck shot, although tungsten and other blends are being manufactured as well. Gauges can vary from 28 to 10, shell length ranges from 2 3/4" to 3 1/2" and shot size can go from #6 to BBB. Be sure to match the correct shell parameters to your specific gun, or consult the help of an expert (or whoever you got the gun from) to be sure you have the right combination of firearm and ammo.
Some of the more popular shotgun shell brands include Winchester, Kent, Black Cloud and Federal Premium. With shotgun shells, you often get what you pay for, so try not to skimp and save when it comes to ammunition for duck hunting.
Clothing
Since waterfowl have excellent vision, camouflage holds a lot of importance in duck hunting. Matching the camo pattern you choose to the surroundings of your hunting area is essential to staying undetected as you call and attract ducks to your blind.
Vests are a good idea, as they typically have ample room to store shells, calls, reeds, and other accessories needed for a duck hunt. A good duck hunting vest is usually cut shorter than others, so as to avoid getting wet in waist-deep water. Elastic shell loops evenly distribute the weight of shotgun shells across the torso, and a vest can be worn over a lightweight hunting shirt or a heavy jacket, depending on the weather conditions.
The Edge M2D Camo Waterfowl Hunting Vest even has a detachable seat cushion, something duck hunters will appreciate after a few hours sitting in the same position.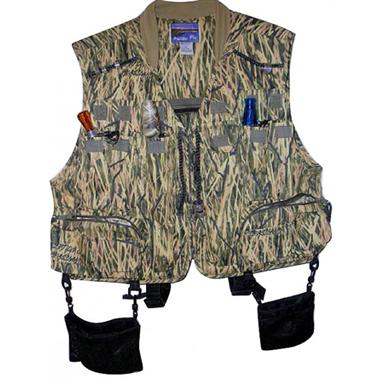 Image via Sportsman's Guide
A good pair of waders, preferably with a camo pattern matching the vegetation where you hunt, will be a duck hunter's best friend, especially if they don't have a bird dog to retrieve a kill.
Something like the Natural Gear Waterfowl Series Wader Pant will help you get around the need for true waders while still providing the same protection. They are fleece-lined and can easily be worn underneath waders.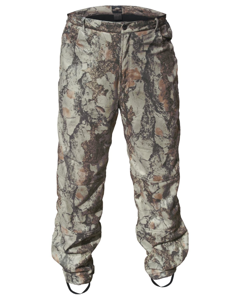 Image via Bass Pro Shops
RedHead makes Waterfowl Insulated Bibs, which are great when the temperatures drop. They are water- and windproof and are seam sealed for total protection from leaks.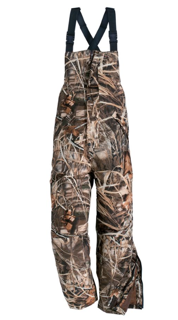 Image via Bass Pro Shops
Check out our delicious seared duck breast recipe for help in preparing your next bird.
Blinds
When it comes to duck blinds, the trick is to choose something you are comfortable with and can spend long durations inside. Duck blinds range in style and structure, but a few common types have emerged in recent years.
The layout blind, like this RedHead Deluxe, is a transportable (and usually foldable) device that can be relocated from spot to spot and packed up when the hunting trip is over. Also known as a coffin blind, layouts perform exactly as their name implies: the hunter lays down on their back, eyes to the sky, and can quickly sit up when shooting opportunities present themselves. Layout blinds are meant to mimic the ground they are placed on, so make sure the camo pattern you choose matches that of the terrain you will be hunting.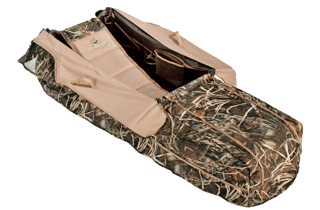 Image via Bass Pro Shops
See what else is involved in choosing a bird blind to duck hunt from.
Pit blinds are stationary and require the digging of a trench, so that the majority of the hunter's body is technically underground. Pit blinds are only useful if you own the property you are hunting on, or have received permission to dig. Relocation is unavailable with pit blinds, but if you have a reliable spot and you know ducks will arrive sooner or later, a pit blind may be a good idea.
Ultimately, the style of your blind isn't as important as the placement, and looking at things from the duck's perspective will always help. Again, keen eyesight of waterfowl makes placement and concealment critical.
Birds usually touch down from flight into the wind, so a blind should face against it. Obviously, a blind will also need to face the open water, preferably where decoys are set. Think about a duck's approach into your hunting area; will they easily see your blind (and you in it) from above?
Conceal your blind with natural vegetation if possible, and be open to the possible need to change locations. Ducks can be spooked easily, and may not return to a site in which they suspect hunters to be waiting. Because of this factor, we recommend the use of a layout or other type of portable blind.
Calls
Duck calls are a the real tools of the trade, especially when waterfowl are on the move during migration and searching out spots to rest mid-flight. The ability to attract attention, bring in ducks, and give yourself ample shooting opportunities can be enhanced tenfold with the proper use of calling.
Check out our recent post on beginner tips for duck calling.
Making a duck call with your own mouth and hands is a skill many have mastered, but can prove difficult for beginners. Thankfully, duck call technology has improved immensely over the years, and a small, cylindrical contraption that fits in your pocket may be all you need to get the ducks to come to you.
Made of wood, acrylic or other material, duck calls come in a variety of tones and styles, often specific to a certain species. The biggest thing to remember when choosing a duck call is to find one that's not only easy to use, but will be effective for the ducks you are hunting. From mallards to wood ducks, and the wide range of other waterfowl, calls are an easy way to tap into the innate instinct for ducks to flock together. When they see birds of their kind, and can actually hear them as they approach, nothing will put them at ease quite like it.
Decoys
There are significant amount of varieties to choose from when it comes to duck decoys. Many capitalize on a specific species and mimic their appearance, and others are more generalized and universal. The trick to choosing the right decoy involves some homework, with strong consideration given to the kind of duck you plan to hunt, the surroundings you will be hunting in, and the ultimate effect you are looking for with your decoying strategy.
First, we'll talk numbers. A decoy spread can never truly have too many fakes, but hunters also need to work within their means. Decoys can be expensive, take up space, and can be a chore to place properly.
Take a look at this video on Australian duck hunting.
The bigger the spread the better, but that's not to say a small collection of 10 to 12 decoys wouldn't prove successful. Floating decoys are meant for on-the-water use, and typically include a lead anchor to keep them from drifting away in a current or strong wind. A good spread of decoys uses some upwind (or upstream) of your blind and some downwind (or downstream), leaving space in the middle for ducks to land, and hopefully get shot.
Duck hunters of yesteryear would attach their floating decoys to string and give them the occasional tug to create lifelike movement and water ripples. Today, mechanical systems like the
Field decoys, also known as full-bodied decoys, are typically staked into the ground and sometimes act as wind socks, giving them lifelike movement. Some flap wings with mechanical, battery-operated movements, or allow the wind to do the flapping for them.