Editor's Note: Products featured on Wide Open Pets are independently selected by our editors. However, when you buy something through our links, we may earn a commission.
If you have a dog, you'll know the drill: you take them out for a walk and they manage to step in every single puddle. Suddenly, you're going to be 20 minutes late to dinner because you need to give somebody a bath. Or, another scenario. You go to give your dog a quick snuggle, and you realize that something smells, and it's not you. Or! Your dog greets you when you come home and scratches the daylights out of your legs because somebody needs their nails trimmed. Let's face it: dog grooming tools are a must-have for every household, even if you make frequent trips to the groomer. You just never know when you'll need to do a quick touch up.
Next time an unexpected dip in the mud happens, be prepared. Whether you are are the one who gives your pooch their baths or you realize your poodle needs a quick paw cleaning before their next salon visit, here are our picks for the best dog grooming tools.
1. Unscented Wipes for Small Messes

These unscented dog wipes are safe to use on your pets face, paws, and bottom — making it a perfect product to keep around the house. It contains aloe and shea butter to keep their fur soft, and it's made of 99% bio-based ingredients. The brand notes they are also great for nervous foster dogs or post-surgery, when you need to clean them up during a stressful time.
2. A Natural Dog Shampoo With Six Benefits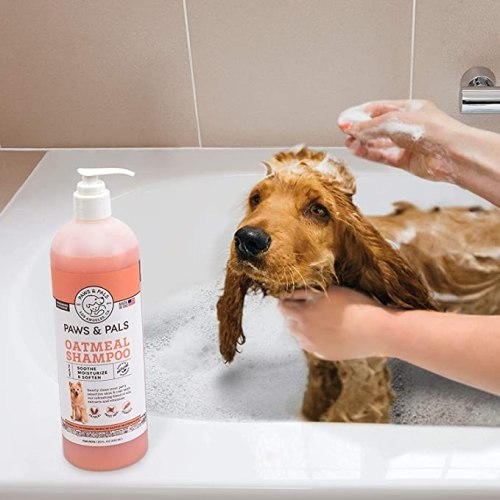 This Paws & Pals shampoo is made in the USA and comes in a huge bottle with a pump — so it will last a long time and is easy to use with one hand, two things that make it stand out from other similar products. It's also a natural shampoo made with oatmeal, an ingredient that's incredibly soothing to dry or itchy dogs. Best of all, this shampoo tackles six common issues your pup comes across: it gets rid of odor, calms itchy skin, cleans, conditions, detangles, and moisturizes.
3. A Glove That Allows You To Brush A Nervous Dog

The grooming glove is a great alternative to a brush — and it's a must-have dog grooming tool for pets that get stressed or lash out when you try to brush them. With this glove, brushing becomes petting! Gloves for left and right handed humans are included, and it works on short- and long-haired dogs, as well as cats.
4. A Wand Attachment For Your Hose

Now you can bathe your dog inside or outside — because this product turns your shower or hose into a comfortable grooming tool. If your dog gets into some mud outside, simply attach it to the garden hose to get them clean without using the harsh spray of the hose nozzle. You can also attach it to a standard shower head hose, and this shower wand can be set for full spray or narrow spray for hard to reach areas. The water pressure is also adjustable.
5. A Brush Perfect for Short-Haired Dogs

This deshedding tool has fine bent wires that are made to go deep into your pets fur and gently remove knots, dander, and excess hair. When you're done, click the button and the hair will easily release into the garbage can. This highly-rated product also provides a bit of a massage for your dog, making it an experience you will both enjoy!
6. A Deshedding Tool for Large or Long-Haired Dogs
Furminator Undercoat Deshedding Tool for Long Hair - Amazon, $35.35

This tool is another easy-to-use, gentle massager that releases hair with the push of a button, but this one is specifically made for large and long-haired dogs. It reaches through the topcoat of longer hair to get rid of the undercoat with ease, and won't damage hair or irritate skin in the process.
7. A Must-Have Dog Grooming Tool for Bath Haters
This brilliant silicone pad looks simple — but easily stick it to your shower wall (just wet and apply, it'll come right off when you're done), smear some peanut butter in it, and experience a fuss-free bath next time you need to wash your pup. It's made with food-grade silicone and can be put in the top rack of your dishwasher. This is seriously a life-saver for anxious dogs. One reviewer writes: "I purchased this to keep my bulldog occupied during a medicated bath. It worked like a charm. She stayed in one spot without a problem. What a life saver!"
8. A Top-Rated Nail Clipper for Easy Cutting
gonnic Dog and Cat Nail Clipper - Amazon, $12.95

Cutting your dogs nails can be a nerve-wracking experience, but this top-rated option makes it a bit easier to manage. A safety guard keeps you from cutting the quick, giving you some confidence and peace of mind as you begin to snip. This also comes with a nail file, has a comfortable non-slip grip, and locking handles.
9. A Powder That Stops Bleeding Quickly

If you do cut your dogs nails, you also know that even the most careful cut can sometimes lead to accidents. This stypic powder is a must-have in your medicine cabinet: just dip a Q-tip in water, then dip it in the powder. If your dog does have some bleeding, it stops it immediately, and has a pain relieving agent to keep them calm and comfortable.
10. A Duo of Natural Products To Help Keep Paws Moisturized
You need to give your dog's paws some love, too! This duo from Natural Dog Company is perfect for some pampering — the Paw Soother heals and moisturizes cracked or dry paws, while the Pawtection balm creates a wax barrier on paws to help them stay more comfortable on salt, asphalt, hot concrete, and other irritating surfaces. They're made with natural ingredients like coconut oil, mango butter and jojoba oil, and come in a handy and easy to apply stick form.
This article was published in November 2021, and has been updated by Alida Nugent.
Do you have a dog grooming tip? Tell us on the Wide Open Pets Facebook page!
Enjoy the outdoors?
Sign up for daily stories delivered straight to your inbox.